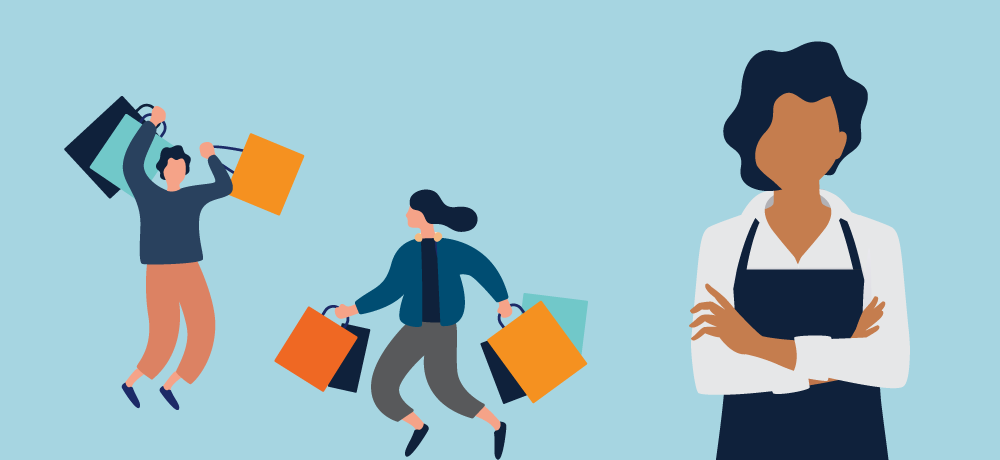 How to Find Holiday Work in Today's Hottest Industries
Hiring for holiday jobs is starting earlier than ever this year. That means now is the time for you to take the first step in your holiday job search. Your goal this holiday season might be a temporary gig that provides flexibility along with a steady paycheck. Or you might want a more permanent role in the career of your choice. Whatever you're looking for this holiday season, PeopleReady shares four industries with the most available holiday jobs.
Retail
Insider Intelligence projects that 2022's holiday retail sales will total more than $1.262 trillion. That's an increase of 3.3% from the 2021 holiday season, which was already a record-breaking year. As a result, retailers need friendly, hard-working candidates to satisfy consumers and provide a great shopping experience. Part-time or temporary jobs in retail often provide scheduling flexibility so that you can still spend time with family and enjoy holiday celebrations.
Jobs in retail may include:
Merchandisers
Inventory assistants
Store update assistants
Product assemblers
Clerks and cashiers
Warehouses and manufacturing
The growth and convenience of online shopping has changed customer expectations. Holiday shoppers want their orders to arrive at their doorsteps quickly, even during the busiest time of year. As a result, manufacturers and warehouses are often in need of extra help this time of year. You can be part of making and delivering gifts that bring joy to people this holiday season. For example:
Shipping and receiving workers
Pickers and packers
Assembly line workers
Machine operators
Sorters and inventory assistants
Hospitality
What better way to get into the holiday spirit than a seasonal job that helps people relax and enjoy this time of year? The holidays often see more people traveling, dining out and hosting parties. That means greater activity at your local hotels and resorts, banquet halls and restaurants. In turn, you can find many holiday jobs that will allow for schedule flexibility.
Jobs in hospitality:
Concierges
Parking attendants
Housekeepers
Kitchen staff
Hosts or hostesses
Events and venues
The holiday season means a variety of live events, including concerts, theatre productions and major sporting events. Local communities often host lighting ceremonies, carnivals and holiday markets to get everyone in a festive mood. Meanwhile, many companies are also scheduling in-personal holiday parties again to celebrate their workers. With greater demand, events and venues are actively recruiting workers for various roles
Jobs in events and venues:
Food servers
Concession workers
Bartenders
Ushers
Ticket-takers
PeopleReady connects you with a variety of holiday jobs
Whether you want to earn extra income, learn new skills, or just find work that fits your busy schedule, holiday jobs are a great career option. PeopleReady has jobs available for you in more than 600 communities across the country with companies close to home. See our tips for landing a holiday job plus more info on how PeopleReady supports your job search this season.
Meanwhile, we make your job search process easier through our JobStack app. JobStack is also available 24/7, allowing you to take temporary and part-time jobs based on your schedule. During the holiday season, we'll help you find seasonal jobs in many exciting industries.
Looking for holiday jobs?