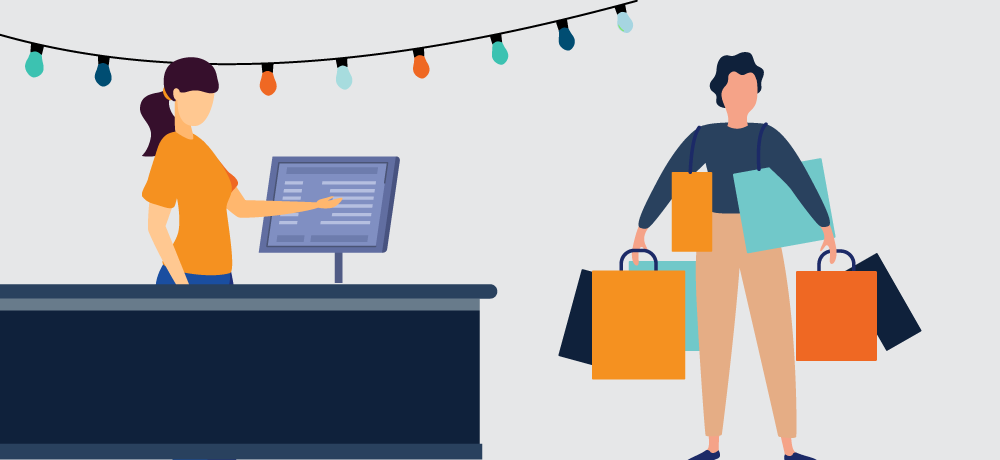 Seasonal Jobs That Work for Your Skills and Schedule

Retailers, event venues and other companies across the country will soon be looking for seasonal workers to keep holiday shoppers happy. Whether you're looking for a short-term role or something that could turn into a full-time job, see four ways PeopleReady can help you in your search for holiday jobs.
Explore seasonal jobs in your local area
Finding a job within a short distance of your home helps you avoid the stresses of a long commute. That's especially important during a time of year when there can be bad weather in many areas of the country. If you find yourself searching for "seasonal jobs hiring near me," having support from a local staffing agency like PeopleReady may be helpful. We give you access to holiday jobs right in your community — whether you prefer a temporary job or more steady work.
Find holiday work that fits your schedule
You likely have many other responsibilities outside of work — childcare, school or family obligations, for example. Add in holiday events and celebrations, and you'll have a busy schedule this time of year. Whatever your plans, you want to find holiday work that fits your lifestyle. That's where PeopleReady comes in. We partner with many companies that offer scheduling flexibility. No matter what time of day or night you'd like to work, you can set your own hours and still have time to enjoy the holiday season.
Select jobs that match your interests
When you start your search for holiday seasonal jobs, it's easy to become overwhelmed as you scroll through all the options to find jobs that meet your needs. Plus, many online job boards aren't updated regularly and often have duplicate postings. PeopleReady allows you to customize your job recommendations based on your interests and which jobs you've already worked. For example, if you prefer a seasonal retail job, PeopleReady can connect you with jobs in retail near you. With more access to relevant jobs on a daily basis, it will be easy for you to learn new skills while earning extra money.
Get paid for your holiday jobs quickly and easily
With PeopleReady, you'll know the exact rate of pay before accepting the job. We offer convenient payment options for you depending on your preferences. For instance, we offer direct deposit or our Wisely Cash Card for quick and easy payment. Plus, many of our part-time and temporary jobs offer weekly pay or even same-day pay in some cases. That way, you can pay for gifts, decorations, travel and other expenses during the holiday season.
PeopleReady offers holiday jobs just for you
PeopleReady can match you with seasonal jobs in 600-plus communities with our app, JobStack, or through our website. As a result, you can apply to jobs 24/7 and choose ones that fit your skillset and schedule.
If you're asking yourself, "What is a seasonal job available with PeopleReady?" we have your answer. Some of the part-time holiday jobs we offer include:
Retail: Retail stores hiring seasonal help look for cashiers and customer service representatives, while their distribution and fulfillment centers require holiday workers to meet increased shopping demand.
Manufacturing: Manufacturers need machine operators, assembly workers and warehouse workers to create the products retailers need for customers.
Events: Event venues are staffing extra servers, catering assistants and line cooks to ensure successful holiday dinners and parties.
Hospitality: Hotels and resorts look for holiday help like concierges, parking attendants and environmental services workers to keep holiday travelers happy and create a great guest experience.
And more!
Find holiday jobs with PeopleReady!