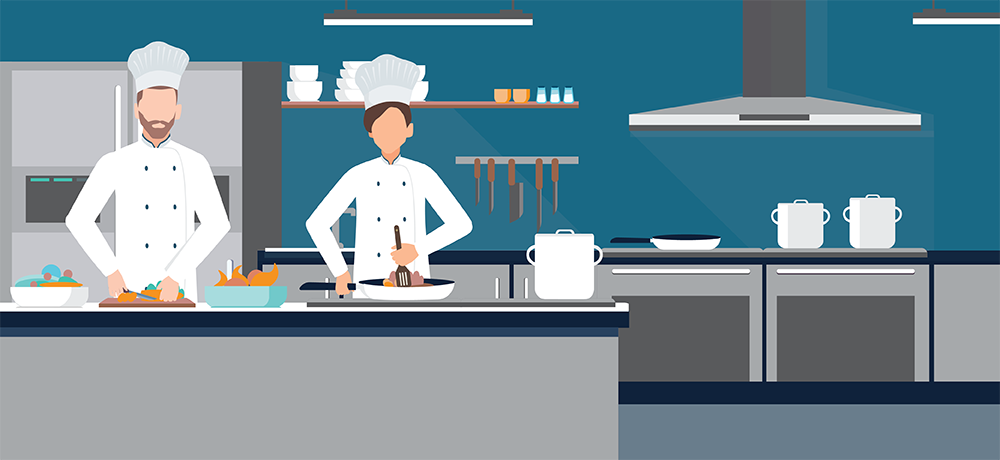 Chef jobs, cook jobs and other hospitality jobs available with PeopleReady
Interested in a culinary career? If you want chef jobs or professional cook jobs, you can get a taste of what it's like as a prep cook. You'll gain valuable skills and experience in a fast-paced kitchen environment that you need to rise through the ranks. Prep cooks are essential to the success of every kitchen, and you can find openings at every type of restaurant from local diners to Michelin Star restaurants. Below, we share what you need to know about becoming a prep cook, including wages, general duties and career outlook.
How much does a line cook or prep cook make?
The median hourly wage for cooks was $13.10 in May 2020, according to the Bureau of Labor Statistics. Overall, wages vary greatly by region and type of employer. Pay is usually highest in upscale hotels and restaurants and in major metropolitan and resort areas.
Meanwhile, the median hourly wage for a chef jobs or head cook jobs is $25.66, according to the BLS. Prep cook and chef jobs are available in most if not all cities.
What does a prep cook do?
Above all, a prep cook is responsible for supporting kitchen staff in the preparation of meals and ingredients. Prep cooks perform various food preparation, cooking and cleaning tasks to ensure that the kitchen is efficient in creating and delivering dishes for guests. Their jobs cover a wide range of duties and responsibilities. For example:
Labeling and stocking all ingredients
Washing, chopping and sorting ingredients
Measuring quantities of seasonings and other cooking ingredients
Cleaning dishes and washing cooking utensils and cookware
Keeping track of ingredient inventory and collaborating with other kitchen and management staff to reorder supplies
What qualities does this role require?
Firstly, prep cooks enjoy working as part of a team and have excellent communication skills, which help them relay information to their fellow team members. They should possess basic cooking knowledge to identify spices, chop vegetables and operate various kitchen appliances, among other tasks. Also important: excellent organizational habits and the ability to stay calm under pressure. As a result, prep cooks can help provide an excellent dining experience for customers.
What qualifications do you need to be a prep cook?
In general, prep cooks do not need formal education for these roles. However, some employers may require that applicants have a high school diploma.
The length of on-the-job training varies for different types of cooks. In most cases, prep cooks learn kitchen basics like how to handle and cook food while on the job. Further, they are trained on workplace safety and health requirements.
Also, some colleges, culinary institutes and industry associations offer cooking courses and programs that get students prepared for chef jobs. Topics include basic knife skills, food sanitation, safety standards and equipment operation.
What's the job outlook for this role?
Overall employment of cooks is projected to grow 26% from 2020 to 2030, much faster than the average for all occupations, according to the BLS. About 432,000 openings for cooks are projected each year, on average, over the decade. 
Find prep cook jobs, chef jobs and other hospitality jobs with PeopleReady
Hospitality companies like hotels, restaurants, casinos and event venues are currently looking for line cooks, prep cooks and other kitchen staff. These roles are perfect for those who are interested in exploring chef jobs in the future. Meanwhile, PeopleReady and our app, JobStack, have other in-demand hospitality jobs available. For example:
Cooks and food preparation workers
Hosts and hostesses
And more!
Looking for hospitality jobs?