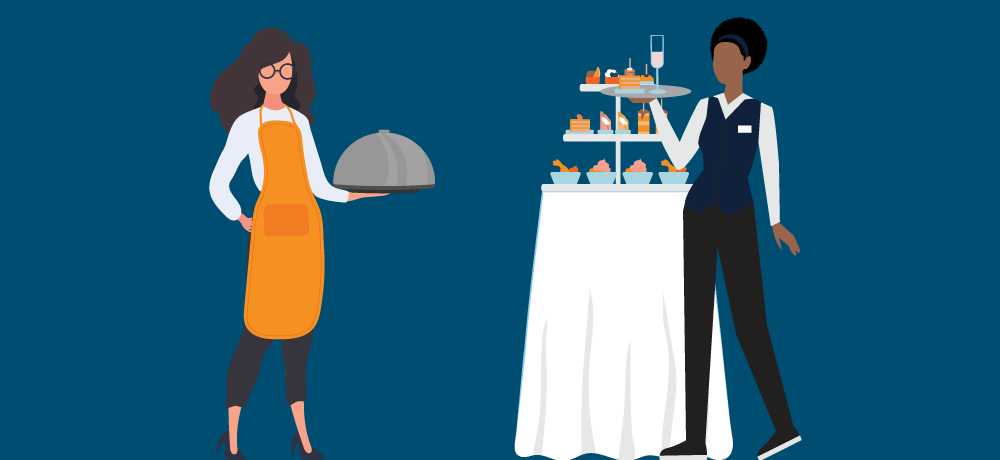 If you're interested in jobs in catering, there are many different roles you can take to earn money and gain experience. For example, traditional waitress and waiter jobs are available at hotels and restaurants across the country. Similarly, there are banquet server jobs at individual events where you may serve up to hundreds of guests in the same night. No matter what venue you're working in, this role is perfect if you're someone who thrives in fast-paced, high-energy environments. Below, we share everything you need to know about jobs in catering, including wages, general duties and career outlook.
How much does a banquet server make?
The median hourly wage for restaurant and banquet servers was $11.42 in May 2020, according to the Bureau of Labor Statistics. However, many restaurant and banquet servers will also make additional wages with tips.
What does a banquet server do?
Food and beverage serving workers are the front line of customer service in restaurants, cafeterias and other food service establishments. As a banquet worker, you'd work at one of these venues serving potentially hundreds of people at a single event. Shifts include early mornings, late evenings, weekends and holidays. There are a variety of duties for banquet server jobs. For instance:
Seating customers.
Taking beverage and food orders and serving them to customers.
Preparing banquet rooms, tables and buffets.
Clearing and setting tables.
Stocking service areas with supplies such as coffee, food, tableware and linens.
Carrying large trays filled with glassware, dinnerware and food.
What qualities does this role require?
Most importantly, banquet servers must be professional and friendly at all times, with effective communication skills and great attention to detail. During busy hours, you will need to serve customers quickly and efficiently in order to create a great dining experience. Also in this role, you will likely be on your feet for long periods of time.
What skills and qualifications do you need to be a banquet server?
A high school diploma is typically the only education necessary to become a banquet server. Having prior experience in the food service industry as a banquet server or similar role is preferred but generally not required. 
What's the job outlook for this role?
Overall employment of food and beverage servers is projected to grow 17% from 2020 to 2030, much faster than the average for all occupations, according to the BLS. Moreover, at least 1 million openings for these jobs are projected each year, on average, over the decade. 
Find banquet server and other jobs in catering with PeopleReady
To sum up, if you're interested in jobs in catering or other hospitality jobs, PeopleReady is here to help. Hospitality companies like hotels, restaurants and event venues are currently looking for prep cooks, servers and other staff members. Therefore, we have in-demand jobs available right now on our app, JobStack. For example:
Janitors and housekeepers
And more!