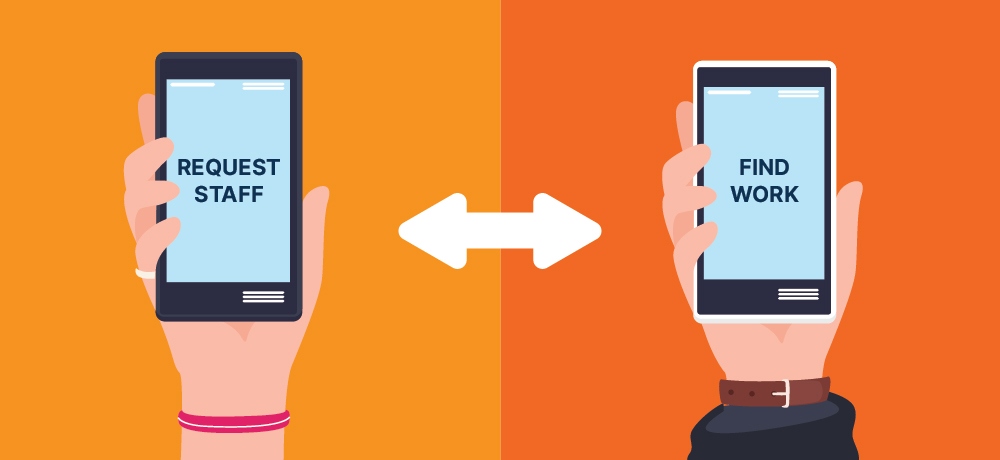 Retail industry experts expect holiday sales to exceed $1 billion in 2022, up nearly 4% from 2022. As a result, workers like you have even more part-time and temporary jobs this holiday season across retail, e-commerce, manufacturing and many other industries. Here are three reasons why a job search app is the best way for you to find the jobs you want.
Job search apps are where today's employers find holiday workers
Staffing apps have been one of the keys for employers to reach new job seekers. In fact, over 60% of job applications are now completed on a mobile device, according to a recent AppCast study.
As companies grow more comfortable with using the latest digital technology in their staffing efforts, the number of jobs found on job search apps will only continue to grow. This is especially helpful during the holidays, when companies need workers fast to meet the shopping rush. Staffing apps give them convenient, 24/7 access to job seekers like you who can quickly fill their staffing needs.
Job search apps provide fast access to in-demand seasonal jobs
As online shopping volume grows year-round, customers also have greater expectations around delivery. With the increase in online shopping, warehousing and distribution centers are creating more roles in packing, shipping and production.
The most in-demand jobs for the 2023 holiday season include:
With a variety of jobs available this holiday season, using a job search app also lets you easily narrow down your job search to roles that fit your skills and experience.
Job search apps are connected to support from staffing experts
Unlike with online job boards and other job search methods, a job search app is often associated with a staffing agency that gives you further support. Temp staffing agencies represent multiple companies and many of them cover a variety of industries that need help during the holiday season. These include not only retail and e-commerce services but also the hospitality and cleaning and janitorial industries.
Using a job search app from a staffing company can help you make connections with many different employers, explore a variety of roles, and decide which career path you want to take. In many cases, seasonal work might even help you land a permanent position. So, just by filling out a mobile application, you get access to a potential new career path.
Find top holiday jobs on JobStack
PeopleReady gives you the opportunity to earn money this holiday season in the most in-demand holiday jobs. Our app, JobStack, lets you search for part-time and temporary jobs and submit applications from your mobile device, 24/7. The more you use JobStack, the more opportunities you'll get to learn new skills and build connections — whether you want temporary work for the holiday season or a temp-to-hire job that might extend through the rest of the year and beyond.
Looking for jobs this holiday season?