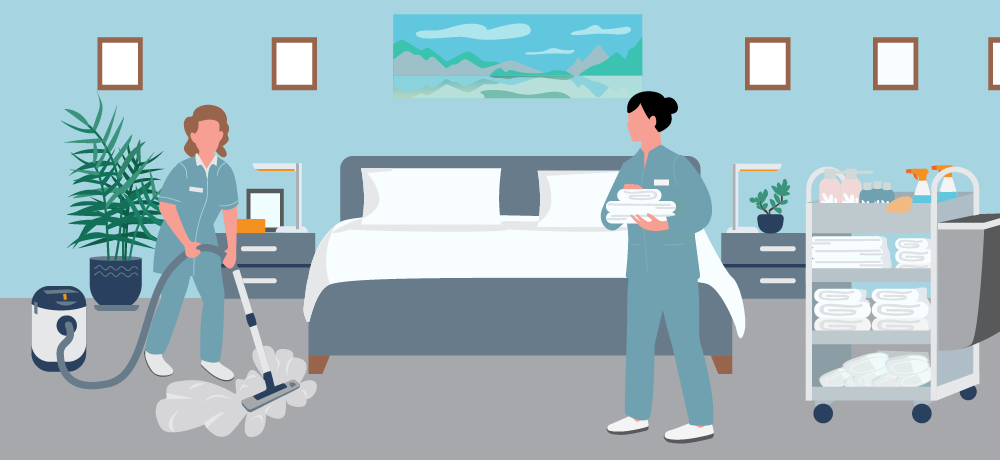 Janitor and Housekeeper Jobs Info for the Hospitality Industry
If you're interested in building a career in hospitality, becoming a housekeeper or janitor can be one of the first steps toward success. Housekeepers who are highly motivated self-starters can use the position as an entry point to build important skills and move on to other hospitality and hotel jobs. Meanwhile, janitors provide vital cleaning services for like kitchens and public washrooms. Below, we share what you need to know about taking housekeeper and janitor jobs, including wages, general duties and career outlook.
How much does a housekeeper or janitor make?
In 2020 the median annual wage for maids and housekeepers was $12.60 an hour, according to the Bureau of Labor Statistics. Similarly, the median hourly wage for janitors and building cleaners is $13.98.
What does a housekeeper or janitor do?
Housekeepers perform light cleaning duties for commercial establishments like hospitals or hotels and for private households. For instance, housekeeping duties may include:
Making beds, replenishing linens, and cleaning rooms and halls.
Vacuuming rugs, carpets, draperies and upholstered furniture.
Dusting and polishing furniture and equipment.
Washing windows, walls, ceilings and woodwork.
Meanwhile, janitors perform cleaning duties in more public areas such as parks, office buildings and schools. For instance, janitor duties may include:
Cleaning and stocking public restrooms.
Taking out the trash and recycling.
Ensuring that equipment such as heating and cooling systems is maintained and repaired.
Keeping sidewalks clean and free of debris.
What qualities do these roles require?
Housekeepers and janitors both need great attention to detail and strong organizational skills. They strive for perfection and care deeply about creating a seamless customer experience and getting every detail just right. Also of note, the qualities of a great cleaning professional include being professional, trustworthy and comfortable in any work setting.
What qualifications do you need to be a housekeeper or janitor?
Previous housekeeping experience is often preferred for most housekeeper positions. Plus, candidates must be able to bend, reach, balance and lift during each shift. There are similar qualifications for janitor jobs—and employers often prefer candidates who have previous custodial experience and the flexibility to work in an environment that changes quickly. And finally, both of these roles will often require a background check.
PeopleReady connects you with housekeeper jobs and janitor jobs
If you're thinking of starting a new career or looking to change jobs, hospitality jobs like housekeeper or janitor might be right for you. PeopleReady gives you the flexibility to choose which housekeeping or janitor jobs to take and when. Our app, JobStack, lets you apply to jobs 24/7 and choose ones that fit your schedule. For example, these jobs include:
Laundry attendants
Building cleaners
Cleaning crew members
And more!