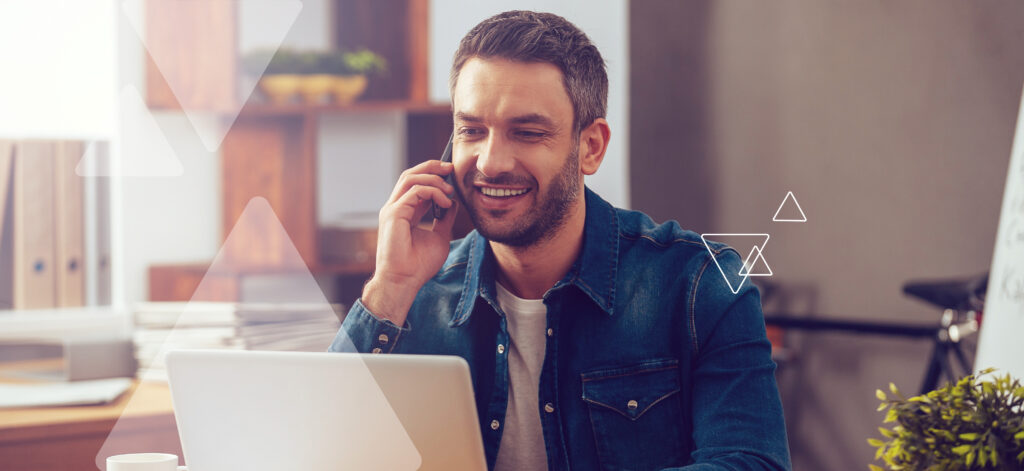 What the availability of flexible jobs means for your job search
Are you a job seeker who's looking beyond the traditional 9-5 work schedule? You're not alone. According to Axios, 77% of Gen Z workers are more likely to engage with a job posting that mentions "flexibility." But what are jobs with flexibility exactly? Jobs with flexible hours allow employees to work at a time that is convenient to them or when they feel they can maximize their productivity. What's more, flexible schedule jobs may also permit you to work from the comfort of your home full-time. Or they may have you adopt a hybrid schedule that blends on-site and off-site hours.
The way people work is changing, and PeopleReady is here to help you find flexible part-time jobs that fit your lifestyle and your long-term career goals. Find out what flexibility looks like in the modern workplace and what it means for your job search.
The ability to improve work-life balance
While 43% of employees feel their work-life balance has increased over the past two years, it's clear that many people are still feeling the effects of stress and burnout in the workplace. In fact, 24% of employees from the same Qualtrics survey report a decrease in their overall happiness.
Jobs with flexible hours can help you create a healthier, happier life. When it comes to your job search, flexible part-time jobs are beneficial because they give you the freedom to determine your work schedule along with the opportunity to explore your other personal and professional goals. Plus, if you're a college student, working parent, caregiver or someone switching careers, flexible part-time jobs give you the freedom to balance work and personal responsibilities, cutting down on scheduling conflicts and unwanted stress.  
The opportunity to choose your own shifts
Setting your own hours is one of the best ways to create an ideal work-life balance. Remember: Try to stick to a consistent work schedule if you want to avoid burnout. It's always a good idea to take some days off to ensure you're getting enough rest.
Also keep in mind that more companies are now offering job seekers the opportunity to choose their own shifts. In a competitive job market, creating flexibility can be crucial to attract and retain the right workers. Ninety-three percent of workers say that the way they approach work has "fundamentally and forever changed" to favor jobs with flexible hours, according to a recent Qualtrics survey.
Companies now have an incentive to attract job seekers by providing flexible hours and other incentives. For example: more workplace training and internal opportunities for growth and promotion.
The possibility of exploring different career paths
Speaking of training and development, as you take the next step on your career path, consider exploring different roles within your current industry or even working in a few different industries. Given the availability of part-time jobs with flexible hours, you have an opportunity to try a variety of roles to find out what fits.
You can make yourself an even stronger job candidate by gaining in-demand skills from a variety of flexible part-time jobs. You'll learn practical, hands-on skills that allow you to do your job effectively along with soft skills such as communication skills. As a result, you make yourself a solid team member and a valuable employee.
Read our article, "6 Soft Skills Every Employee Needs," to get up to speed on even more skills you need for a successful career.
Partner with PeopleReady to find jobs with flexibility in your area
If you're looking for flexibility and work-life balance, PeopleReady has flexible jobs available for you in a variety of industries. With PeopleReady, you have the opportunity to choose which jobs you take so that you can work the hours you want. Apply online through our website for a variety of jobs with flexible hours.  
Meanwhile, our JobStack app allows you to choose your own shifts and take control of your schedule. With instant access to thousands of jobs with flexiblity and the opportunity to pick up weekend and evening shifts at the click of a button, you have the power to choose jobs that are convenient for you.
Further, JobStack learns which shifts are a perfect match for you and creates a job search experience that's tailored to your needs.  As a result, you can discover flexible part-time jobs that fit your interests. Here are just some of the jobs PeopleReady has available for you:
Event caterers
Restaurant servers, hosts and hostesses
Bartenders
Customer service representatives
Looking for flexible jobs in your area?