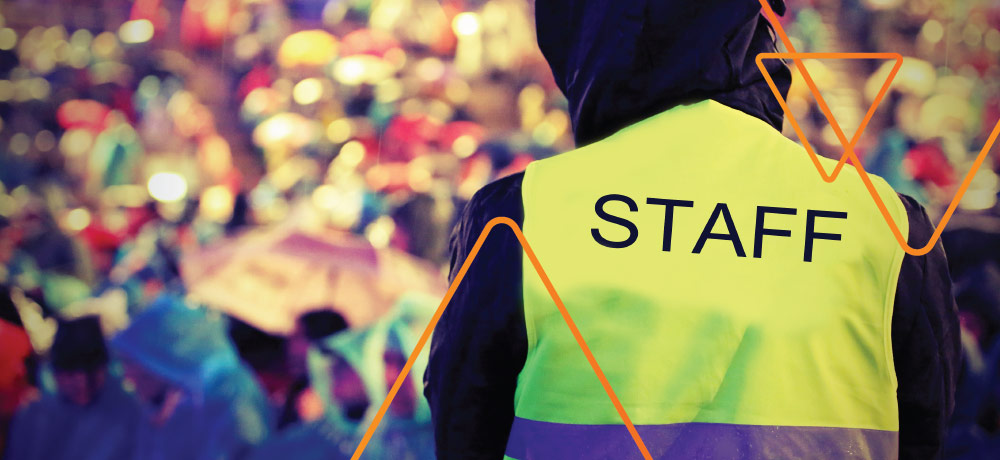 Event jobs to build your career in hospitality and entertainment
Whether you're taking tickets at a concert hall or working concessions at the Super Bowl, event jobs give you the potential to be part of the action. Even better, you can try your hand at a variety of different roles and explore your career options. Below you'll find examples of some of the event jobs available now with PeopleReady and our app, JobStack.
Frontline service workers
In the events industry, no two days are the same. One day you might be helping set up a stadium for your favorite sports team and the next, decorating an auditorium for a gaming convention. No matter the event, venues want workers with strong customer service skills who will be calm under pressure. These jobs are perfect for self-starters who enjoy fast-paced work. Common frontline roles include:
Ticket takers: In this role, you'll collect and verify paper tickets or e-tickets at the gate. Most venues now use barcode scanners to streamline the process.
Ushers: Ushers help attendants find their seats, direct them around the venue as needed, and assist in recovering lost items if necessary.
Parking lot attendants: As a parking attendant, you'll move the guest's vehicle on the premises, provide them with a parking claim ticket, and ensure the safety of their vehicles.
Hosts and hostesses: A host or hostess greets people upon entry, answers phones and schedule reservations.
Culinary workers
Food services staff is a vital part of events staffing. No matter what type of event, guests want to be satisfied with the quality of food and refreshments. They also expect attractive presentations and exceptional customer service. As a member of the culinary team, you might prepare the food, set up tables, or serve customers at the bar or concession stand. Other common culinary roles include:
Concession workers: You'll prepare and provide snacks and drinks to customers. Other tasks can include cleaning the working area or operating the cash register.
Food servers: Food servers are organized and sociable, keeping track of each table's orders and delivering them to guests. An added bonus: You can also make extra money through tips for good service.
Bartenders: Casual pubs, high-end hotels and other establishments need bartenders. This customer-facing role is sought-after by many people for its positive social environment and the prospect of customer tips.
Cooks: Depending on your role and experience, you may work as a prep cook who prepares and organizes ingredients. When you gain enough experience, you can become the lead cook overseeing the entire kitchen.
Housekeeping and janitorial workers
Guests at any event want to feel confident the venues are properly cleaned and sanitized. As a result, businesses across the country need staff to ensure rooms, suites and lobbies are clean and tidy. These roles are ideal for organized people with great attention to detail. Common housekeeping and janitorial roles include:
Cleanup crew members: After a party or concert, you'll be part of the team that cleans and sanitizes the area, making it safe for the next event.
Housekeepers or janitors: Hotels often need janitors and housekeepers for heavy-duty cleanings, like washing the walls or shampooing the carpet. You'll also notify management if any issues arise.
Concierges: A hotel, office or apartment concierge is a perfect role for outgoing and personable people. You'll help guests who need advice on transportation, local entertainment, and the building's services.
Laundry attendants: Hotels employ laundry attendants to sort, wash, dry and prepare linens for reuse in the different rooms. It's a fast-paced job that also requires a good eye for detail. You'll often need to inspect items for defects, damage or stains.
Find in-demand event jobs with PeopleReady
PeopleReady and our event staffing team help you find work at the biggest venues in the industry — from sports stadiums to concert halls to conference centers. When you download our app, JobStack, you can apply for jobs 24/7 from your mobile device. Or see our current openings in a variety of industries and apply right on our website. You'll be able to take jobs that benefit your schedule the best, allowing you to maintain a work-life balance. Whether you need extra money for the holidays or to supplement your current income, we have event jobs available for you.
Looking for jobs in events?