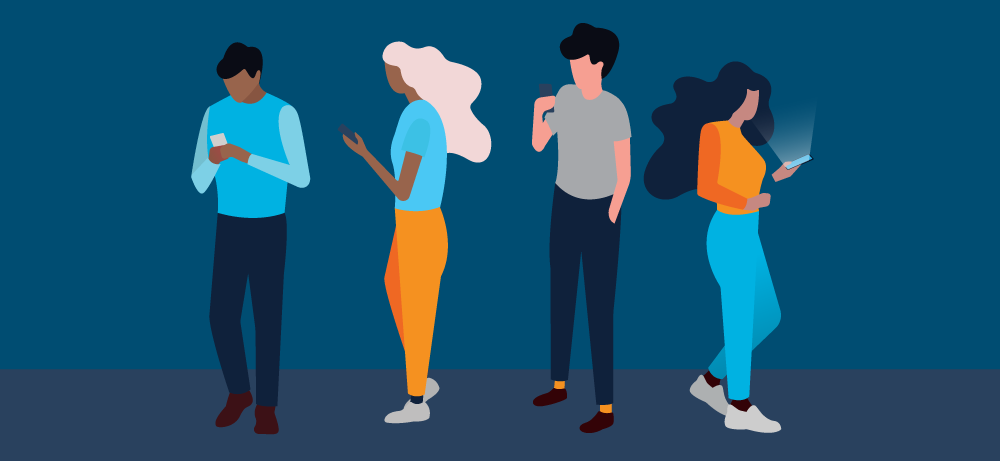 Tips on how to improve your soft skills at work
To do well in any job, you need two kinds of skills: hard skills and soft skills. Hard skills are things you can be taught, like using certain technology. Soft skills are people skills, which play a crucial role in communication and teamwork. Both are important, but it's harder to improve your soft skills if you don't have the right work experience.
Below, PeopleReady shares six of the most important soft skills that employers are looking for in today's job seekers. We also give you all the info you need for getting a job with PeopleReady right now!
Soft skill development: Soft skills you need to succeed
In the section below, we will dive into the key soft skills that are in high demand in today's working world. These skills are vital for your personal growth and success, allowing you to succeed on the job no matter what industry or role.
1. Communication skills
First up on your list for soft skill development: communication skills. Improving communication in the workplace is one of the main goals for many employers. A survey by Salesforce found that 86% of employees and executives cited a lack of collaboration or miscommunication as the primary cause of workplace failures. That makes it a significant factor in your success, regardless of your specific job or position.
Being good at communication lets you connect with your coworkers and build trust with customers, among other things. Keep in mind that it can take time to grow into your abilities. But the more you work at various work settings, the better you'll get at improving communication skills.
2. Active listening
When you make the effort to improve soft skills, active listening is another key area to focus on. Active listening means putting in the effort to understand what the other person is saying and showing interest in their point of view. This could include your managers, coworkers or customers, for example.
To practice good active listening, it's important to concentrate, avoid distractions and pay close attention to their words. This can help build your relationships and reduce misunderstandings that might happen on the job.
3. Leadership skills
You can develop leadership skills in the workplace even if you're not in a leadership role. A strong leader stays motivated to get better, regardless of whether they are managing a team. Their commitment and determination play a vital role in shaping their team's success.
What are some examples of leadership skills? They might include adaptability, conflict resolution and decision-making, for starters. So, build leadership skills and you can succeed in any role!
4. Problem-solving abilities
According to a report by the World Economic Forum, problem-solving was listed as one of the top skills needed in the workforce. Being able to face a challenge and suggest good solutions makes you a valuable team member.
How so? Employers value those who can tackle issues with smart thinking and keep things running smoothly. Also: People who have confidence in their abilities seek out new chances and get more done compared to those who are not committed to self development.
5. Time management
Time management is also crucial for soft skill development. It means you can divide your time well for your job tasks. Prioritizing tasks based on their importance helps you get more done and stay less stressed.
To get better at time management, begin by defining your goals and what's most important to get done. When you can, share tasks with others so that you can increase productivity and meet your deadlines.
6. An upbeat and positive attitude
It pays to feel good on the job. Happiness makes people more productive at work, according to a recent study from the University of Warwick.
When you stay positive and tackle work challenges with optimism, it puts your teammates more at ease and boosts the chances of success. With this soft skill, you are able to concentrate on solutions rather than problems.
Benefits of flexible jobs that offer skills development opportunities
Flexible jobs, such as part-time or temporary jobs, offer a great way to boost your soft skills. These jobs allow job seekers like you to find a balance between work and personal life while also developing important skills. They make it feasible to pursue education, gain more training, or explore different fields.
This flexibility supports your professional and personal development, helping you to not only earn money but also gain valuable experience. Plus, it provides opportunities to expand your network by connecting with new people, potentially opening doors to future job opportunities.
So, what is the best job with flexible hours? You can find it here at PeopleReady!
Find flexible jobs with PeopleReady and improve your soft skills
At PeopleReady we take pride in helping job seekers improve soft skills, whether you are interested in developing leadership skills, communication skills or any other in-demand skills. How do we do it? We give you easy access to jobs in a variety of industries, including retail, hospitality, manufacturing, events and more. Our team is committed to helping your job search by connecting you with employers who have a great company culture. They support your soft skill development every step of the way!
If you're asking, "How can I get a job immediately?" here's your answer. On our website or through our app, JobStack, you can find flexible jobs in a wide range of industries that support your professional and personal development 24/7. Our jobs are available now in 600+ communities throughout the U.S., Canada and Puerto Rico.
Some of our flexible jobs where you can improve yourself and achieve your professional and personal goals:
Hospitality jobs: Prep cooks and line cooks, concierges, bartenders, laundry attendants and parking attendants
Event jobs: Concession workers, cleaning crew members, ticket takers, event setup assistants, ushers
Retail jobs: Cashiers, merchandisers, inventory managers, package sorters and customer service representatives
Warehouse and manufacturing jobs: Machine operators, forklift operators, shipping and receiving workers, pickers and packers, and production workers
General labor jobs: Cleanup crew members, customer service representatives, stockers, flaggers and inventory assistants
Construction jobs: Flaggers, gatekeepers, janitorial crew members, site maintenance workers, traffic control techs
Looking for jobs right now?