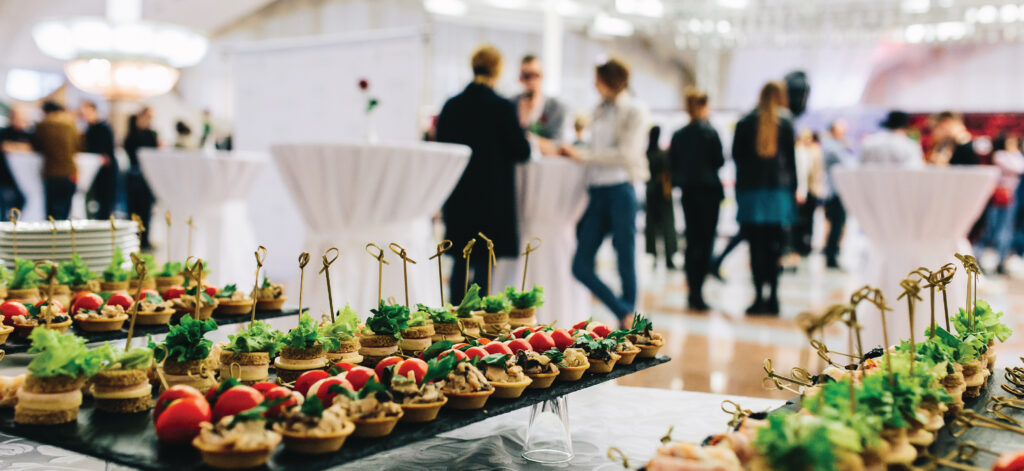 Staffing Needs Continue to Grow for the Catering Industry
The leisure and hospitality industry—including hotels, restaurants and catering firms—continue to face a labor shortage. The leisure and hospitality sector saw nearly 1.3 million new job postings during the second quarter of 2022, according to a recent report from PeopleReady. Having a top-notch hospitality staff with the right attitude and proper training will be essential to the guest experience. Below, you'll see three major trends that define the future of event catering and how they will affect your hospitality staffing needs.
Seating service instead of buffets and family-style offerings
With new health and safety standards in place, catering services are considering different ways of changing their dining layouts. These include converting lobby areas for dining to allow more space between tables during meals. The design of serving stations and other dining elements will also look much different now. Many venues have turned buffets into staff-attended stations. Features include small plates, separate serving dishes and individually wrapped silverware.
Meanwhile, catering staples such as drink bowls, coffee makers and watercoolers have been replaced with water bottles, soda cans and other beverage options. And meals are now prepared in smaller batches so that guests move through lines faster. As a result, recruiting staff may be necessary to make sure serving stations are managed and fully stocked. This keeps everything moving at a fast pace. That includes servers who can record food and drink orders and check in on tables while always having friendly interactions with your guests.
Prepackaged, single-serve and grab-and-go items
Traditionally, catering has meant large trays of food and communal sharing for a more social experience. But with increased focus on safety, the demand for food that's packaged and ready to eat is growing. To avoid the risk of cross-contamination and ensure that guests feel more at ease, catering services are shifting toward prepackaged items. These include:
Boxed lunches and takeout options.
Small bags of candy and other snacks instead of candy jars and containers of nuts.
Individually packaged items like coffee creamers and condiments.
As well as being a safer option, these to-go items offer convenience for your guests as they head off to their next meeting, event or activity. So, along with their other duties, your back-of-house catering staff may be spending more time packaging meals and food items. You will likely also need extra servers and bussers across a variety of duties. They can replenish food stations, clear tables and maintain a clean dining environment.
Personalized food options and more creative presentation
Caterers are also choosing to streamline their food and beverage menus and offer only a limited number of items. But guests will still want to have a memorable dining experience that feels special and exclusive. In the future, there may be menu variations such as a children's menu or an allergy-friendly version. More personalized options are a great way to build guest loyalty.
But while a creative menu with plenty of dining options can appeal to your guests, the right presentation is just as important. When your guests arrive, clean table linens and an attractive display make it clear that they will have a dining experience that's fresh, creative and made just for them. That means having catering staff trained in proper table service and food handling will be essential.
Hospitality staffing solutions for your catering services
To ensure guest satisfaction, catering services at hotels, restaurants and other locations need temp workers for all their hospitality staffing needs right now. These include:
Hosts/attendants to greet guests and provide excellent customer service.
Servers to bring food to guests, fill water glasses and create attractive table settings.
Catering assistants to serve guests and oversee buffets.
Training your catering staff on basic duties along with the latest standards takes valuable time. That's especially true when you're just days or even hours away from greeting guests. But from beautifully designed tables and décor to elegant food displays, you can make your event a major success. How? With support from a hospitality staffing agency that knows your industry and makes it easy to hire temp workers.
PeopleReady and our app, JobStack, gives you 24/7 access to temporary workers for all your hospitality staffing needs. They can provide excellent presentation and guest service, have necessary skills and training, and are available immediately.
Need catering staff for your business?