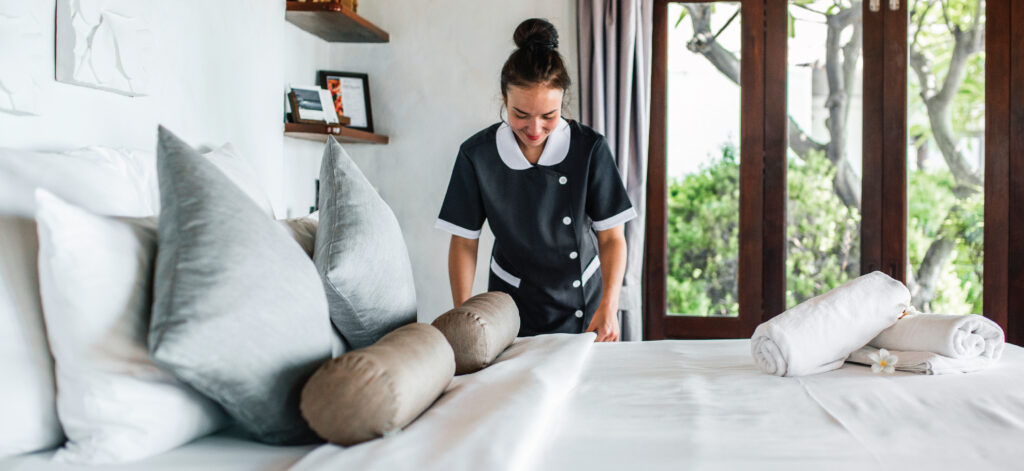 How to find staffing solutions to all your hospitality staffing needs
In July 2022, 848,000 U.S. workers in the leisure and hospitality sector quit their jobs, an all-time record. The months since have seen a simliar rate of turnover. As a result, hospitality businesses will need to rebuild staffing levels to meet continued demand. In these times, a hospitality staffing agency can help you find workers who will serve your customers eager to get out and enjoy new experiences.
In this article, we share three reasons why partnering with a staffing agency is essential for attracting new customers and encouraging customer loyalty.
Get easy access to the best hospitality workers at a moment's notice
As the economy rebounds and customers start coming back, there will be certain times of the year that are busier — whether that's tourist season, community celebrations or other major events.
A hospitality staffing agency can handle last-minute staffing requests easily with expert customer service. They have access to local workers who have completed the necessary certifications and integrity testing in key areas. For example: housekeeping, banquet service and culinary arts, among others.
Meanwhile an agency also has a tech-savvy approach that helps you connect with these workers immediately for your last-minute shifts or short-term positions. There's no waiting period necessary. Having this direct connection to job seekers helps you when you need to fill a role on your team—for one day, one month or longer.
Find the right personalities for your hospitality staffing
Depending on your specific needs, you may be looking for workers who know food service protocols, proper table service or safety and cleaning practices. But skills and experience are just one part of the equation when you're bringing on new workers. Your success relies on the overall quality of a customer's experience, including team members with the personality traits to succeed. They have the ability to listen along with excellent communication skills and enthusiasm for meeting customer expectations.
You can save time and streamline the vetting process with help from a hospitality staffing agency. Their staffing experts do interviews to get to know candidates and see how they might fit in with your culture. And they know the skills that workers need to excel. These might include the ability to meet high grooming standards and represent your business well. You can be certain that your workers will not only have the right skills but also the right attitude to succeed.
Solve hospitality turnover issues and ensure greater customer loyalty
Employee turnover in the hospitality industry hovers around 75% each year, according to the Bureau of Labor Statistics. That means businesses are often faced with an endless cycle of interviewing, training and hiring new workers. And they often have to compete for talent against others in their industry who need workers with similar skills. The ongoing search for new sources of workers can take valuable time.
A hospitality staffing agency features local recruiting experts who know your community and what workers are available. Instead of your business posting on job boards or other websites, they can make connecting with quality candidates easier through their mobile platform and personalized customer service. As a result, you're in a better position to meet the needs of your guests without service interruptions or added cost.
Hospitality staffing agency services available with PeopleReady
PeopleReady is committed to creating the best possible experience for our customers and making sure we exceed your expectations. With PeopleReady's app, JobStack, you get hospitality staffing solutions 24/7. Meanwhile, we have recruiting experts available in hotel staffing, event staffing and more.
Looking for hospitality staffing solutions?