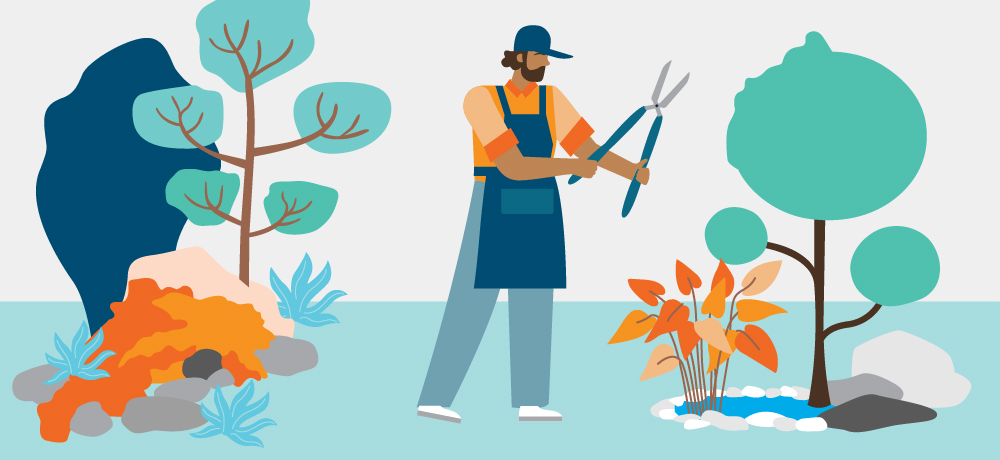 If you've always had a green thumb and enjoy working outside, you may be interested in landscaping jobs. This career path is perfect for someone who likes the outdoors and who has a good eye for detail. Whether you want to work in a big public park, at a highly manicured golf course or inside a local mall, there are many options among today's landscaping jobs. Below, we share what you need to know about becoming a landscaper, including wages, general duties and career outlook.
How much does a landscaper make a year?
The median hourly wage for grounds maintenance workers was $15.49 in May 2020, according to the Bureau of Labor Statistics. There are various paths that someone can take in this field, including business owner and landscape architect. These positions have the potential for more earnings.
What does a landscaper do?
Landscapers and maintenance workers typically work under the direction of a professional grounds manager and perform a variety of tasks, including:
Mowing, edging and fertilizing lawns.
Weeding and mulching landscape beds.
Trimming hedges, shrubs and small trees.
Planting flowers, trees and shrubs.
Watering lawns, landscapes and gardens.
Capturing and removing litter.
Providing proper upkeep of sidewalks, driveways, parking lots.
Where does a landscaper work?
Landscapers and maintenance workers might care for indoor gardens and plants in commercial and public facilities, such as retail stores, malls, hotels and botanical gardens. They may also work for event arenas, golf courses, public parks and more. If they work in an outdoors setting, they should feel comfortable working in extreme heat or cold at various times in the year.
What qualities does this role require?
Many landscaping jobs are seasonal, available mainly in the spring, summer and fall. Most of the work is done outdoors in all weather conditions. The work can be repetitive and physically demanding, so people who work in these roles must be comfortable with frequent bending, kneeling, lifting and shoveling.
What qualifications do you need to be a landscaper?
Most grounds maintenance workers need no formal education and are trained on the job. Most U.S. states require licensing for workers who apply pesticides or fertilizers. Workers should also have basic knowledge of landscaping tools and be able to lift heavy objects.
What's the job outlook for this role?
Overall employment of grounds maintenance workers is projected to grow 8% from 2020 to 2030, about as fast as the average for all occupations, according to the BLS.
Find landscaper jobs, painter jobs and more with PeopleReady!
PeopleReady offers a variety of landscaping jobs all across North America. You get access to jobs 24/7 through our app, JobStack. Our current in-demand jobs include:
Landscapers
Painters
Site maintenance workers
Cleanup crew members
And more!