JobStack Takes Your Job Search to Another Level
PeopleReady gives job seekers like you easy access to jobs in your local area, with opportunities available in over 650 communities throughout North America. It's all made possible with our app, JobStack!
JobStack Benefits and Features
After posting your resume on our JobStack app, you can apply for part-time jobs, temp jobs and temp-to-hire jobs in your preferred industry. What's more, the app is available 24/7, allowing you to select when and where you work, so you earn money while maintaining a flexible schedule that fits your needs. Many of our temp jobs hiring now offer daily or weekly pay, with several payment options available.
JobStack offers thousands of jobs in many different industries, including retail, hospitality, events and more. Explore different roles, develop new skills, and take the time to consider which jobs best fit your preferences and future careergoals.
JobStack Step-by-Step Guide
Ready to work with PeopleReady? Below, you'll find a guide to help you get started using JobStack and be on your way to finding work.
Download the JobStack worker app and apply: Complete the registration process to become a PeopleReady Associate and begin seeing jobs!
Get hired: Then add your skills and preferences in the app and get matched to jobs in your area. Accept the ones that fit your skills and schedule⁠—skip the ones you don't.
Put your skills to work: Head out to your first shift! Use the app to alert your employer when you're on your way and have arrived to the job site.
Get paid quickly: Approve your hours directly from the app after each shift and get paid fast!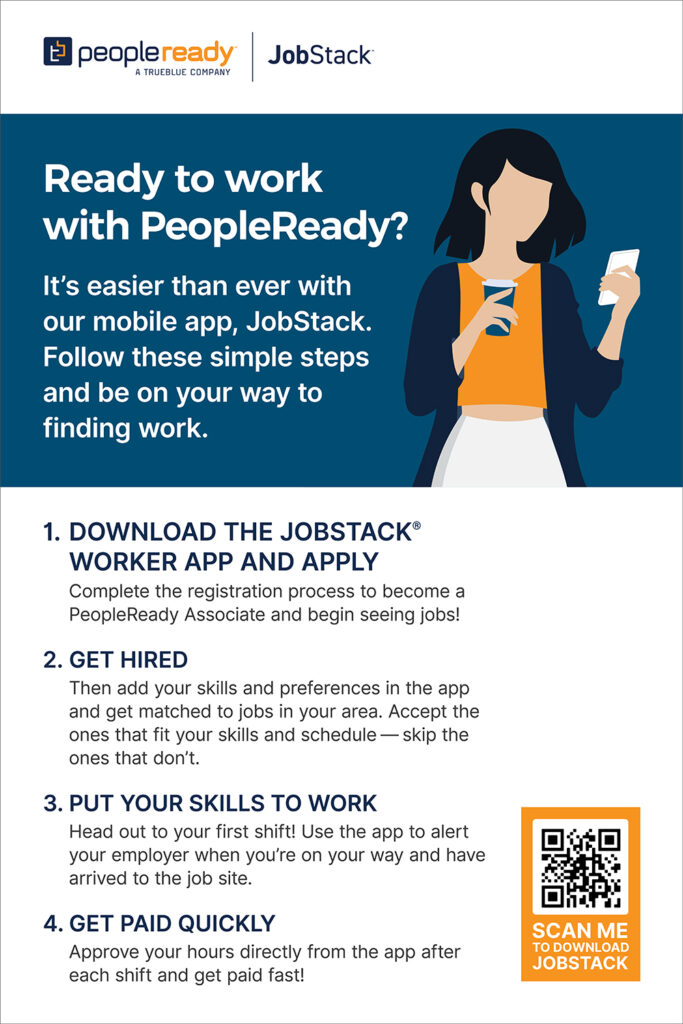 Find Jobs Now
Download JobStack or search jobs online