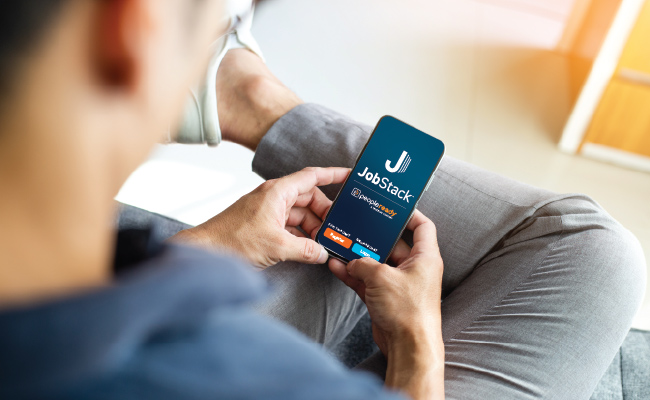 The joke that there's an app for everything feels like a lifetime ago. Now, there truly does seem like to be an app for everything, even apps to help you manage your apps. Luckily, there are also apps that let you conveniently find work.
One example is PeopleReady's app, JobStack, which lets you find on-demand work when and where you want it. You take full control of your work schedule with JobStack—the only app you'll need to explore local job opportunities and earn money fast.
How to apply for jobs with JobStack
Apply to PeopleReady
Once you've applied to PeopleReady and passed our review process, you'll have instant access to thousands of jobs through the JobStack app. Why do we do it this way? Because we want to get the screening process completed so that you don't have any delays once you start using the app.
Accept jobs
One of JobStack's most innovative features is how it learns what jobs are the best match for you. It's quite simple: The more jobs you accept, the better the app understands your preference. So over time your JobStack experience is truly unique to you, which means you spend less time browsing through jobs that don't interest you.
Ace the gig
JobStack lets employers give feedback on your performance, which factor into your overall rating. As a result, workers that receive high ratings from employers will have more opportunities come their way. Don't forget: The app also lets you give feedback on the jobs you take.
Follow your own schedule
The benefit of using an app to find work is that jobs are always ready when you need them. Whether you want to pick up a few evening and weekend shifts or stack your schedule for an entire week, the choice is yours. And since you don't need to go to one of our offices to accept jobs or submit hours, you save time and can create the schedule that works for you.
PeopleReady connects you with temp and part-time jobs in your area
PeopleReady's staffing app, JobStack, lets you update your resume and apply to jobs 24/7 from the convenience of your mobile device. Some of the temp and part-time jobs we have available right now include:
Looking for part-time or temporary jobs?