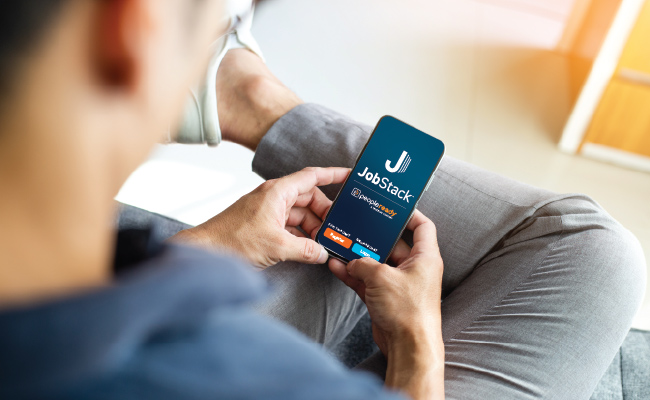 Remember life before smartphones and apps? Yeah, neither do we. The joke that there's an app for everything feels like a lifetime ago. Now, there truly does seem like to be an app for everything, ranging from the silly to the essential. There are even apps to help you manage your apps. Luckily, there are also apps that let you conveniently find work. One example is JobStack, which lets you find on-demand work when and where you want it.
You're probably wondering, "I already have a lot of apps—why is JobStack worth the coveted space on my home screen?" Simply put: You can find jobs more quickly than ever before just by taking steps you're already taking. It's no extra work on your part, but you'll see great results. Here are four ways to use JobStack to speed up your job search:
Apply to PeopleReady
Once you've applied to PeopleReady and passed the review process, you've got the green light to start using the JobStack app. Why do we do it this way? Because we want to get the screening process out of the way so that you don't have any delays once you start using the app. The good news is that if you've already used PeopleReady to find work, you're ready to go!
Accept jobs
One of JobStack's most innovative features is how it learns what jobs are the best match for you. It's quite simple: The more jobs you accept, the more it understands which gigs you prefer. So over time your JobStack experience is truly unique to you, which means you spend less time browsing through jobs that don't interest you.
Ace the gig
The app lets employers give feedback on your performance, which factor into your overall rating. Workers with low ratings because they didn't show up to the job or who didn't perform won't receive job offers via JobStack, but workers with positive feedback will have more opportunities come their way. Don't forget: The app also lets you give feedback on the jobs you take.
Follow your own schedule
The benefit of using an app to find work is that it's always ready when you need it (and it's still ready when you don't need it). And since you don't need to go into a branch to accept jobs or submit hours, you get to create the schedule that works for you.