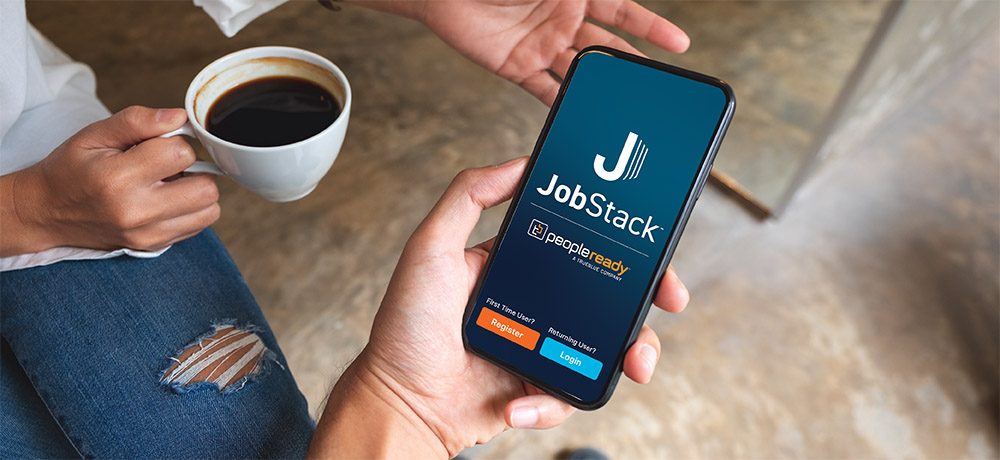 What PeopleReady Associates Have to Say About JobStack
Today's mobile job search apps allow you to manage your entire job search in one place. We can tell you all about PeopleReady's job search app, JobStack, but why don't you hear it from the people who work with us? Explore four major benefits of finding temp jobs with JobStack according to some of our PeopleReady associates.
The ability to select jobs across many different industries
About 55% of people in the workforce said they are likely to look for a new job in the next 12 months, according to a 2021 Bankrate survey. If you're wanting to make a career change, JobStack enables you to find jobs in a variety of industries 24/7. With JobStack, PeopleReady associates have the opportunity to update their profiles on the app as they gain new skills and experience so they can see additional job options.
"Always a large variety of jobs. Something for everyone!" —William S.
The opportunity to sign up for jobs whenever they want
Job search apps make it easy to find your next work opportunity right on your mobile device. You can sign up for alerts when new positions in your field are posted and accept jobs immediately. Or, when you find a job you're interested in, you can save it so you can apply later. They are also able to quickly confirm work hours and rate their experiences on completed jobs.
"Excellent way to earn more money. JobStack is very flexible and allows for your schedule." —Moses R.
More convenient payment options
With JobStack, PeopleReady associates know the rate of pay before accepting the job. And they are quickly paid after they have completed an assignment. PeopleReady has other payment options for you depending on your preferences, including our Wisely Cash Card. For instance, we offer direct deposit for quick and easy payment. Meanwhile, many of our jobs offer weekly or pay within 24-48 hours. 
"Love these people. They have saved my life literally from hanging out in the streets being homeless. These people are the best!" —Sonya L.
Shorter commutes and less travel time
Upon completing PeopleReady's onboarding process, workers can view assignments in JobStack that are tailored to their desired location. Finding work through an app is also a great alternative to visiting the branch office regularly. As a result, they avoid unnecessary travel and reduce fuel costs and vehicle wear and tear.
"Because I wouldn't have to stop by the branch office, I can go straight to the job site. It saves time and gas from having to drive to the branch looking for work." —Carlos R.
Access top temp jobs now on JobStack
From hospitality to retail to manufacturing, JobStack has temporary jobs spanning each of these areas and much more. The more you use JobStack, the more opportunities you'll get to learn new skills and build connections—whether you want temporary work or a temp-to-hire role that will extend through the rest of the year and beyond. Some key roles that we're currently filling include:
Hospitality: Concessions workers, catering assistants, prep cooks, servers.
Manufacturing & logistics: Warehouse associates, assemblers, pickers and packers, forklift operators.
Construction: Construction workers, cleanup crew members, general labor.
And more!