Summer is coming. That means employee vacations. Last summer, 41% of employers planned to hire seasonal workers, and that number is expected to rise. While demand for seasonal workers continues to rise, the number of workers available stays the same.
Due to the stiff competition for workers, it's important to work hand-in-hand with your staffing partner to ensure you find the right staff for your job site. Here's how you can help ensure you're doing everything you can to help PeopleReady build you the perfect summer workforce.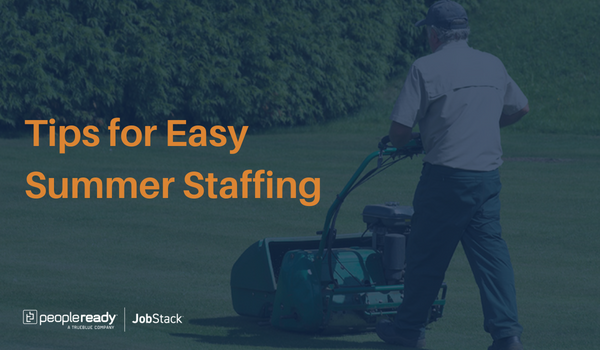 1. Plan Early
For your staffing partner to create the most effective workforce solution, you'll need to start planning early. Start with your full-time staff. There's no need to implement vacation freezes, that's why you have a staffing partner. Instead, ask your full-time employees to submit vacation requests at least 60 days in advance. This will give your partner ample time to start he recruiting process, and it will help them narrow down which positions they need to prioritize.
2. Embrace College Graduates
The month of May introduces thousands of college graduates into the workforce. Their lack of experience isn't necessarily a bad thing. When getting a recent graduate up to speed on your processes, you won't have to fight through any old habits. Their ambition to make an impact and get noticed may even help quicken this learning process.
3. Create an Engaging Environment
Summer months mean more opportunities for job seekers. To make your job stand out among other seasonal opportunities, you need to create an environment in which people want to work. Make sure you communicate all of the benefits your company has to offer your temporary employees. Aside from benefits, make sure your temporary employees feel included, especially if they'll be working on longer assignments. Feeling welcome on the job site will help you boost productivity.