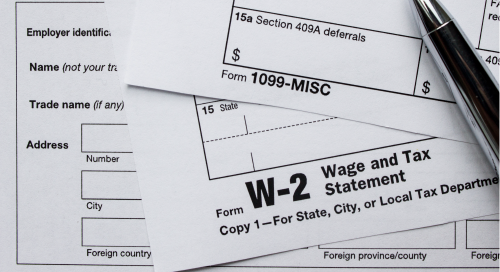 When comparing and preparing tax forms for your workers, it's important to understand the differences between a W-2 employee and 1099-MISC independent contractor. While both may work for you, the capacity in which they do may differ, so classification is key; no one likes paying penalties.
The quickest differentiator between the two types of workers is that W-2 employees receive a regular wage and income taxes are withheld. 1099-MISC workers are considered self-employed independent contractors. For them, pay is delivered in accordance with their business contract and taxes are not withheld from their payment.
We recommend you consult the IRS for definitive answers to your W-2 and 1099 questions, but the following information can help you down the right path:
Review these key identifiers to help determine which type of workers you employ:
Behavioral Control
Do you control what the worker does, when and how they do it? If yes, that deems behavioral control over the worker, meaning they are most likely considered a W-2 employee. If another company (such as a staffing agency) controls their employment, they may be a W-2 worker for that company, as associates for PeopleReady are.
Financial Control
Financial control reviews how the worker is paid. If the worker is an employee, the employer determines when the worker is paid and for how much. When hiring from a staffing agency, they determine pay with the worker. These are W-2 workers. If a contract exists directly between you and the worker, determining project scope, payment structure, and deadlines – they are likely a 1099-MISC independent contractor.
Relationship with Worker
If employee benefits are involved in the business' relationship – such as insurance, sick leave, pension plans, and paid vacation – this indicates the worker is an employee. Also, consider the length of any contract between the business and the worker and the type of work performed. Each of these factors can help determine the type of relationship you have with the worker, whether employee or independent contractor.
What are some general items to bear in mind when prepping for the tax season?
CLASSIFY
Properly classifying your workers is key—so whenever you onboard a new individual, determine the type of worker upon hire; the IRS penalizes incorrect classification.
CHECK W-4s
All W-2 employees should also complete a W-4 form at hire. Employers are not allowed to help employees complete their W-4 form, but may assist in helping find resources on how to properly complete the form. The employee may change this form at any time to alter withholding.
REVIEW
Employers are required to distribute social security forms (including 1099-MISC, W-2, W-3, and 1096) on specific dates each year following the tax year to avoid penalties. Ensure correct and legal forms are also being used; unapproved documents may incur penalties.