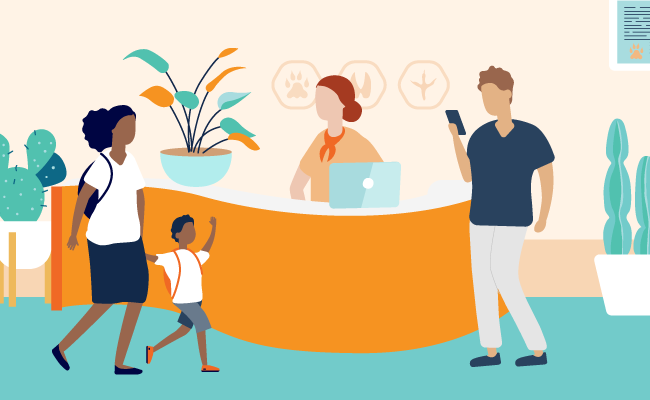 CHALLENGE
As the hospitality and events vendor supporting the Chicago area's Brookfield Zoo, SSA Group has faced several challenges finding hospitality staff. Above all, their staffing needs fluctuate often depending on weather and seasonality. In fact, SSA may require anywhere between 10 and 40 hospitality workers per day. With a busy summer season ahead, they reached out to PeopleReady for help staffing the zoo's upcoming events.
SOLUTION
PeopleReady quickly rose to the challenge and introduced SSA to our staffing app, JobStack, which gives businesses 24/7 access to local workers. These workers covered a variety of hospitality jobs for events and concessions, including ticket scanners, runners, cashiers and prep cooks. Whenever a new event was scheduled, SSA could open JobStack and find available workers on demand, even on nights and weekends. Even better, the app would allow them to repeat orders for workers and request those who had performed well on previous shifts.
RESULTS
While SSA's other staffing agency couldn't keep up with their staffing needs, PeopleReady was able to ensure their orders were filled completely. Brookfield Zoo benefited greatly from the quality and consistency of workers they received: On an average day, around 70% of them had worked on previous shifts. Meanwhile, SSA appreciated the personal touch of PeopleReady—our managers were always present on-site to verify that all workers showed up on time. They also enjoyed the fact that JobStack made requesting workers and submitting their hours every day fast and simple.
Brookfield Zoo is currently building an outdoor venue to host corporate
events, and SSA plans on using PeopleReady to provide catering assistants. The zoo has also begun working with PeopleReady directly to staff for other roles outside of hospitality, including ground maintenance crew members and landscaping workers. Because of the ease and convenience of JobStack, along with our ability to fill positions quickly with high-performing associates, PeopleReady is now SSA's sole staffing provider.
Need hospitality workers?