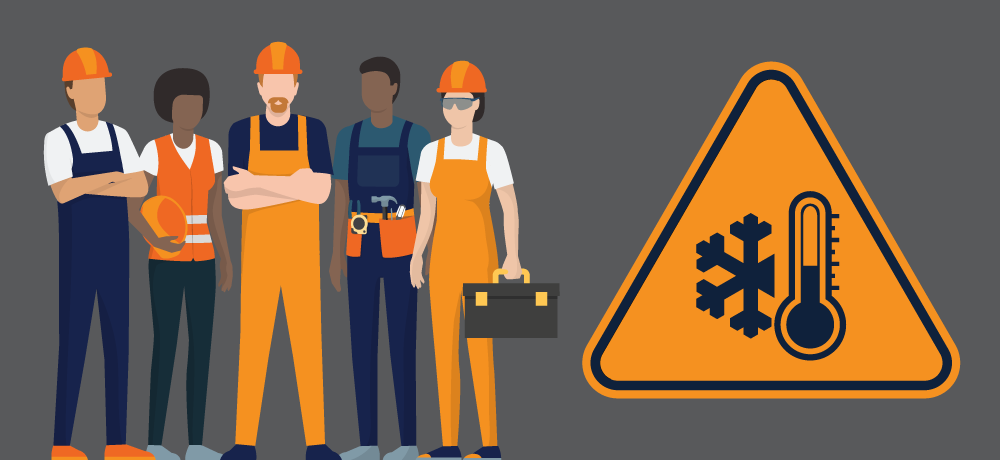 The winter season brings icy roads, dangerous conditions and slippery surfaces in many areas. According to the most recent U.S. Bureau of Labor Statistics data from 2017, there were more than 20,000 occupational injuries related to ice, sleet and snow annually. Resources from the Occupational Safety and Health Administration can help you prepare for inclement weather so that you can ensure worker safety throughout the winter. Follow these helpful recommendations to protect your workers and your business:
Promote safe driving
If your employees commute to your job site, make sure you promote safe driving. Remind your workers about checking vehicle systems, particularly if they are operating any type of machinery on site. Also, include emergency kits within each of your work vehicles as well, complete with all recommended items such as:
Cellphone or two-way radio
Windshield ice scraper
Snowbrush and shovel
Flashlight with extra batteries
Tow chain
Traction aids (bag of sand or cat litter)
Emergency flares and jumper cables
Snacks and water
Road maps
Blankets and change of clothes
Educate workers about cold stress
Your managers and supervisors need to know the different types of cold stress, including hypothermia, frostbite and immersion. They should also be able to recognize conditions that can lead to cold stress and what symptoms look like. Plus, they should learn how to prevent cold stress, how to treat those who are affected and how workers need to properly dress for inclement weather.
Once your leaders understand the basics, they can educate their team on cold stress symptoms and how to treat them. Cold stress may look different depending on weather conditions—whether it's extreme cold or even increased wind speed.
Know common risk factors for cold stress
OSHA shares many preventative measures for cold stress in its Cold Stress Guide. It also lists many key risk factors everyone on a job site should be aware of and avoid, if possible.
Wetness or dampness
Dressing improperly
Exhaustion
Preexisting health conditions such as hypertension, hypothyroidism, and diabetes
Poor physical conditioning or preparation
Address the weather conditions
Although it may be tempting to brush off potentially dangerous conditions in favor of getting the job done in time, it's not worth risking long-term safety and legal issues. Be sure you prepare the job site and anyone working on the job site for safety, including but not limited to:
Clearing snow and ice from walkways
Spreading deicer
Ensuring all mechanics are winter-proofed with proper maintenance
Providing adequate fall protection
If the job site is simply too dangerous for work, postpone the job and help your workers understand the importance of safety. Consider allowing workers time off or the opportunity to make up the time when conditions are safer.
PeopleReady helps you find temporary workers at any time of year
Rather than risk losing someone on your team to sick days or injury, work with a staffing partner that can help ensure the safety of your job site. PeopleReady can provide your business with the workers who have necessary training and education on safety protocols any time of year.
Looking for temporary workers?