Yesterday, countries throughout the world honored all veterans—both those who are serving today and those who have served in the armed services in the past—for their sacrifices. In most of the U.S., our company's home country, we observe Veterans Day today.
Veterans sacrifice their time, livelihoods, health and for some, even their lives. Many have had difficulty returning to civilian life, or have suffered physical and psychological wounds that may never heal, or had experiences that may never be forgotten.
It is important that we remember our veterans and show our respect for the selfless service they have given to make the lives, safety and security we all enjoy today possible.
At TrueBlue, we have a unique opportunity to show our appreciation for veterans in the way we fulfill our mission. I'd like to briefly tell you about three veterans we've connected with work.
Ray Perry served in the U.S. Navy on the Theodore Roosevelt aircraft carrier from 1987-1990.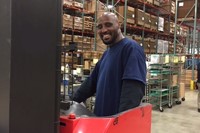 Today he is a forklift operator at a Staff Management l SMX customer on-site location in Memphis, Tennessee. He's worked for us for three months.
Ray likes working for Staff Management l SMX because of the stability we offer, and the opportunity to use his skills, including his leadership skills. Ray also likes the experience of working in different areas, learning new skills and meeting new people.
Ray says he is committed to doing the best job he can, giving 100% of himself, and even going above and beyond what is required.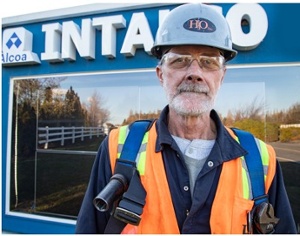 Michael Wittman walked into PeopleReady branch number 1102 in Vancouver, Washington, in July. He was an impressive candidate, and the reports regarding work he did for other branches were positive. Our customers were impressed with Michael, so the branch progressively assigned him to more skilled jobs at higher pay. When an order required someone with construction experience, the branch sent Michael and the customer kept him busy for several weeks.
The team would sometimes see Michael waiting in his truck when they arrived at work in the morning. They figured it was Michael's work ethic, but learned that he was living in his truck or at a campsite. Because of the consistent, good-paying work that Michael is getting through PeopleReady, and with the help of the U.S. Veterans Administration, he is now close to getting a place to live that he can call home.

Darian Wellington is in the U.S. Army Reserve, and for the last five years, she has served as a nutrition care specialist part-time on the weekends in hospital, clinic and field locations. In April 2016, she was awarded the Army Achievement Medal.
As a recent graduate from DePaul University in Chicago with good work and internship experience, Darian was looking for the right full-time opportunity to transition from military to civilian life. Our PeopleScout team, working on behalf of our client, BMO Harris Bank, thought she would be a great candidate as a personal banker at BMO's call center in Buffalo Grove, Illinois, a Chicago suburb.
The people at BMO did, too. Darian started with the bank on October 1. She tells us it has been a great experience and she's learning a lot. But already, Darian's career at BMO and Army reserve service aren't enough for her. She says her personal mission in life is to help others by any means at her disposal and wants to get involved in humanitarian work.
These are just three of the tens of thousands of veterans we help every year. And our commitment to veterans doesn't end at the U.S. border. We have already begun exploring how our PeopleScout business can accelerate veteran recruiting in Australia, Canada and the United Kingdom.
What we do at TrueBlue matters to our customers and to the people we connect with work. Thank you for what you have and continue to do to honor the service of the heroes that help make the world a safer and better place for all of us.