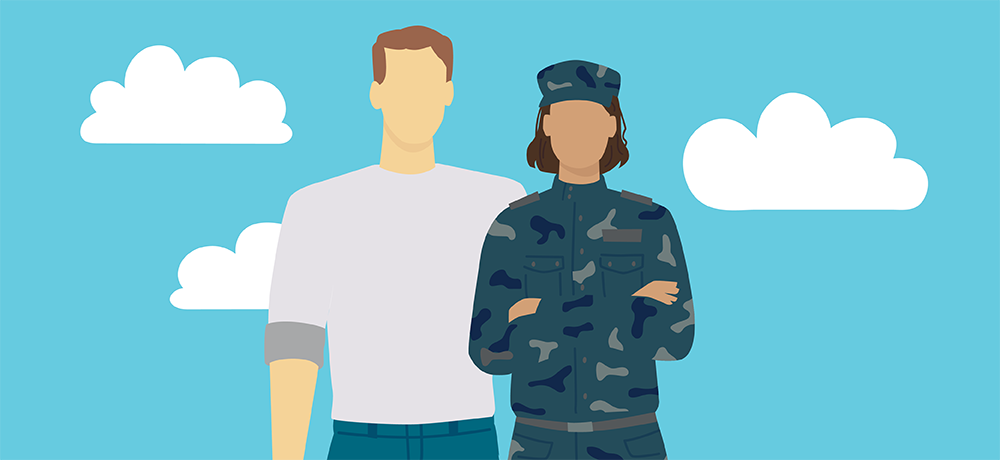 Unemployment and underemployment have been long-standing issues for military spouses. Forty-two percent of military spouses are no longer participating in the workforce due to the increased child care needs brought on by the pandemic, according to Military.com. Below, PeopleReady shares the best jobs for military spouses where you can leverage your unique skills and experiences.
Hospitality and events roles are actively hiring all across the country
For any hospitality job, you need to be able to multi-task, make quick decisions, remain organized, and stay calm in time-sensitive environments. This line of work lets you tap into your experiences as a military spouse.
As a military spouse, you're used to meeting new people from different backgrounds. Military families tend to move every two or three years, sometimes across the country, or even abroad. Plus, you know how to balance priorities that ability translates into hospitality and event jobs, where you'll make quick connections with guests and your fellow staff members. 
Jobs in hospitality and events:
Catering assistant: Catering assistants are known for their organizational and multi-tasking skills. They're often responsible for loading and unloading supplies, setting up buffet stations and preparing food items. They also manage orders and inventory ahead of time to ensure there are no supply shortages during the event.
Front desk agent: Working as a front desk agent in a hotel allows your personality to shine through. You're the first person to meet guests and their point of contact, helping them with any questions or concerns. Plus, you will perform a variety of duties, such as managing reservations, processing payments and providing room keys.
Guest services worker: Being a military spouse prepares you for many roles in travel and tourism, where great service and the ability to organize are essential to the guest experience. For those who work hard and have a positive attitude, the opportunities for growth are endless.
Banquet server: Banquet servers greet guests upon arrival to the venue, serve beverage and food orders to guests and prepare settings. In addition, they maintain the bar area, monitor the cash drawer at the bar and perform inventories.
Military spouses can thrive in the retail industry
When PCS orders come in, military spouses have to manage a move from one state or country to another. The duties involved including selling a home or car, packing, scheduling movers and transferring medical and school records, for example. These tasks have to be completed in just a few short weeks, which means that you're likely an expert in how to be efficient and organized.
Retail jobs offer the flexibility you need along with an opportunity to use these skills. Major retailers often allow you to transfer store locations depending on your current home base. In some cases, employees can even choose their own schedule. As a result, you can make money while still being available for necessary errands, appointments and child care.
Jobs in retail:
Customer service representatives: As a customer service representative, you help customers with their purchases, answer phones and emails, and serve as a store ambassador. Your job is to create a great experience so that guests feel loyal to the retailer and make return to trips to your store.
Cashiers and sales associates: Cashiers and sales associates answers product questions, shows guests around the store and help guide purchases. Many retailers offer in-store pickup and appointment shopping, and people in these roles may help manage these experiences as well.
Merchandisers: Merchandisers work collaboratively with in-store staff as well as manufacturers and suppliers to ensure products are displayed correctly and remain stocked.
Inventory managers: Inventory managers manage a team of retail employees to receive and record new stock. Typical duties include evaluating shipments, recording deliveries and reviewing supplies.
Construction and skilled trades offer flexibility and career growth potential
The construction industry also offers major opportunity for military spouses as well as those transitioning out of the military. General construction workers usually find a preference for a specific trade and might enter a formal apprenticeship program and begin the process to receive certification in a specialty. Explore jobs in construction and the skilled trades.
How PeopleReady matches military spouses with jobs
The U.S. Department of Labor offers a variety of resources for military spouses as they explore their career options. This includes details on corporate veteran hiring programs, veteran hiring events and other veteran hiring initiatives.
Also, temporary jobs can be a great way for military veterans and their spouses to earn extra cash, gain experience and exploring different career opportunities.
PeopleReady gives job seekers access to job opportunities that work around your schedule, enabling you to make money and enhance your skills. In fact, we can put you in touch with companies with veteran hiring programs in your area. Also, our JobStack app allows you to view jobs based on your location, skills and interests.
Looking for work in your local area?
Looking for general jobs?
Looking for construction or skilled trades jobs?