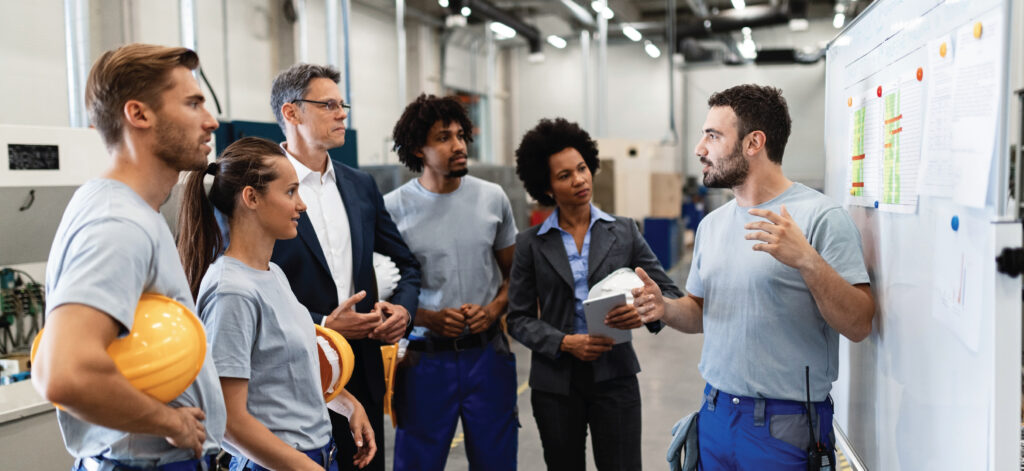 The benefits of temporary staffing for your manufacturing firm
The manufacturing and warehousing industries have been struggling to recruit workers who possess the most in-demand skills. A manufacturing temp agency can make all the difference for your business, putting you in touch with temp-to-hire and temporary workers who serve a variety of staffing needs. Here are four ways they can help you.
Assembling a staff with the necessary skills
According to a Gartner report, only 16% of new hires possess the necessary skills for their current jobs. Staffing experts from a manufacturing temp agency will simplify your hiring process. How? They know exactly how to identify qualified candidates, whether it's for your manufacturing facility, warehouse or distribution center.
A staffing company that focuses on the manufacturing industry can ensure that the short-term workers they deliver for you will possess proper training in the use of machinery and equipment, as well as other skills and experience you need. With this support available, you'll be more confident in the future of your workforce.
Managing business uncertainty
The National Association of Manufacturers reports that a skills gap has caused about a half-million manufacturing jobs to remain open. If your business needs to fill important workforce gaps, bringing in temporary workers lets you take time to determine whether these workers are right for a full-time role in the future. During this trial period, you get a firsthand look at their skills and attitude so you can evaluate their potential and how they might fit into your work environment.
A manufacturing temp agency gives you direct access to these workers. With the latest tech tools at their disposal, they connect you with temporary or temp-to-hire workers who have the potential to be converted into full-time employees. When unexpected events occur, they'll help keep your business moving forward so you can focus on your business goals.
Capitalizing on new business opportunities
With changes in consumer demand and buying patterns, using temporary or temp-to-hire workers is a great way to take a conservative approach as you move into the future. Whether your business is focused on e-commerce, food manufacturing, transportation or any other industry, your growth potential is high right now for many reasons.
If you're hesitant to hire full-time workers, a staffing company has convenient access to temporary workers. They will help you guarantee a full team and provide you valuable peace of mind in the meantime. This gives you flexibility as you begin to experience surges in business or look to enter new markets.
Easing your hectic schedule
When working with a manufacturing temp agency, you'll also save time you'd normally spend on placing ads, reviewing resumes and scheduling interviews, among other tasks — all of which might interfere with your other responsibilities.
A staffing agency manages the entire onboarding process so that you can focus more on your current projects. They also help your business stay compliant and ensure the safety of all employees through required training. This is especially important for larger organizations which may have increasingly complex compliance regulations.
Manufacturing temp agency services available with PeopleReady
PeopleReady is ready to help with our 24/7 staffing solutions, including our app, JobStack. When you partner with us, your workforce is always within reach. We can provide permanent, temp-to-hire or temporary workers that support your business growth.
Need manufacturing or warehouse workers?