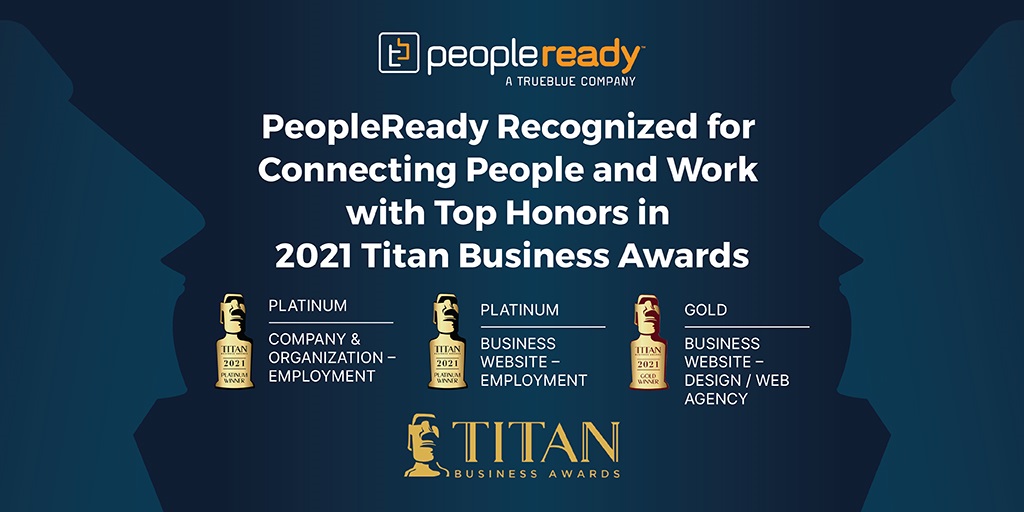 TACOMA, Wash.—May 26, 2021—Earning top honors for excellence in connecting people and work, staffing leader PeopleReady was recognized with three 2021 Titan Business Awards. PeopleReady was singled out as a top staffing company and heralded for its best-in-class website in the inaugural international competition hosted by the International Awards Associate (IAA).
PeopleReady received a platinum Titan award in the company and organization-employment category for its innovative work in helping people connect to work during the pandemic. The staffing leader's website redesign was also recognized with a platinum award in the business website–employment category and a gold award in the business website design category.
"Temporary jobs have become crucial in helping people and businesses navigate the changing world of work. PeopleReady is proud to be honored as an industry leader by the IAA for our mission-driven efforts to connect people and work," said Taryn Owen, president of PeopleReady. "Our focus is on helping to make something that can be difficult—whether that's finding workers or finding work—easier and faster by putting quality work and a quality workforce within reach."
"We celebrate the remarkable Titan-like achievements of a wide range of organizations, from all industries, as well as their efforts to better both the workspace and company culture," said Kenjo Ong, CEO of IAA. "Persevering through adversities and hardships, we aim to inspire and embolden all businesses, being the advocate of integrity for all corporate professionals worldwide."
PeopleReady, which connects someone to a temporary job every nine seconds, is leading the digital transformation of the staffing industry. The staffing leader's website redesign helps to highlight its recently implemented state-of-the-art, centralized sourcing and recruitment engine as well as a new virtual onboarding experience that puts Work Within Reach™ for more than 90,000 job seekers each month.
About PeopleReady 
PeopleReady, a TrueBlue company (NYSE: TBI), specializes in quick and reliable on-demand labor and highly skilled workers. PeopleReady supports a wide range of blue-collar industries, including construction, manufacturing and logistics, waste and recycling, and hospitality. Leveraging its game-changing JobStack platform and 600-plus branch offices across all 50 states, Puerto Rico and Canada, PeopleReady served approximately 98,000 businesses and put approximately 221,000 people to work in 2020. Learn more at www.peopleready.com.
Media Contact 
David Irwin
Communications Director
dirwin@trueblue.com
630-453-1120