Start Your Job Search Here
Looking for Workers?
Looking for Work?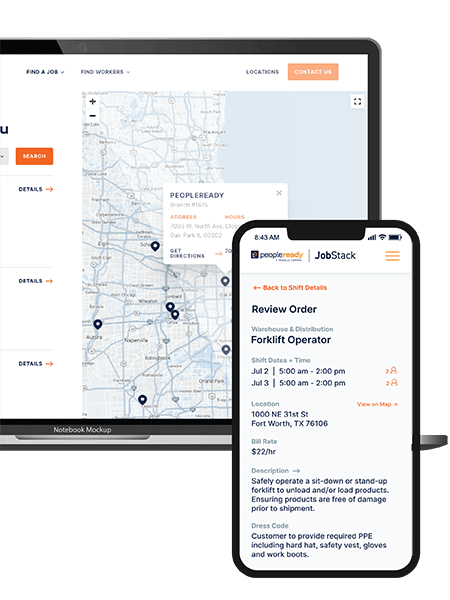 Workforce Within Reach
Partnering with PeopleReady gives your business quick and convenient access to workers who have the necessary skills and experience to get the job done right.
Get workers 24/7
With our mobile app, JobStack, you can place an order and watch it get filled in real time—even on nights and weekends. For those who prefer to work with a representative instead of an app, our team is in your community and ready to assist you.
A scalable workforce delivered
Whether you need one worker dispatched at a local level or require a coordinated effort to fill thousands of openings nationwide, PeopleReady will simplify the process by managing your project from one central source.
The power to do more
With our geographic footprint in over 650 communities across the United States, Canada and Puerto Rico, you can trust that we'll be there to help you scale up when you land a project that requires a larger workforce than you have right now.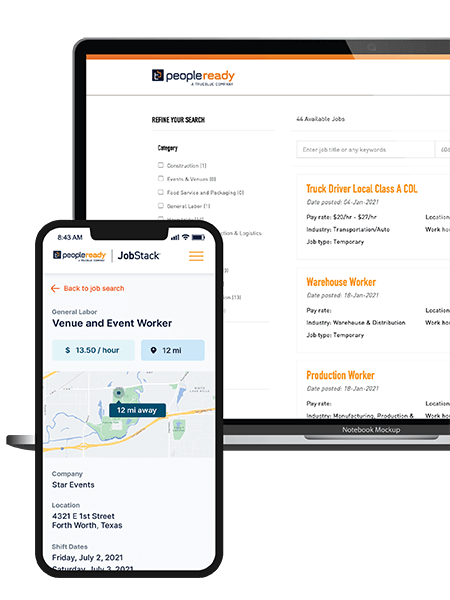 Work Within Reach
Whatever your background or level of experience, PeopleReady supports your job search with work opportunities that best match your skills and preferred schedule.
Find jobs near you
Whether you're looking to supplement your income or expand your skill set, our relationships in your local community give you access to a variety of jobs. That's why you can count on us to stay ready with jobs right when you need them.
Get work that fits your schedule
Struggling to find jobs for your schedule? Interested in setting your own hours? PeopleReady gives you the flexibility to choose which jobs you take and when. Whether you like variety or are looking for a specific position, you can find it here.
Access more relevant jobs every day
Our mobile app, JobStack, gives you access to a variety of jobs so that you can choose ones that fit your skill set and schedule. As you use JobStack to accept jobs, your experience will be customized to your preferences. So, the more you use the app, the easier it becomes to find the right match.