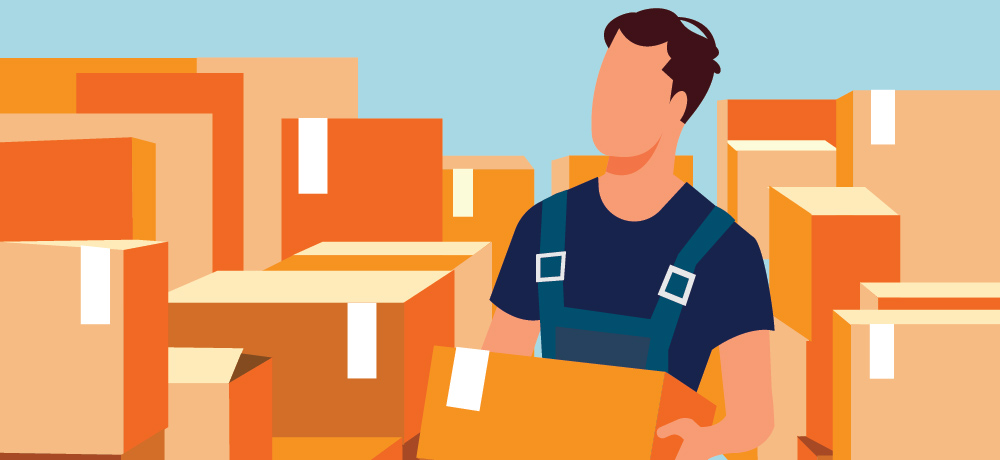 Distribution center and warehouse jobs to power your career
Online shopping has truly transformed the retail industry. In fact, a recent study shows that the U.S. has 218.8 million online shoppers, and that each online shopper will spend an average of $5,381 this year. That's good news for you and your job search! It means PeopleReady has countless warehouse careers and retail jobs available in e-commerce. The career path you follow is yours to choose.
Stock and order associates
Stock and order associates help organize and move products in the warehouse so that they're ready for packing. They also keep an eye out for damaged goods, alerting management as necessary.
Want to succeed in fast-paced general labor jobs like this one? Attention to detail and strong organizational capabilities are important skills to have.
Warehouse jobs also give you an opportunity to explore your interests and talents through a variety of relevant tasks and challenges. Plus, the soft and hard skills you learn as a general laborer will benefit your career even if you take jobs outside of retail.
Hand laborers and material movers
Love working with your hands? You're in luck. A variety of general labor roles are needed to ensure warehouse operations run smoothly, and that's where you come in. You'll fulfill online orders, keep store shelves stocked, move materials to and from loading docks and unload cargo from trucks and containers.
No two days are ever the same with these general labor jobs. Be prepared to shift gears quickly and stay on the move.
Pickers and packers
Warehouses also need pickers and packers, which are among the most in-demand warehouse jobs. You'll package a variety of items by hand and then apply labels, inspect products for damage and record which items are packed.
These packaging jobs help protect products and reduce the amount of inventory loss. You'll succeed in this role if you can move items quickly and remain organized in a fast-paced environment.
Warehouse careers often offer flexible scheduling and overtime hours, allowing you to make a stable income while still having time for friends and family. Not ready for a career in the warehouse industry? No worries. PeopleReady has temporary and part-time warehouse jobs available as well.
Order clerks
Not all warehouse careers involve manual labor. Order clerks, for example, play an important part in making sure operations run smoothly. They perform data entry tasks like receiving orders from customers, processing payments and assisting with questions on pricing and shipping. If you like working with people, this job is definitely for you.
Order clerks rely on the latest systems and technology to get the job done, so keep in mind that you'll need solid computer skills as well. Other important traits to have include attention to detail and the ability to multi-task.
Shipping and receiving clerks
Warehouse workers can also become shipping and receiving clerks. Shipping and receiving clerks make sure that all orders are recorded and tracked. In this role, tasks include scanning barcodes and managing inventory. Shipping and receiving clerks also help process shipments and input that information into the proper systems.
What does it take to be successful in one of these retail jobs? Time management and multi-tasking skills will help you excel.
Customer service representatives
Do you have a people-first attitude? Is "patience" your middle name? There are a variety of retail jobs available for people just like you, including customer service representatives.
What's the job description? As a customer service representative, you will respond to customer feedback, address issues and ensure that customers are satisfied with their shopping experience. This may be done over the phone, through instant messages or even face-to-face. Good skills for retail jobs in customer service include professionalism and active listening.
Plus, in this role you'll learn how to move up in retail. Many customer service representatives go on to merchandising jobs. Want to know what you'll need for this lucrative career? Merchandiser jobs need workers to use their product knowledge and organizational skills to provide a memorable experience for consumers.
Operations managers
Interested in stepping into a leadership role? Entry-level jobs can lead to a variety of warehouse careers with great growth opportunities. Some workers eventually become operations managers, where they oversee employees and ensure the warehouse runs smoothly. Duties often include assigning and managing projects, scheduling shifts, and enforcing safety standards.
FIND RETAIL JOBS WITH PEOPLEREADY
PeopleReady gives you the chance to gain skills and experience in a variety of retail jobs and warehouse careers. In fact, we can connect you with jobs in 600-plus communities throughout North America. Apply now on our website or through our app, JobStack, 24/7!
Using JobStack to find jobs is easy! Here's how you do it:
Download the JobStack app.
Create a profile and search for jobs in your local area and preferred industries.
Start accepting jobs that fit your schedule and your interests.
Don't wait to get paid! Most of our jobs pay on a weekly basis, and some even pay within 24 hours.