As communities are getting back to business as usual, and people are slowly gaining trust in public spaces again, many industries are poised for a rebound. Economists surveyed by Bloomberg now expect the economy to grow by 5.5% in 2021. With more customer activity on the horizon, businesses from restaurants to retail centers to hotels and resorts are using professional cleaning services to ensure the health and safety of guests and employees. Here we share three reasons why cleaning companies will continue to be in high demand. Plus, see why a cleaning staffing agency can provide these companies more support with qualified workers.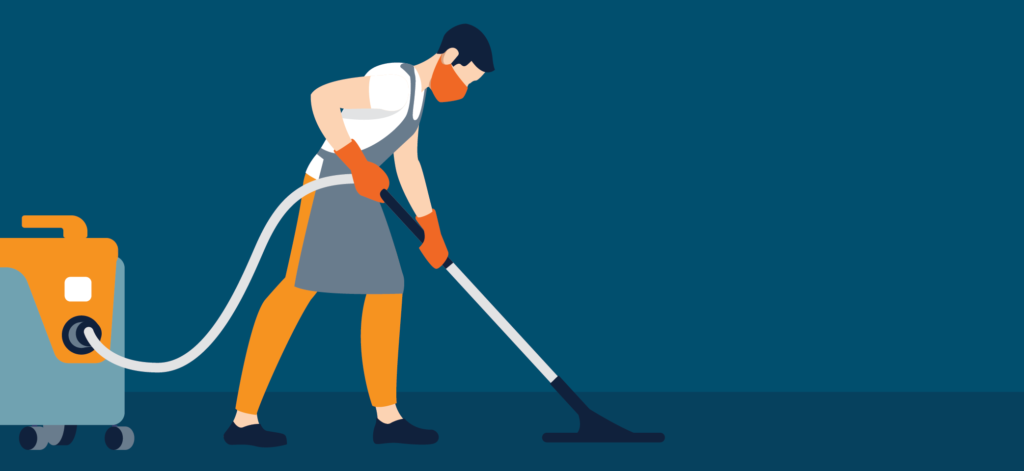 Prepare for increased customer safety expectations
While people are eager to return to their normal activities, they might still have some concerns about gathering in indoor spaces. In an American Cleaning Institute survey, most respondents said they expect to see businesses take extra cleaning and disinfecting measures in order to maintain a safe environment, such as:
Providing hand sanitizer (73%).
Frequent wipe-downs of surfaces (77%).
Signage of cleaning measures and regulations (53%).
In the past, cleaning largely happened behind the scenes—but now businesses are expected to be more transparent about their cleaning process. Professional cleaning helps them put their guests at ease and offer proof of cleaning in action. As a result, businesses can attract new customers and build customer loyalty.
Keep employees safe and satisfied with their workspace
Creating a safe environment is not just about the customer experience, but also about the health and safety of employees. In a 2020 Deloitte survey of consumers, 82% of respondents said that businesses willing to take extra steps to ensure the safety and well-being of their employees would make them more likely to visit in the future. Meanwhile, the survey found that the most important factor for employee satisfaction was regular cleaning of equipment and shared spaces by a cleaning service.
Professional cleaning services help businesses create a safer work environment while reducing the spread of illness. When businesses keep their workspace clean, they let their staff know that they value their safety and performance.
Focus on the long-term future of their business
There's been a great deal of build-up and anticipation around dining out, traveling, attending sporting events and more. Businesses will be seeing larger crowds that require ramping up their cleaning efforts. But taking a DIY approach to cleaning often means that critical items are missed. For example: fingerprints on glass surfaces and dirt on hard floors.
One of the biggest ways cleaning services help businesses save time and provide peace of mind is by taking care of these daily cleaning tasks. But these cleaning services can also help protect some of their most valuable assets. That might include seating, flooring, equipment and more. As a result, businesses can extend the life of these assets and ensure a great customer experience now and for years to come.
Cleaning staffing support available now
The cleaning industry is expected to grow 10% between 2020 and 2026—with a 6% year-over-year growth rate in new jobs. Given a higher demand for cleaning services, many cleaning companies may be operating despite being short-staffed. Industry estimates put the turnover rate in the cleaning industry anywhere between 75% and 200%.
When cleaning services need extra staff to support the businesses they serve, they can turn to a staffing agency for their cleaning staffing needs. These staffing agencies have easy, 24/7 access to cleaning and janitorial workers who are vetted and ready to work. This means they can get qualified workers on their job site fast.
With PeopleReady's app, JobStack, you can place an order for cleaning workers and watch it get filled in real time. That even includes nights and weekends. PeopleReady is here to partner with you for all your cleaning staffing needs.