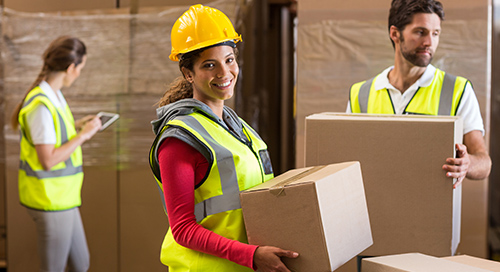 Ask anyone and you'll know that online shopping has revolutionized the way we buy anything and everything, from bagels to TVs. Reports show that 57% of consumers prefer shopping online and one-third of consumers say their main reason for shopping online is the ability to shop at any time from anywhere. That's a lot of shoppers – which means a lot of packages heading to doors across the nation at any given moment. How do they all make it on time? Who's behind the scenes making e-commerce run smoothly?
It takes thousands of people to make sure each order gets to the customer correctly and efficiently. These people are important in ensuring customers are happy, which means businesses stay afloat, and that ensures our economy keeps moving.
If you're curious about being part of the wave of e-commerce support, here are key roles that PeopleReady says you might consider for your next job:
Stock and Order Associates…
help organize and move products in the warehouse so they're organized and ready for packing. They ensure that the first steps of the shopping process run smoothly. They confirm products are in the right place and easy to find. They'll also keep an eye out for potentially damaged goods, alerting management when necessary. Attention to detail and organizational skills are particularly handy for these roles.
Packaging Workers…
help to get the product ready for the people! They'll package a variety of items by hand, including labeling, inspecting products for damage, and recording what items are packed. Securely and safely packaging items helps safeguard products and reduces the amount of loss for businesses. For those who like to keep moving and have a knack for tidiness will do well in this role!
Shipping and Receiving Clerks…
make sure that incoming and outgoing shipments are recorded and tracked. Their tasks can involve anything from scanning barcodes or scanners to update and control inventory. They also help guarantee that shipments are processed, input into the proper system, and items are where and when they need to be. Those with time-management and multi-tasking skills are likely to excel in these roles.
Hand Laborers…
duties vary from warehouse and business but are absolutely necessary for helping operations run. Hand laborers might move materials to and from different production and storage areas to loading and shipping docks. They also might work in the warehouse to retrieve products from storage and move them to package and shipping areas or help to load and unload cargo from trucks and containers. This can be a great role for individuals who like to stay on their feet and enjoy a fast-paced job where no day is the same.
Order Clerks…
typically help receive orders from customers and process payments. This can include data entry like entering customer information into the order entry system and assist with questions on pricing and shipping. Order Clerks rely heavily on computer-based programs for the job, so computer skills and agility are highly valued assets.
Operations Managers…
keep operations running smoothly as they oversee many if not all of these roles. Each Operations Manager role will look different depending on the company, but many of the regular responsibilities include assigning work, scheduling employees, managing daily operations, enforcing policy, and overseeing projects. While this is a more senior role, many workers work their way up to Operations Manager positions.
Delivery and Truck Drivers…
ensure that each order gets to the customer. Drivers are likely to drive small trucks or vans from warehouses and distribution centers to the final delivery location, whether it be for another retailer or an individual. Drivers follow a set schedule, so great time-management skills and attention to safety are highly attractive for these roles and it can be a great position for people who enjoy seeing new things, hitting goals, and problem-solving.
Customer Service Representatives…
make sure customers stay customers. Whether answering phone calls, responding to chat messages and emails, or speaking with customers face-to-face, Customer Service Representatives are people pros. They listen to customers' issues and help solve the problem, whether it be with a product itself, the shipping and timing of the product, the payment, and anything involved in the shopping experience. Patience and understanding are crucial for customer service reps, but it can also be an extremely rewarding role in the company.
Interested in learning more about where you might fit into the world of online shopping? Connect with PeopleReady to see which jobs we have that will be a perfect fit for you.