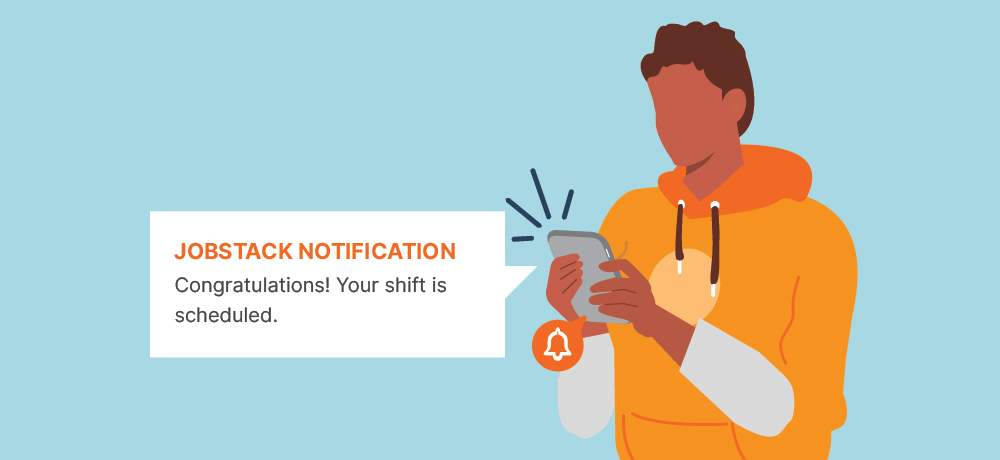 Find Holiday Jobs That Fit Your Interests and Your Schedule with JobStack
Fifty percent of Americans planning on going into debt to pay for gifts during the holidays. Many people take temporary or part-time jobs to make extra money to reduce or pay off holiday debts. PeopleReady shares our list of the most in-demand jobs available now for eager job seekers through our app, JobStack.
Event workers
No matter the event, entertainment venues want high-energy workers with good customer service skills who can perform under pressure. If you enjoy being in the center of the action, event jobs are for you. Common roles include parking lot attendants, ushers and ticket-takers.
Food servers and bartenders
Working in food service is one of the most common ways for people to pick up some extra money at any time of year. Food and beverage attendants, including waiters and bartenders, are in demand right now. People in these roles are an essential part of the dining experience. Depending on the establishment's tip-out structure and your specific role, tips and gratuities can help pay off your debts sooner.
Grocery delivery assistants
Delivery and curbside pickup options continue to gain in popularity. That means added demand for personal grocery shoppers and delivery drivers who can ensure that grocery orders are correct and that customers receive their food and refreshments on time. As a result, grocery delivery assistant ranks among the most in-demand temporary jobs. Subsequently, many grocers and food service companies have added warehouses, distribution centers and other facilities to keep up with the growth of online grocery shopping. These locations require pickers, packers, inventory assistants and other workers.
Sales associates
Working as a cashier or customer service representative for one of today's retailers can be another easy way to bring in money. In fact, part-time retail jobs might be more available after the holiday season. That's because most seasonal workers have returned to their regular jobs or moved on to other opportunities. While the duties may differ depending on the establishment, retail and customer service jobs offer an opportunity to develop your soft skills, benefitting you throughout your career.
Warehouse associates
There could be as many as 2.1 million unfilled manufacturing jobs in the U.S. by 2030, according to the National Association of Manufacturing. There's an urgent need for workers now across a variety of manufacturing and warehouse roles. Depending on your goals, warehousing jobs can be a reliable source of extra income or a stepping stone to a new career in leadership or management. Entry-level warehouse associates are tasked with processing shipments, scanning barcodes, labeling and inspecting items, and updating and managing inventory.
PEOPLEREADY AND OUR APP, JOBSTACK, PROVIDE TEMPORARY JOBS YEAR-ROUND
PeopleReady helps match job seekers with temporary and part-time jobs to meet their needs. These work opportunities can help pay off student loans and holiday debts, act as a stop-gap after a sudden job loss, or provide extra financial security. PeopleReady's app, JobStack, is the perfect way to get fast access to jobs all year round. You can work temp jobs that fit your routine, providing both work-life balance and extra income. We offer a variety of jobs in numerous industries, including:
Retail
Food service
Hospitality
Warehousing
Customer service
And more
Looking for temporary jobs?