Taryn Owen, PeopleReady's president, has been named a Multiplier of the Year for the U.S. small business category. The Multiplier of the Year is an international, annual contest where leaders are nominated by employees for amplifying the intelligence and capabilities of the people around them. Or, as the awards group explains, "When these leaders walk into a room, light bulbs go on; ideas flow and problems get solved."
Owen's Multiplier style is known as a Liberator, a leader who "creates a climate that both invites and demands people's best thinking." That ability to bring the best out in others and guide them to powerful results are evident in her day-to-day leadership style.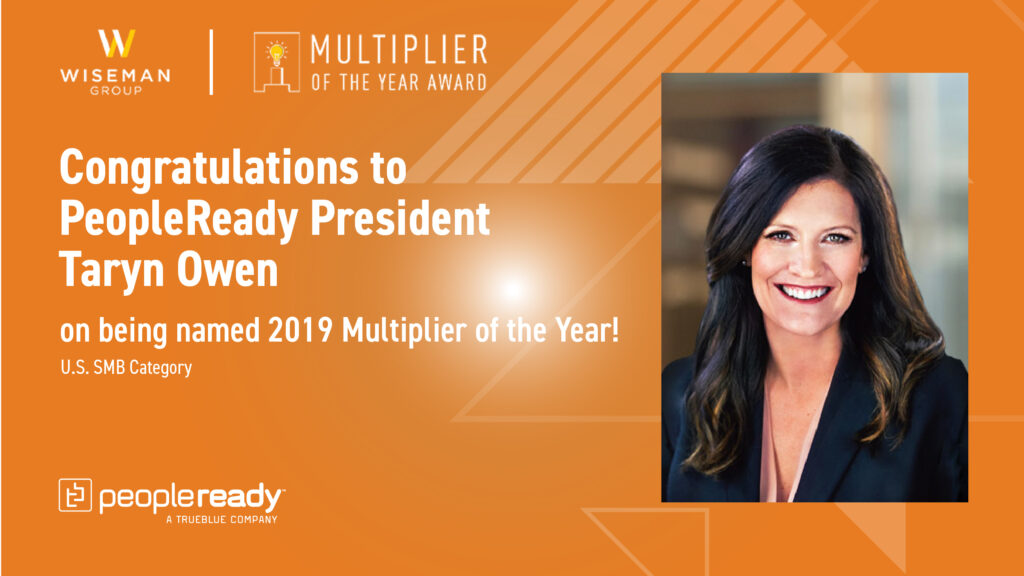 "Taryn exemplifies leadership that empowers others to innovate, challenge limits, and succeed," said Patrick Beharelle, CEO of TrueBlue. "We are happy to see Taryn recognized for the Multiplier she is as she takes on her new role as PeopleReady President and leads the digital and cultural transformation for the PeopleReady organization."
"The goal of the Multiplier of the Year contest is to recognize and award the leaders who channel the intelligence, talent, and creativity of their team and bring out the best in people around them," said Liz Wiseman, CEO of the Wiseman Group and author of the New York Times bestseller "Multipliers."
Owen's empowering approach will ensure the best and most innovative ideas help PeopleReady continue its mission to change lives by connecting people with work in today's quickly evolving culture.