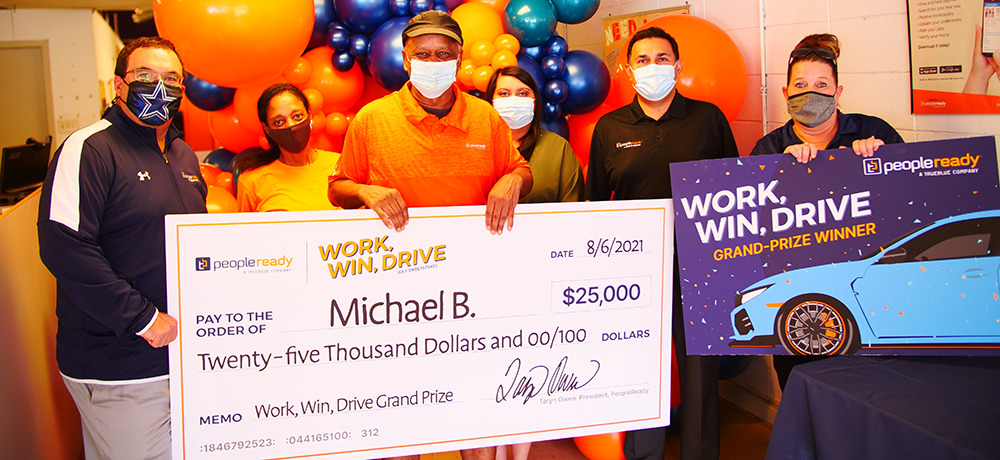 PeopleReady is proud to be part of hundreds of communities throughout North America, in cities big and small—where we connect people with great work that fits their unique needs.
One of those people is long-time PeopleReady associate Michael B., the grand prize winner of $25,000 in our recent Work, Win, Drive Sweepstakes. PeopleReady was honored to celebrate his win recently at our branch in Pearl, Mississippi.
"We were super excited, especially for somebody so deserving and who's such a great employee," says branch manager Charity Washington. "Not a lot happens around here, so what a great thing for us and our branch to have something so exciting and so big happen. Here in Mississippi, who would've thought?"
PeopleReady strives to be a force for good
Those who worked with PeopleReady or PeopleReady Skilled Trades in the U.S. during the month of July were automatically entered into the Work, Win, Drive sweepstakes, which featured $100,000 in cash and prizes. In total, nearly 100 associates and tradespeople received cash prizes through the sweepstakes.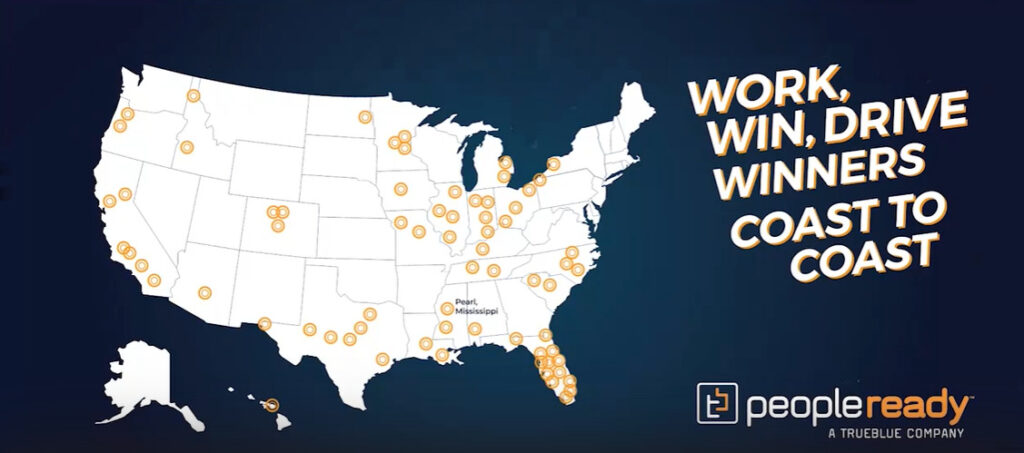 The Work, Win, Drive Sweepstakes helped PeopleReady show our deep appreciation for all that our associates and tradespeople do.
"We appreciate all of our associates. I don't know what I'd do without any of them. They truly become a part of our everyday life," Washington says.
Not only does PeopleReady provide valuable support to businesses and job seekers but to every member of the community. The Work, Win, Drive Sweepstakes further highlighted PeopleReady's efforts to be a Force for Good in Pearl and surrounding areas.
"We truly believe every day that we come in that we are here to make a difference. We are here to change things, not just for our associates, but in the industry in general just to make a difference and show that so much good can happen. We're feeding families, and we're helping employers get qualified applicants," Washington says. "Being a Force for Good is such a large thing for us, and we practice it daily. It's in our ethics; it's in our attitude."
"The workers that work for us, and the customers we work for, do a lot of everyday little things that make a community survive," adds Jay Leger, regional vice president for PeopleReady. "Whether that's working for the municipality, working at an event or venue, or working in a local school, they're keeping the communities going and keeping life moving forward. The events and activities and the businesses are not open if our workers aren't there."
Q&A with Michael B., winner of PeopleReady's Work, Win, Drive sweepstakes
How did you feel when you found out you won $25,000?
I won $25,000, that's a lot of money! (laughs) I was sort of elated by it, and then I was ready to go on and continue my journey.
It's a wonderful feeling. I enjoy it. This is the best. $25,000, that's the whole world right now for me.
What do you plan to do with your grand prize winnings?
I might invest in a house, maybe some real estate up in Wisconsin. Eventually I'm going back [to live in] Wisconsin.
How do you strive to be a Force for Good?
I always like to be a positive person, not negative. I always tell the younger people about [the importance of working] a job, making an honest living, and working every day and trying to have something. That's what I've always tried to tell myself.
Why would you recommend PeopleReady a great place to find work?
The atmosphere there. And things move so fast. You like to have money every day. You come right in the office, or you have your iPhone with you, and you're ready to go. You get paid after your 8 hours, or however many hours you work that day.
See Michael's reaction to his win!
Check out all our sweepstakes winners!