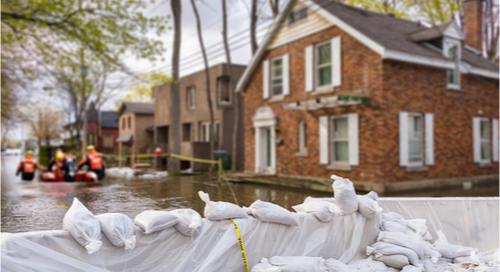 When natural disasters occur, they leave weeks—even months—of recovery work behind. Everyone in the affected communities are eager to begin rebuilding their lives. Soon after, and in some cases before the event occurs, you will see a surge of new temporary jobs.
If you're eager to join these efforts and take jobs that help disaster recovery, you want to find them as soon as possible. PeopleReady has a long history of bringing workers to affected areas and our mobile app, JobStack, has made the process easier and more efficient. Here are four ways JobStack makes finding work in the wake of a natural disaster simpler:
See available jobs
Once the community is able to assess the damage and focus on moving forward, businesses and organizations start looking for workers immediately, whether to move debris or staff a call center to handle an onslaught of customer service calls.
With JobStack, you're able to view real-time job postings on your phone and choose the ones you want. Internet connectivity isn't always reliable in the aftermath of a natural disaster or major storm, which can lead to a myriad of problems and plenty of frustration. Luckily, you only need a working smartphone to use the app.
Submit hours and get paid quickly
As you can imagine, natural disaster sites can be hectic in the following days and weeks. JobStack's "Submit Hours" feature allows you to submit work hours (and lets managers approve them) from the ease of your phone; no need to drive to a physical location or find the supervisor to submit your time ticket.
For some jobs, you can be paid as quickly as up to 24 hours. The majority of our jobs offer weekly pay. 
Find work around your schedule
Recovery efforts aren't always 9-to-5 gigs, meaning opportunities for work aren't limited to a specific time of day. Whether you're a resident of the area or temporarily there to work, you don't have to worry that your schedule might prevent you from earning a paycheck. JobStack lets you see what's available and choose only the opportunities that work for you.
Looking for jobs during a natural disaster?