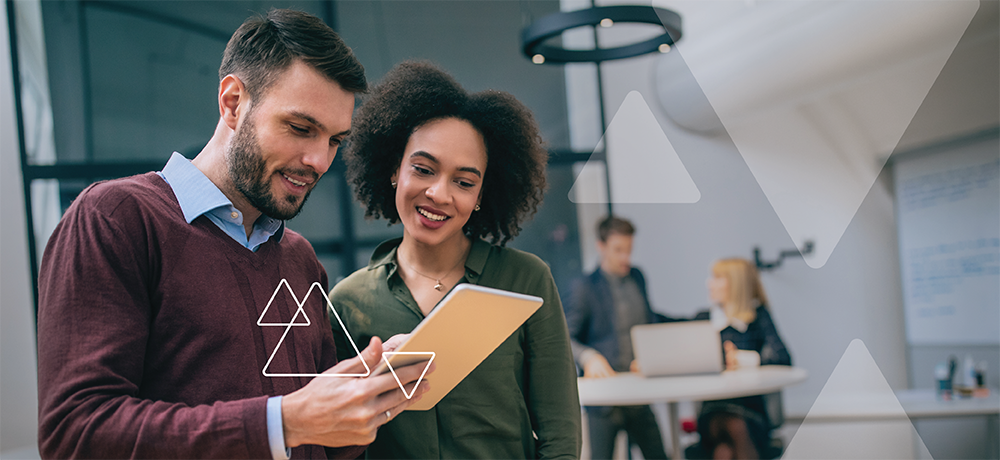 In today's environment, many businesses are promoting from within to solve staffing challenges. An added bonus: Providing opportunities for career growth can help boost employee morale and retention rates while also saving your company money. In this article, PeopleReady shares our recommendations for turning your employees into leaders.
Provide mentorship opportunities
Develop training programs
Create stretch assignments
Offer feedback to help hone their skills
Provide mentorship opportunities
Employees who have a work mentor are more likely to be happier at work, according to a CNBC survey. Less experienced workers are given a chance to add new skills, which can help them earn more money over time. Plus, they are likely to feel more appreciated and valued by the company, aiding retention.
There are benefits for the mentor as well. In this special role, they will see that the company has a path forward, creating an incentive to do their best work. Our advice is to assign a mentor who isn't a direct supervisor of the employee. Employees are sometimes reluctant to discuss their work challenges out of fear that it may impact their standing in the company.
Develop training programs
Training programs allow workers to expand their skill set or improve an established aptitude. In turn, they respond positively to the opportunities. According to a 2022 study from the Society of Human Resource Management, over 80% of HR managers believe that having a training program enhances retention rates and can even be a recruiting tool, especially for Gen Z workers.
Depending on your needs, you can offer two types of training programs:
Internal: An internal program is often easier and more cost-effective method since everything is done in-house. Current members of your management staff will explain the company's process and the tasks associated with the position. This makes leadership candidates more effective and efficient sooner, as they're trained to your company's specific style.
External: That said, an outside perspective can also be beneficial. An external training program can provide workers with fresh ideas and methods to increase productivity, improve company culture or enhance retention rates.
Create stretch assignments
Nearly 90% of workers desire further training to expand their skills, and are even motivated to learn outside of business hours to advance their career. By embracing stretch assignments, employees can gain more experience during their shift. A stretch assignment is a task given to a worker that's currently beyond their skill level. This provides a challenge that allows them to grow and show further initiative.
While the tasks will differ in each industry, stretch assignments should have the candidate think or act outside of their daily functions. Taking employees outside of their comfort zone can help them become effective managers. The best stretch assignments allow candidates to:
Face an unfamiliar problem
Interact with co-workers on other teams
Take on a high level of responsibility
Create a change that solves the problem or benefits the company
Offer feedback to help hone their skills
Gallup data shows that when employees strongly agree they received "meaningful feedback," they are almost four times more likely than other employees to be engaged in their roles. That means mentors should give regular, constructive feedback to help candidates develop their skills. Ongoing dialogue will help refine their performance and motivate them to continue learning.
While they may need extra support at first, offering praise for their successes is also important. Recognizing their hard work enhances employee morale and loyalty, according to an HBR survey. Acknowledging workers can also include incentives such as flexible scheduling, paid lunches or gift cards.
How PeopleReady staffing can help you find top performers
As your best employees move into leadership or managerial roles, you'll need new workers to fill their previous positions. By partnering with PeopleReady, you get access to top candidates who have growth potential. We have a local presence in 600-plus communities throughout North America, giving you easy access to local part-time or temporary workers to solve your labor shortages.
PeopleReady further streamlines the staffing process through our app, JobStack. You can use JobStack to fill sudden vacancies and hire new employees ready to start working immediately. The app also maintains a record of your hires so that you can invite your best workers back.
Looking for great workers for your business?