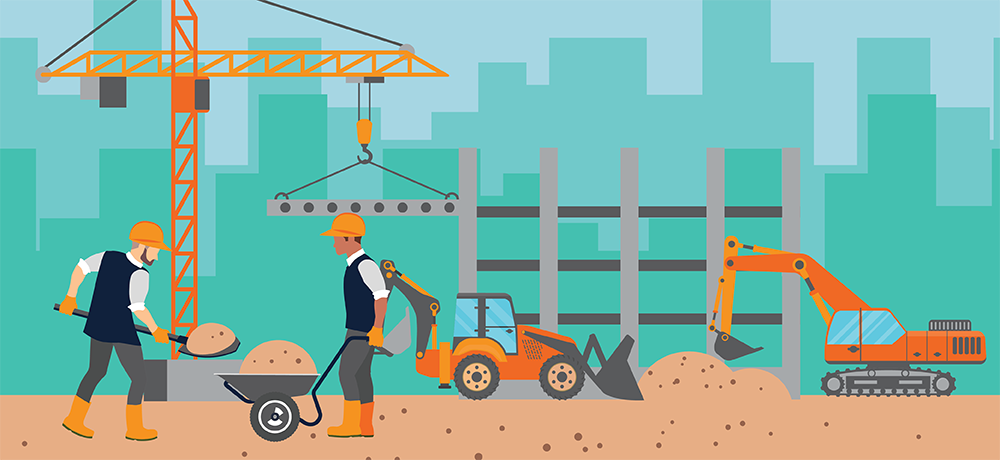 Current construction trends that could impact your staffing efforts  
While peak season varies between companies, summer tends to be the busiest time of year in the construction industry. With economic uncertainty and the ongoing labor shortage creating more complexity, it's smart to start preparing your workforce plans as soon as possible. Here are three major construction trends that may impact your construction staffing efforts heading into the summer season. Plus: More info on how a construction staffing agency can help support your workforce planning efforts all year round.
Major investments in construction projects bode well for long-term growth 
The construction industry is in a prime position for growth. In 2022, the Infrastructure Investment and Jobs Act invested $1.2 trillion in the construction industry to revitalize or rebuild bridges, roads, water systems and the electrical grid through 2027. These projects will fuel growth for construction companies in the infrastructure sector, and when combined with other government programs, the IIJA will add on average 1.5 million jobs each year for the next decade.
Another notable development is the Inflation Reduction Act, which commits over $370 billion to climate and energy investments. In the six months since the IRA came into law, more than 100,000 clean energy jobs have been created in the U.S., according to the World Economic Forum. With many more projects on the horizon, there is a growing need for workers to complete them.
Plus, there are signs of growth elsewhere in the industry. The Associated Builders and Contractors notes that contractor confidence remains high since the economy has remained strong against a possible recession. Meanwhile, industry employment has risen by 249,000 jobs, an increase of 3.2% year over year, according to an Associated Builders and Contractors analysis of data from the U.S. Bureau of Labor Statistics.
For more construction trends to watch in 2023, check out our recent analysis.
Construction embraces modern technology to enhance safety and productivity  
In 2022, more than half of all OSHA inspections were of construction job sites, according to a recent Construction Dive report. With injury rates remaining largely unchanged over the last decade, there has never been a more pivotal time to prioritize safety. Technology has improved employee safety with wearable sensors, like smart wristbands, vests and goggles, which can warn workers of onsite dangers. Some wearables also track location and vitals, alerting others if a worker's health is at risk. While wider implementation is still pending, the potential for injury prevention is a game changer for the industry.
Technology aids productivity as well. For example, drones are being used for land surveys and inspections. Meanwhile, artificial intelligence, simulators and machine learning systems allow construction firms to view designs and potential outcomes. These new capabilities can make your projects more efficient and reduce costly delays — yet they also require training and adaptation for your workforce.
An added bonus: A greater focus on technology can help your recruiting efforts, especially among Gen Zers. They are the future of the workforce, and according to NetSuite, over 80% of them want to work with advanced technology. Fast Company also notes that they are more interested in joining the workforce early rather than pursuing higher education. The construction industry provides them with the best of both worlds. When it comes to recruiting in a tight labor market, every advantage helps!
Construction staffing plans are shifting due to the labor shortage 
Recent legislation provides growth potential in construction, but the ongoing skilled trades staffing shortage could be a major roadblock. In fact, the tight labor market has been a concern since the Great Recession in 2008.
The construction industry will need to attract an estimated 546,000 additional workers over normal pace of hiring in 2023 to keep up with demand, according to Associated Builders and Contractors. Construction staffing issues can be addressed with a hiring strategy that accounts for the needs of the modern workforce. For example, here are some construction recruiting strategies to consider:
Advancement opportunities: In a PeopleReady survey, 78% of job seekers said they would consider a career in construction and the skilled trades if they received on-the-job training. Offering apprenticeships to younger applicants can help them develop skills, while training and certification programs often lead to better quality work. On-the-job training benefits you and your tradespeople as you both grow towards better business performance.
Competitive wages: Significant wage growth in 2022 was a reaction to ongoing inflation issues and an attempt to attract more people to open jobs in construction. While pay rates may vary in different states, cities or localities, offering competitive wages can help your company attract workers. Profit-sharing programs or performance bonuses can also help attract and retain workers while inspiring higher productivity levels.
Rewards and incentives: An investment in the long-term health and happiness of your workers encourages loyalty. Offering rewards and incentives such as catered lunches, gift cards and flexible scheduling options can be a key differentiator in your skilled trades staffing strategy. If your workers feel valued and supported, they're more likely to stick around. Check out more tips from a construction temp agency on how to retain workers for your construction firm.
See how construction staffing experts can help your company 
If you're considering a construction staffing agency for your business, look no further. PeopleReady and our specialized division, PeopleReady Skilled Trades, has provided construction staffing services to contractors and subcontractors for over 30 years.
PeopleReady has safety-minded workers who can meet your construction and skilled trades staffing needs, from general labor to experienced carpenters, plumbers, electricians and more. We also take care of interviewing and onboarding tasks so that you can get the workers you need faster, benefiting productivity and project timetables.
If you're wondering, "Do you have any construction staffing agencies near me?" check out our locations page. Reach out to us today to learn more about the many ways we can support your business.
Looking for additional construction staff for your projects?
For General Construction Workers
For Skilled Laborers and Tradespeople