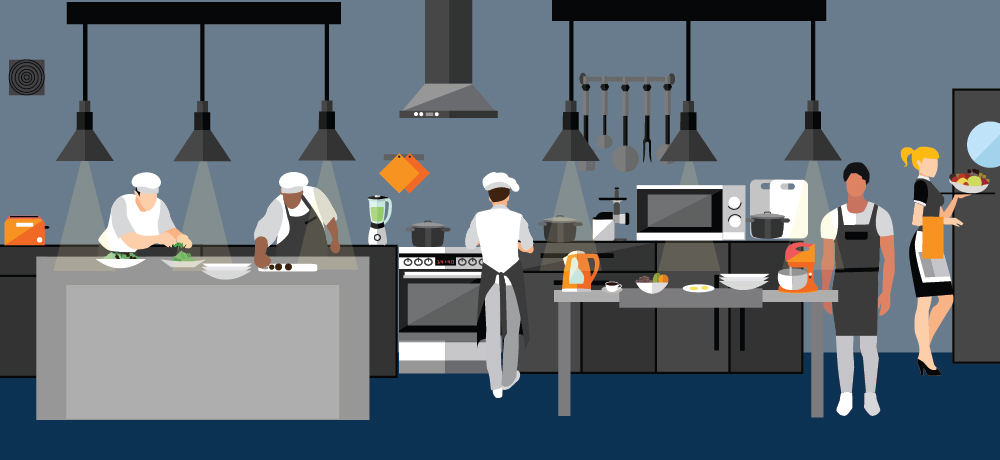 As the hospitality industry continues to face a workforce shortage, restaurants, hotels and resorts, and event venues are increasingly looking to temporary workers to meet their current needs. Learn how PeopleReady's app, JobStack, can help you find these in-demand hospitality jobs right here.
Explore a variety of exciting roles
One of the best parts of working in hospitality is that there are a variety of options for people with different skill sets. For example, people who excel at customer service have many roles available to them, including front desk receptionists and concierge staff. Or, if you want to build a culinary career, you can start by joining a kitchen crew as a server or line cook at a five-star resort or local restaurant.
A career in hospitality might also give you the opportunity to work at exciting concerts, shows and sporting events. Then you can decide which career path makes the most sense for you.
Hospitality companies like hotels, restaurants and venues will post shifts in JobStack with information like skill requirements, hours and pay—and then you can apply for the jobs you want right in the app. Some in-demand jobs available with JobStack right now include:
Bartenders
Servers
Cooks and food preparation workers
Janitors and housekeepers
Hosts and hostesses
Meet employers where they are to find the most jobs
These days, a growing number of companies are relying on job search apps to find the workers they need. In 2020, for the first time, mobile job applications outpaced those completed on desktop computers, according to an Appcast report.
Job search apps like JobStack allow job seekers to apply for and accept jobs easily. They also help get your name in front of some of today's top hospitality businesses. In fact, a recent PeopleReady analysis found that the number of current openings in the hospitality industry has soared to roughly 1.3 million.
Earn high ratings to access even more opportunities
A major misconception about working in the hospitality industry is the lack of career growth opportunities. Not only are temporary jobs a fast and easy way to earn extra money, but you can also use them to make valuable connections in the industry.
One way that JobStack further supports your career is by allowing companies to rate your job performance after each shift. The higher your ratings, the more job opportunities you will receive in the app—and the more likely that you will be connected with your ideal company.
JobStack gives you access to hospitality jobs
Whether you're just starting in the hospitality industry or you're looking to advance your career, JobStack, has a job that's right for you. With JobStack, you can:
Search for jobs relevant to your skills and interests.
Define location settings to find openings near you.
Get notifications about new job postings.
Manage your applications and update your skills/experience.
JobStack offers jobs with today's leading hospitality businesses, helping you build a promising career in the industry. All you need to do to get access to available jobs is download JobStack today. It's as simple as that!
Looking for jobs in your area?