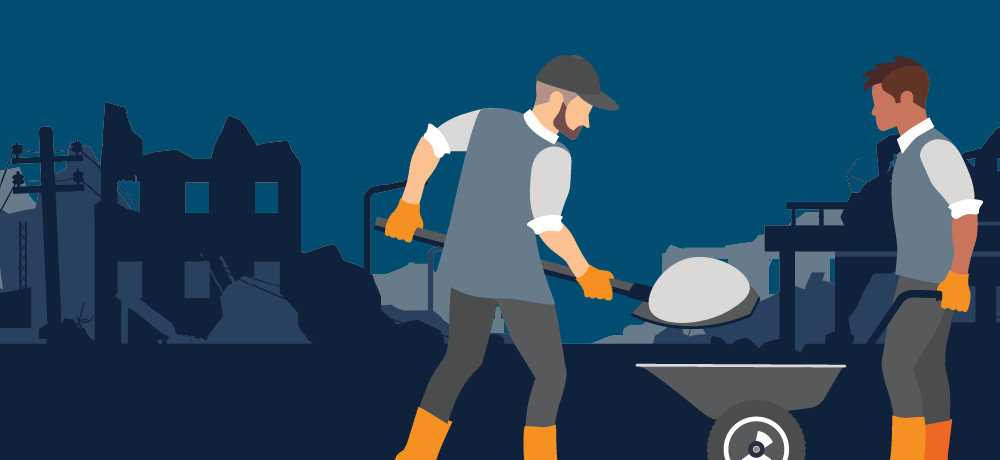 How to Prepare Your Workforce for Weather Events and Other Emergencies
Between 2000 and 2019, the U.S. saw more disaster events—including hurricanes, wildfires and earthquakes—than any country except China. After a natural disaster, much of your workforce may be unavailable to work or limited in their ability to work. As it should be, their focus instead will be on providing support to their families and their communities. Here are four ways that you can support your workforce in the event of an emergency.
Establish an effective communication protocol
Make sure your staff is informed during and after a disaster through multiple channels, including email, texts, phone calls and physical postings or signage. Getting the message across any way you can is key when access to battery power and electricity may be limited. Regardless of the channels you choose, update your staff regularly with the latest information. Sending updates on a regular schedule can be helpful so that people know exactly when to expect the next communication.
Give staff context on key business decisions
In your communications, keep your messaging brief, supportive and informational. And when explaining the next steps for your team, be as specific as you can. Not everyone has experience dealing with the aftermath of a natural disaster, and when they know why something needs to be done, they'll have a better understanding of the situation. Some of the important details to share include:
Office hours or operating hours.
How to log time for PTO or paid sick time.
Contact person(s) who will share important updates.
When (and how often) staff should update the company contact on their situation.
Provide support services and flexible schedules to your workforce
When possible, share information to your team members to local and national organizations that offer community assistance. These might include the Salvation Army, American Red Cross or a local relief organization. Also, offering different schedule options through flex time or paid sick leave can be helpful as they continue to assess the impact of the disaster. You can also show your gratitude for all they've done in helping your business and your local community with a small gift or token of appreciation.
Offer access and info for mental health resources
Once business returns to regular schedule, your team members may still be feeling anxious, guilty or depressed. One way to support them is by encouraging them to access mental health resources. Taking care of their mental and emotional well-being after a major emergency can help them think clearly and make sound decisions during a difficult time.
Get staffing solutions during a natural disaster with PeopleReady
It can be difficult to navigate the aftermath of a natural disaster when you also need more extra workers to support the recovery process. When you don't have time or resources to find workers for your business, PeopleReady can take care of the staffing process for you—vetting candidates and connecting them with your business on short notice. Our app, JobStack, lets you request staff 24/7 from your mobile device so you can request workers and have them at your job site quickly.
Need staff after a natural disaster?