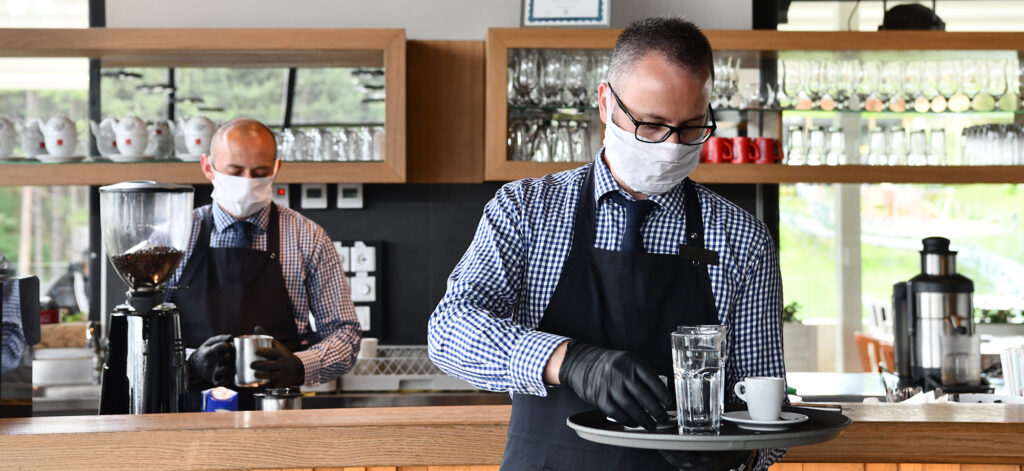 A National Retail Federation report recently found that 6 in 10 adults say restaurants are an essential part of their lifestyle. Whether they're visiting local restaurants, family-friendly chains or fine-dining establishments, people are eager to get out and gather around the table with their family and friends again. And as restaurants prepare to welcome diners back, it's no secret that their expectations will be high. Here we identify three industry trends we're seeing today—and how restaurant staffing needs are changing as a result.
Takeout will remain popular but dine-in still in demand
Restaurants are continuing to see a steady number of online and mobile orders for pickup and delivery. But they are also looking for ways to redefine the dine-in experience, including seating in smaller groups and requiring reservations.
Meanwhile, interest in dining out is higher than ever. According to the National Restaurant Association's 2021 State of the Restaurant Industry Report, 83% of adults said they were not eating at restaurants as often as they'd like.
Diners go out to their favorite restaurants to have a sense of community, to relax and to enjoy themselves. Now they'll be expecting more from their dining experience, especially from front-of-house staff who serve as the face of the establishment, like servers, bussers and hosts. Having team members who can take on new duties while having a positive attitude will be key as restaurants look for ways to keep diners coming back.
Health and safety precautions will be front and center
Many restaurants have introduced new technology to make the dining experience safer—for example, no-touch QR code menus or options to order online and pay on their own mobile devices. However, diners are still likely to have concerns about health and safety.
Over 70% of diners expect more thorough and frequent cleaning than they did before the pandemic, according to a recent study by global marketing firm Simon-Kucher & Partners. The three most important sanitation practices that customers are looking for:
Hand sanitizer for employees.
Increased employee handwashing.
Increased cleaning of frequently touched surfaces.
Professional cleaning for restaurants is in high demand. The U.S. food and beverage industry cleaning services market is expected to grow by 7% by 2026. These services allow restaurants to be more transparent about their cleaning practices for the safety and comfort of their guests. Frequent and visible cleaning by staff is now a must. Hiring and training workers who have proper grooming standards and a professional appearance will also be important to complete the overall presentation.
Temporary staff will help solve turnover issues
Staffing challenges pose a major concern for restaurants today. Many people have been hesitant to work in front-facing roles, while others have found new careers outside the industry. Restaurants of all types say staffing levels are more than 20% below normal, according to the National Restaurant Association:
62% of fine dining operators.
54% of family dining operators.
54% of casual dining operators.
Because of low staffing levels and the high cost of turnover (average: about $2,000), many restaurants are using temporary staff to fill their open roles. This gives them flexibility as they assess their staffing needs in the early stages of their return. And it also helps boost employee morale and can ease the stress of being short-staffed.
Restaurant staffing solutions available
PeopleReady can serve your restaurant by connecting you with the right staff. That could include servers, bussers, caterers or other team members. Our app, JobStack, gives you 24/7 access to associates who have the right skills, training or certifications for your needs.
Looking for restaurant staff?