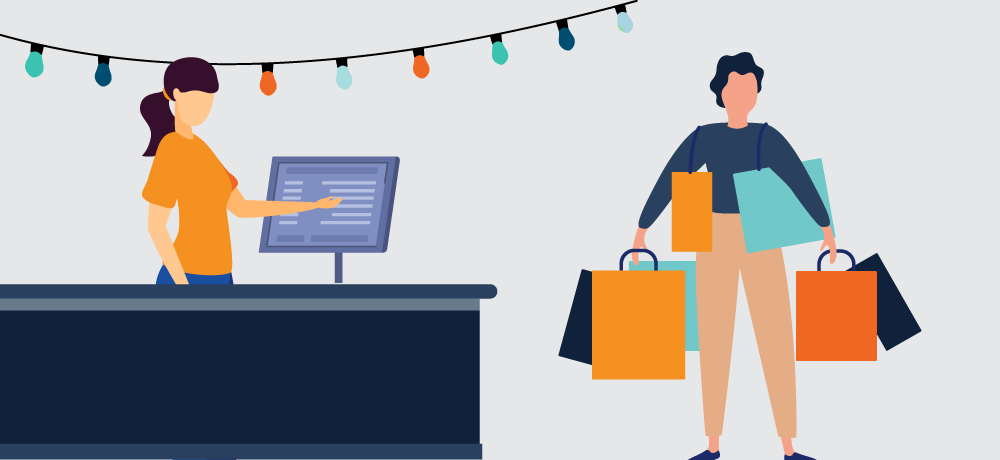 Holiday Staffing Solutions for the Retail Industry
Retail sales during 2021's holiday season grew 6.6% over 2019, according to the National Retail Foundation. Customer demand is higher than ever before, and so are expectations. For today's retailers, making a great first impression during the holidays will be more important than ever. Below, you'll find three ways that a retail staffing company can help you find retail workers who ensure that you provide a first-rate experience.
Create a staffing plan earlier this year
The Retail Post-Holiday Season Review from Ultimate Kronos Group surveyed over 300 U.S. retailers. Respondents said that in a typical week, stores were understaffed 30% of the time, and 29% of them said unplanned absences meant they paid extra overtime. Staffing shortages can result in lost productivity and an impact on your bottom line.
Most retailers are seeking temporary staff through multiple platforms, including their own websites and social media as well as online job boards. Another great source for retail workers is a local temporary staffing agency. An agency can complete a thorough screening process for you so that you get the best candidates. These seasonal retail workers might only be needed on a short-term basis, but their staffing experts still take the time to screen candidates for a cultural fit.
Make the staffing process easier with new tech
Also in the Kronos survey:
32% of respondents said employees would call out of shifts with less than 24 hours' notice at least 2-3 times a week.
24% said employees did not show up for a shift and did not notify their manager at least two to three times a week.
35% said employees did not show up on time for scheduled shifts at least 2-3 times a week.
Because staffing issues like these can happen at any time, flexibility is key. As a result, some retailers are now choosing to adopt on-call work schedules. The use of staffing apps has been integral to this new strategy. 
Staffing apps give retailers and other businesses the ability to manage your schedules and submit requests for retail workers across multiple shifts, with pay rates for different positions. You'll also be able to easily confirm workers' hours and even invite your favorite temporary workers back. That way, you know you'll have consistent customer service during the holidays and beyond.
Prioritize the candidate experience
Mobile applications make up roughly 61% of all job applications, according to a recent Appcast report. Having a mobile-first staffing process can help you meet candidates where they are. On the other hand, a lengthy application process can cause you to miss out on top job candidates. This proves especially troubling during the holiday season given the competitive candidate market and increasing customer demands.
Many of today's leading temporary staffing agencies can help you develop new ways to make the process easier for candidates. As a result, you'll find that they will be more engaged in their job once they get there. Creating a positive relationship with your potential candidates through an easy application process is essential to current and future staffing efforts.
PeopleReady gives you easy access to retail workers
PeopleReady has staffing experts available who can find you retail workers to support a variety of staffing needs around the holiday season. They make recruiting staff easier, everything from sourcing candidates to doing interviews to helping you manage your staffing process. Plus, PeopleReady's 24/7 staffing app, JobStack, gives you instant access to temporary workers who can help your business now.
Need staffing solutions for the holidays?