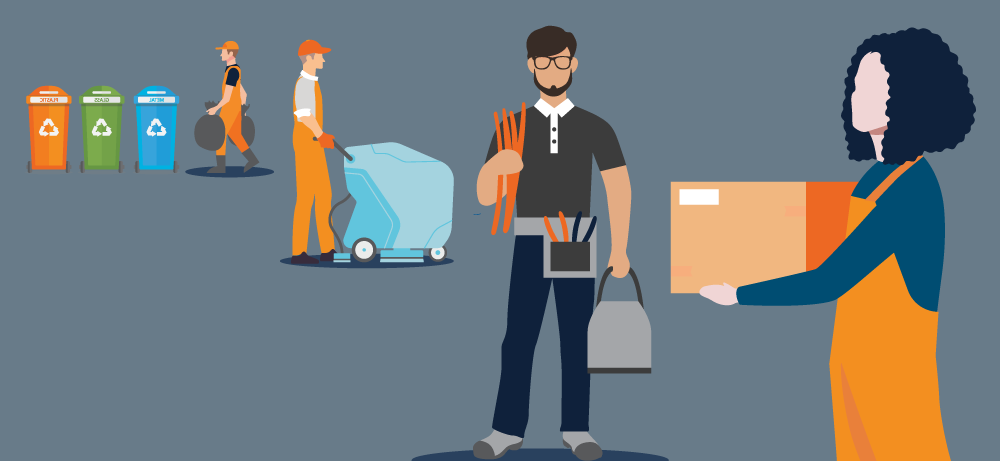 A recent PeopleReady survey found that 40% of companies are planning to make temporary jobs a permanent part of their post-pandemic workforce model. Temporary workers can help solve short-term needs, support last-minute projects and so much more. But many industries from hospitality to retail to manufacturing are having trouble right now finding these workers. See how PeopleReady's app, JobStack, makes it easier for your business to connect with workers right now and to request your favorite ones for future projects.
Get instant staffing access and keep track of quality candidates
According to a U.S. Chamber of Commerce report, 74% of hiring managers say that there is a skills gap in the current labor market. When companies find workers who have the right skills and experience, they're in a much better spot to keep projects moving forward and build on their expansion efforts. If you've used temporary workers to fill skills gaps in your business, you may want to bring them back on future assignments—but you don't always know their availability or have their contact info on hand.
By using JobStack, you can view a list of every associate you've worked with in the past. Plus, you'll see ratings from all jobs they've completed through the app. Even if a certain associate isn't available for your next job, you can search for similar workers who have comparable skills and experience. Because JobStack gives businesses the ability to rate workers on a scale of 1 to 5, you know the quality of the workers you're getting every time.
"I had a great experience with JobStack. It's easy to order workers, and I can request workers I've worked with before. Then I can rate the workers I get."
Manage your workforce more easily
According to a recent Deloitte report, 54% of C-suite officers surveyed said that "flexibility and adaptability" is one of the top three most important traits of their workforce. Because of growth in e-commerce and shifts in the supply chain, many industries are seeing greater swings in demand. For your business, that could mean a sales bump during the holiday season or a large customer order that arrives at the last minute.
That's why using JobStack for quick and easy access to a network of qualified talent can be a major advantage. The more you use the app, the more likely it is that you'll always have workers with the right skills and attitude. And with JobStack, you get 24/7 access to a roster of associates you can use again anytime in the future, even for last-minute staffing needs. In fact, 55% of customer orders through JobStack are placed outside of the traditional 9-5 business hours.
Take full control of your staffing efforts
Having to start the staffing process all over again every time you need workers can be frustrating. The good news? You don't have to go back to square one. JobStack gives you all the tools you need to find temporary workers and invite back top performers—all while giving you the flexibility to manage your workforce 24/7.
Need workers for your business?