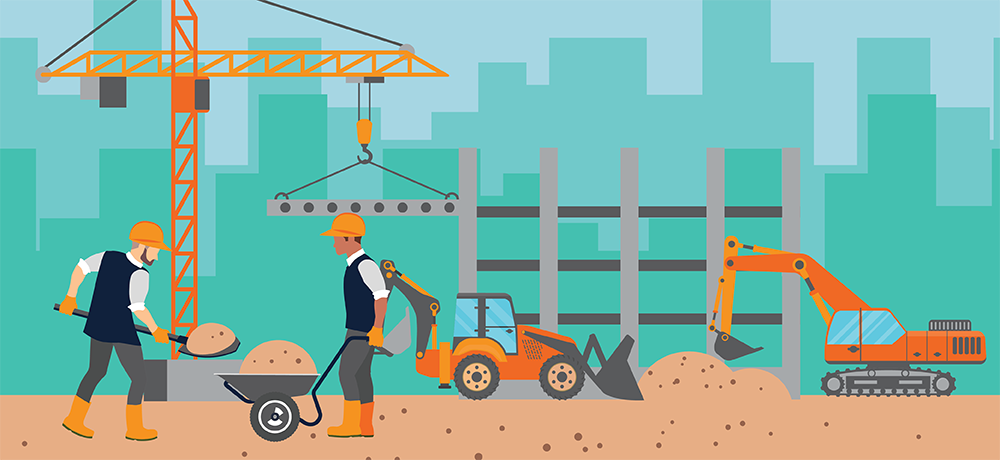 Summer Construction Trends That Affect Your Staffing Efforts
The COVID-19 pandemic led to work stoppages and supply chain issues that have impacted the construction industry over the last two years. They were also significant catalysts in the current staffing shortage experienced nationwide. While these challenges still exist, new trends and advancements in the construction industry are helping things move in a positive direction in 2022. Here are three major industry changes that will impact your construction staffing efforts as the busy construction season unfolds.
Construction put-in-place growth is at a record high
In 2021, construction spending amounted to $1.57 trillion, a notable increase from 2020 (8.3%). The 2022 forecast suggests further growth to approximately $1.67 trillion, making industry expansion almost a certainty. In turn, both residential put-in-place and nonresidential construction spending are also likely to increase by the end of the year.

However, the highest areas of growth will come from infrastructural spending. In November 2021, Congress passed the Infrastructure Investment and Jobs Act. The bill is set to include $1.2 trillion for put-in-place construction to build new infrastructure or make long-term repairs. In the next five years, bridges and roads, water systems, and the electrical grid are expected to undergo revitalization or be fully replaced. Over time, the bill will further invest in construction for broadband internet and updates to the public transit system. With more projects, there is a growing need for people to implement them, requiring a larger workforce.
Construction staffing strategies are changing due to the labor shortage
According to the U.S. Chamber of Commerce, 92% of employers in the construction industry have struggled to fill open positions. The labor shortage has been a concern since the Great Recession in 2008. In the years that followed, many older workers retired, and there weren't as many younger workers to take their place. The Covid-19 pandemic only exacerbated the problem.
Construction firms are now more focused on attracting and retaining new workers, which means changing their staffing strategies to include:
Advancement opportunities: Many avenues for advancement go underappreciated in the construction industry. In a recent PeopleReady survey, 78% of job seekers said they would consider a career in construction and the skilled trades if they received on-the-job training. Offering apprenticeships to younger applicants help to develop skills, while training and certification programs can lead to better quality work.
Higher wages: In 2021, the Bureau of Labor Statistics reported that construction industry hourly wages increased between 4.61% and 5.26%. While pay rates may vary in different states, cities or localities, offering a competitive wage can help attract more candidates. Profit-sharing programs or performance bonuses can also attract new workers, entice them to stay, and incentivize higher productivity levels.
New benefits: Investing in long-term health and happiness encourages worker loyalty and provides them with peace of mind. Adding health or life insurance options or a retirement plan can set your construction firm apart from other competitors.
Construction embraces modern technology to ensure productivity and safety
The construction industry continues to reinvent itself with new technology and innovations. For example, the use of drones can be used for quick but detailed land surveys and inspections. Meanwhile, artificial intelligence, simulators and machine learning systems allow construction firms to view designs and potential outcomes, identifying mistakes and difficulties before work begins. These new capabilities can enhance project efficiency and reduce costs caused by delays or the need for extra materials.
Construction workers also benefit from the adoption of modern technology. Wearable sensors, like wristbands, vests and goggles, can warn workers of their proximity to dangerous equipment or environments. Some wearables also track location and vitals, alerting workers and managers if an employee's health becomes questionable. While wider implementation is still pending, the potential for injury prevention can make the industry safer than ever.
Learn more about attracting new construction workers from staffing experts
Construction staffing agency PeopleReady has helped streamline the staffing process for construction firms across the country. We have the safety-minded workers to meet your needs, from general labor to experienced carpenters, plumbers, electricians, and more. We also help with interviewing and onboarding, allowing your new workers to get started faster, benefiting productivity and project timetables. Reach out to us today to learn more about the many ways we can help.
Looking for construction staff?
For General Construction Workers
For Skilled Laborers and Tradespeople