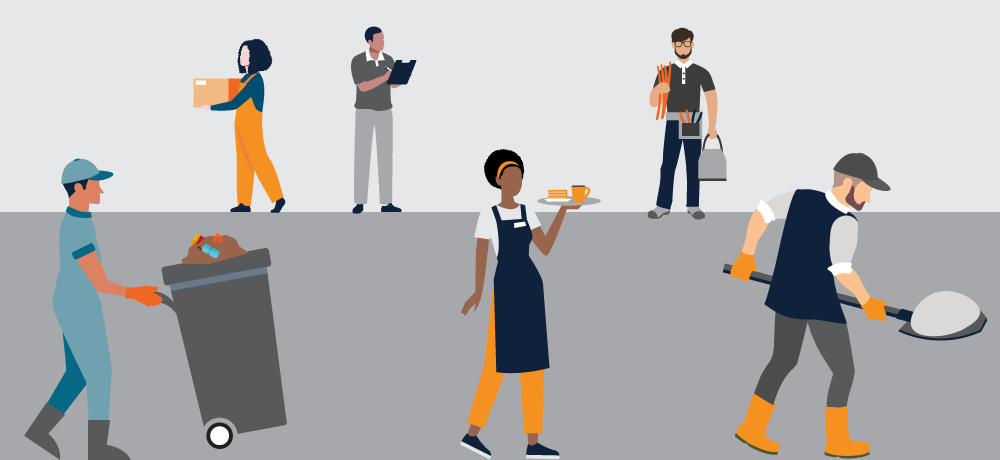 Find Flexible Jobs That Fit Your Schedule and Skillset
Around 3 million people work on a temporary or contract basis each year, according to the American Staffing Association. There may be times when having a set work schedule isn't convenient, and you're unable to commit to a traditional 9-to-5. Or you may be out of work right now and needing some extra income right now. Whatever the case, working with PeopleReady may be just the answer you need. See four types of workers in today's job market and how PeopleReady helps them find flexible jobs.
People switching careers
People who work part-time or temporary jobs often do so because they value the freedom and choice they offer. They enjoy the variety of having a flexible schedule and trying out different jobs. But many other job seekers today are looking for additional income as the job market recovers. A recent PeopleReady survey found that 65% of people who have left full-time employment in the past year are considering temporary or part-time work to earn more income in an uncertain economy.
What PeopleReady means for people switching careers:
If you're between jobs and looking for a full-time position, a temporary job gives you extra income during your job search. It also offers the opportunity to explore a different field or enhance your skills. PeopleReady puts you in touch with jobs and potential employers in your area, which could lead to your next full-time role.
Working parents
Finding the right work-life balance is a challenge faced by many families. The desire to have a career while being available for their children can make full-time employment difficult, especially for women in the workforce. A flexible job is a great alternative for parents looking to support their families and also keep their skills fresh.
What PeopleReady means for working parents:
Finding a temporary job with PeopleReady solves your greatest challenge: time. Temporary jobs give parents the opportunity to provide for their families while balancing childcare, household errands, school functions and much more. And with PeopleReady's app, JobStack, you can search for work right from your mobile device at your own convenience. All you have to do is accept the jobs that fit around your family's schedule.
Caregivers
More than 1 in 5 Americans report assisting with the care of an elderly or disabled family member, relative, or friend, according to the Gallup-Healthways Well-Being Index. Being a caregiver for a spouse, an elderly parent, or another loved one can be difficult and time-consuming. If you're a caregiver looking for work while still managing your current responsibilities, flexible jobs can be a great solution.
What PeopleReady means for caregivers:
When you're trying to balance work and caregiving duties, PeopleReady gives you the ability to work on a project or hourly basis during the times that you're available without leaving the workforce altogether. The app also lets you search for jobs within the distance you're willing to travel. When your needs change, you can move onto another job that might be a better fit for your schedule.
College students
Many college students need part-time jobs to pay for their education or start saving for the future. Flexible jobs provide them with the opportunity to test out jobs in a variety of industries and determine their career path. Students can use these jobs to expand their skill sets, build a professional network, and get their foot in the door at the company of their dreams.
What PeopleReady means for students:
If you're just starting out in the job market, you have a wide variety of career options and job opportunities to explore. JobStack gives you a head start by offering instant access to jobs in a variety of industries, from retail to hospitality and many more. Plus, a temporary job gives you flexibility in your schedule so you can juggle school and work more easily.
Find part-time jobs with PeopleReady and our app, JobStack
With PeopleReady's app, JobStack, job seekers can find temporary work that fits your schedule. JobStack gives you instant access to work opportunities in a variety of industries. Or, you can search and apply for jobs right on our website.
Looking for temporary jobs?