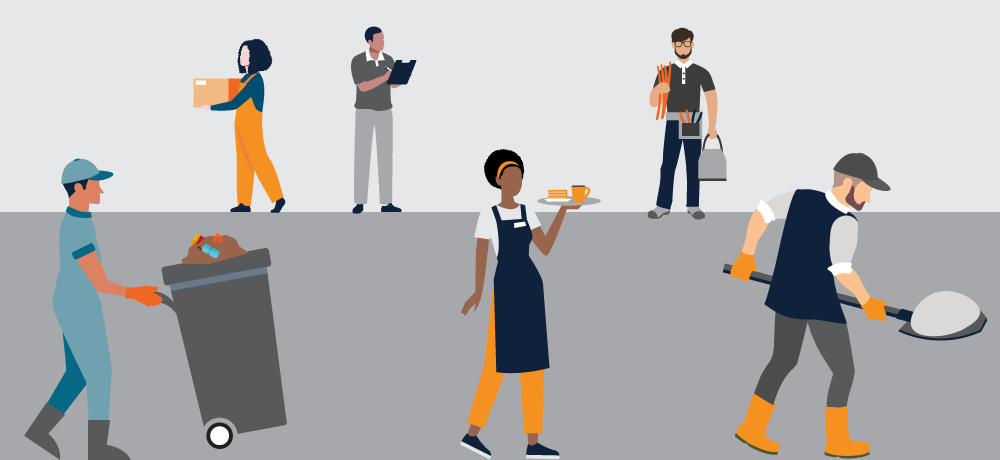 What you need to know about temporary staffing
Temporary jobs supplied by temp agencies reached a new high of 3.2 million in the U.S. in 2021, according to the American Staffing Association. Whether it's for vacation coverage, a special project or an unexpected deadline, a temporary employee is often a valuable resource in helping you meet business demands. But before you move forward, it's essential to know some of the basics about hiring a temporary employee through temp services. Here are the most common questions that employers have about temporary staffing.
What is a temporary employee?
The United States Department of Labor defines a temporary employee as one who is hired to work for one year or less with a specific end date. This end date can be the day when the project for which the employee was hired to work is complete or when the permanent employee for whom they are substituting returns from their leave.
To ensure the fair classification of temporary employees, the Society for Human Resource Management recommends that employers should train hiring managers on the appropriate use of temporary workers, establish clear policies on the status of temporary employees and create time limits for temporary assignments.
What are the benefits of hiring a temporary employee?
There are a variety of benefits associated with using temporary employees:
Temporary employees can support your permanent, full-time employees and help reduce their workload. This can go a long way toward preventing staff turnover and burnout. As a result of having a full staff, your regular employees have more time and energy to complete their regular tasks.
Hiring temporary employees is one of the best ways to find candidates who might be ideal for a full-time permanent role. You can assess their skills and attitude firsthand before making a commitment.
Temporary staffing is often easier and less costly than hiring a full-time employee upfront. Staffing agencies have an extensive network of available candidates from which to choose. They can also help you find the best temporary employees in a short amount of time.
How long is a temporary employee permitted to work for your company?
According to the DOL's definition, temporary employment should last no longer than one year and have a clearly specified end date. Federal law dictates that you cannot hire the same temp employee for more than two consecutive years.
As an employer, you have the ability to determine a temporary employee's term of employment. A long-term engagement may last several weeks or even months on a seasonal or annually recurring basis. Just know that keeping a temp employee for longer than a year may entitle them to certain benefits.
How many hours can a temporary employee work?
Temporary employees work part- or full-time. There is no limit to the number of hours an employee can work in a year and still retain temporary status. However, if a temp employee works enough hours, they gain access to certain benefits. The DOL states that an employee who works for 1000 hours or more in a single year is eligible to participate in your company's retirement plan.
Are temporary employees eligible for benefits?
The benefits available to temporary employees may vary from state to state based on the state's labor laws. These benefits include social security, unemployment benefits, workmen's compensation and certain types of insurance.
You have the ability to offer additional benefits for your temporary employees. The most common example is vacation time. Other include performance bonuses or employee discounts. If you wish to provide health insurance to a temporary employee, discuss your options with your insurance provider.
Where to hire temp workers for your business
Temporary employees are hired directly by your company or with support from a temporary staffing agency. Those who work through a staffing agency may have access to additional benefits such as health insurance. These employees remain the employee of the agency throughout the duration of their assignment. Temporary staffing agencies partner with you to transition temporary employees into a permanent role if you so choose.
PeopleReady offers temporary staffing solutions for a variety of industries
Temporary labor can fill workforce gaps for your business during a staffing shortage and other times of great need. This could be because of business growth or the looming deadline of a major project. Or you may have a full-time employee who will be on vacation, sick leave or parental leave.
PeopleReady offers convenient access to qualified workers in a variety of industries. That's the case whether you need one worker as a last-minute replacement or dozens of workers for a long-term assignment. Plus, our app, JobStack, is available 24/7 for all your staffing needs. JobStack gives you immediate access to our vast and expanding network of ready-to-dispatch temporary staff. Manage your workforce from home, work, or on the go through the app.
Looking for temporary workers?