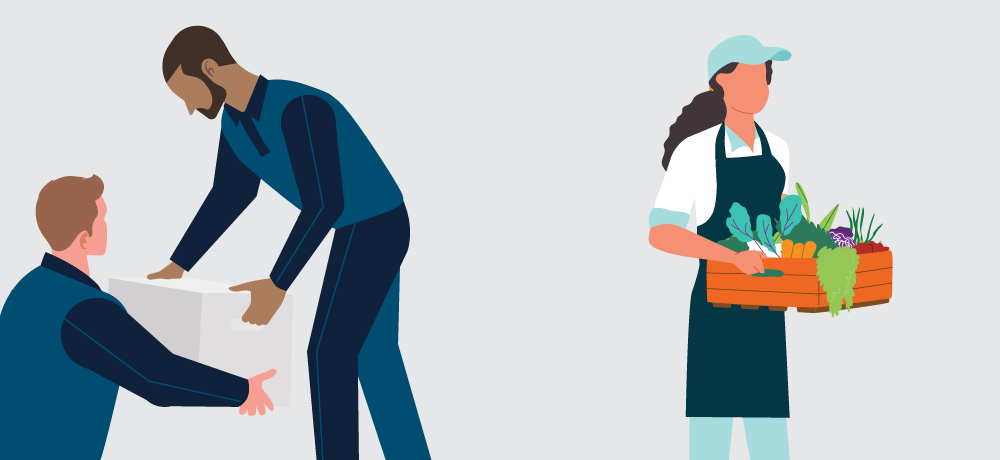 Take Advantage of Warmer Weather with These Summer Jobs
Got big plans this summer? Many people seek out jobs for summer that allow them to work outdoors, where they can take advantage of the sunshine and warmer temperatures. If you'd rather work outside than in an office, PeopleReady has you covered with summer jobs in a variety of industries — all of which need dedicated workers just like you. Here are six summer jobs that PeopleReady has available right now.
General laborer for construction
General labor jobs on construction sites may include moving materials to assisting skilled tradespeople. Someone who works hard and is dependable will have many opportunities to earn a paycheck, especially in the summer when many communities ramp up their construction projects and offer part-time summer jobs. Current jobs in construction include:
Materials mover
Roofing helper
Flagger
Site maintenance worker
Food server or catering assistant
Being a server or food service worker during patio season means you'll have plenty of opportunities to enjoy fresh air and sunlight throughout the day. The same is also true for banquet or catering assistants. You can find these opportunities at parks, entertainment centers and other outdoor venues where people gather to eat and celebrate. All these summer jobs are a great opportunity for job seekers who have excellent attention to detail along with good people skills and a friendly, positive attitude.
Cleanup crew member
Every outdoor job site needs a crew that can clean up at the end of the day. For example: removing material and debris, sweeping and mopping, clearing off outdoor spaces like patios or sidewalks, or washing interior windows and walls. This job is important to prep the job site for the next day and protect everyone from safety hazards. Plus, you'll get to spend your summer doing hands-on work outside.
Landscaper
Whether they're working on a commercial or residential site, landscapers care for and maintain lawns and gardens. They might support a landscape architect or assist with lawn sprinkler system installations, depending on the job. No matter what your role is, you will spend your summer days outside enjoying the warm weather, getting your hands dirty and putting your green thumbs to use.
Painter
Now that months of snow and rain are gone, homeowners are ready to give their properties a facelift. Many summer jobs open up as these homeowners employ painters to get the job done. New construction projects for office buildings, malls, hotels and resorts also need painters so that these venues look their best for guests. You'll find painters busy with rollers and brushes — the kind of painting tasks you would expect — but also preparing and cleaning the site so that everyone can work quickly and safely.
Event worker
Whether you're taking tickets at a concert hall or selling beer at a baseball game, you can be part of the action and try a variety of different roles when you work in the events industry. For example, these summer jobs might include concession workers, ticket takers, ushers and much more. PeopleReady can help you find work at some of the biggest venues in the world — from sports stadiums to concert halls to conference centers. See more events jobs here!
Find Jobs for Summer with PeopleReady
Make the most of your summer with fun summer jobs! PeopleReady gives you access to temporary and part-time summer jobs in a variety of industries that connect you with nature and the outdoors. From summer jobs for teachers who are seeking extra income before returning to school in the fall to summer jobs for teens and summer jobs for college students looking to gain job experience, PeopleReady has you covered. You can apply for jobs right now on our website and with our app, JobStack.
Looking for jobs for summer?