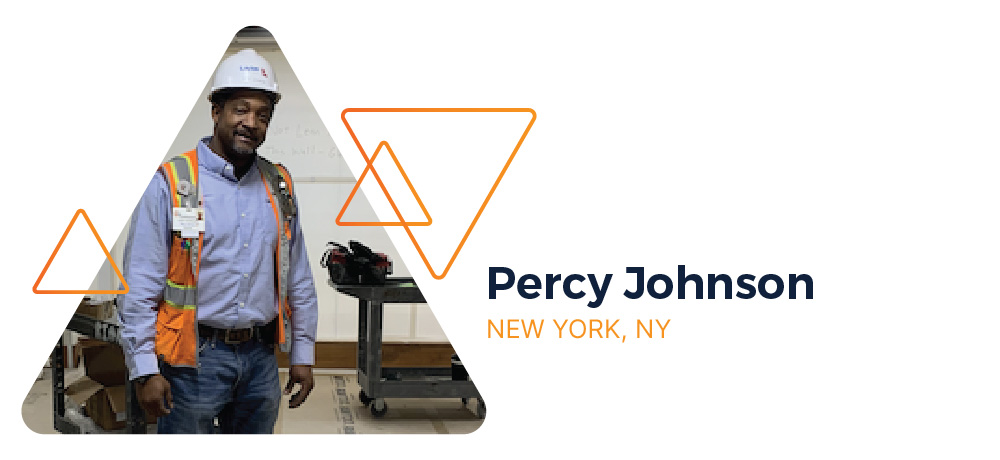 Working one's way up from construction general laborer to foreman is doable, but you're talking a number of years to make that climb.
Percy Johnson did it in five months. At 53 years old.
"My philosophy is when a higher power opens a door for you, you go through that door—and give it everything you have," Percy said. "PeopleReady was that open door, and I made sure I made the most of it."
It was not Percy's first meteoric rise. As a Desert Storm U.S. Army vet looking for work in New York in 1999, Percy landed a job as a door-to-door salesman with a direct marketing firm.
"I was like, 'Wow, this isn't hard. This isn't hard at all.' Of course, you're cold calling, so you had your unpleasant people. But all in all, it was a good fit. I told myself, 'You can get noticed.'"
And that's exactly what he did.
"It was all about numbers—an income goal. I reached the goal several times over," he said. "It was unreal. I'd never had any substantial money in my life before that."
Percy continued to excel and rose through the company until there was only one more move to make: owner. He bought the company and ran it for 22 years. But his success came at a price. "I woke up one day and realized: I don't know my son. His likes. His dislikes. I'd been working 16- to 17-hour days. Something had to change."
He sold the business and moved to Virginia to retire early. But it wasn't long before the go-getter grew restless, itching for a challenge.
"My wife said, 'You like fixing things around the house; why don't you go into construction?'"
Ever the overachiever, Percy earned a degree in construction management and started applying to local contractors as a foreman—aiming high, as usual.
"But no one wanted to hire a 53-year-old guy with no experience," Percy said. "I was just banging my head against the wall. It drove me crazy. But I told myself, 'Where you are is where you need to be. Something will come up.'"
That's when a friend suggested Percy check out PeopleReady as a way to get some experience. As a leader in industrial staffing, PeopleReady dispatches thousands of temporary workers to construction sites every day across North America.
Percy took his friend's advice and visited the Fairfax PeopleReady branch, where he applied to work as a general laborer, hoping to gain the experience he needed. When PeopleReady dispatched him to work as a general laborer for Layton Construction, which was remodeling a hospital in Fairfax, he saw his chance.
"I said, 'This is it!' I decided then and there this was going to be the place I'll make my mark. I kept my head down, didn't mention anything about my degree, and just tried to get noticed."
He succeeded. Impressed with Percy, the company hired him full time after a month. Within two months, he was a lead. Two months later, he was promoted to foreman. Today, when he needs extra hands on the jobsite, Percy calls PeopleReady, opening the door for other go-getters looking to gain construction experience—a way to pay it forward.
"What I bring to the table is my work ethic, my drive, my determination, my never-say-never attitude. I was just put in charge of the cath lab phase. This is a big deal. I'll manage that whole process from teardown to build-out. I will excel."
Don't bet against him.
Looking for jobs in construction?