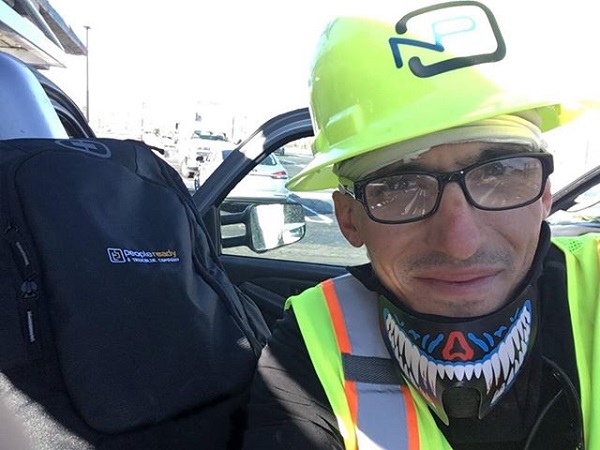 Contagious optimism. A positive outlook. Offering encouragement. Involvement in the community. Strong communicators. Relationship-oriented. These are behaviors and traits we recognize in many of the motivational speakers we admire. Sometimes of coaches or other mentors and guides. Today, those traits were communicated through a somewhat surprising source: Nasser Abousamak, a PeopleReady associate turned full-time warehouse employee. A hard worker with a shaky past, bright future, and all the opportunities he sets his mind to.
We connected with Nasser after noticing his continual involvement on the PeopleReady Facebook page. Nasser constantly engaged with other PeopleReady workers, asking questions about their experiences and goals, offering tips and personal insights, and lending advice from his own situations. Eventually, we had the opportunity to speak with Nasser and learn a bit more about his story: what drives him to look from beyond the screen of his computer, the job site he's on, or the four walls of his home to meet others where they are in their journey.
Nasser's family recently grew as they welcomed a son to their nest. Nasser works in warehousing with plans on taking OSHA 30 classes to become a certified skilled tradesman, most likely in the sewage plumbing field. He says that type of work feels like playing with Legos and that the process just "clicks." He enjoys writing and playing music and occasionally takes the time to publicly speak at local organizations about his personal journey. Nasser lights up when he shares of treating his daughter to a special Minions jumper and birthday party at Red Robin. He clearly values relationships and this is apparent when he shares about his family, saying he's honored to support the kids who "are just dependent on me to be an adult and to figure it out." While things are coming together wonderfully now, Nasser explains how things weren't always easy.
"It wasn't so positive in the beginning…I was a teenager who had just come out of the system. I was pretty much homeless." Nasser was barely making ends meet by working in fast food restaurants, traveling on bike and bus all hours of the day to get to his shifts. A few years ago, after moving from New Jersey to Florida, Nasser fell into some trouble – but pulled himself up, faced the facts, and was determined to improve his life. Wanting to move on from those trying times, Nasser asked himself "As a man in my situation with my background, what can I do to accelerate my life?" Food jobs weren't cutting it, he had two children back in New Jersey to support, and family in Las Vegas that he was determined to provide for. Only 12% of individuals on probation succeed in making a good life for themselves in Las Vegas, but he wasn't about to let that statistic hold him back.
Nasser thought back to some of the jobs he worked as a teen and young adult, remembering the work he found with LaborReady. When discovering LaborReady had rebranded to PeopleReady, Nasser decided to put his natural knack for construction to work. While taking an OSHA 10 class, Nasser began working construction jobs with PeopleReady customers, building his skills, and networking within the industry. Soon, a contractor he met on-site at a temporary labor job with PeopleReady asked Nasser to join their team full-time.
While thrilled, Nasser was nervous that he didn't have the skills or preparation to be a full-time construction worker. "I didn't know how to use a level! I knew how to use tools, but the way that all of us know how to use tools…not like a professional, formal kind of way or a specific trade." Where he lacked technical skill, Nasser made up in soft skills: "just being able to speak and present myself well and show up on time" was enough for those around him. Still, things weren't easy. Nasser says that during this transitional time, "I was just barely getting by…"- sometimes donating plasma to pay the bills.
Nasser thanks his wife for being such a beacon of help during this time, making their home welcoming and warm and urging him to keep working on his OSHA 10, even when he was working long restaurant hours on top of construction jobs, without time to relax on the weekends. Nasser also thanks a particular mentor he met last year working through PeopleReady. Nasser met Leo when working on a job in Caesar's Palace constructing a luxury luggage store. The contract was only for two days, but Leo appreciated his work ethic and extended the contract, taking the time to work with Nasser to keep learning the trade. While Nasser experienced some ridicule from seasoned workers for not knowing some of the workplace basics, Leo took the time to show him how to use specific tools and skills that Nasser still uses in his warehousing job daily. Leo's willingness to coach made a strong impact on Nasser, "a motivational force to keep going in that direction."
Words of Wisdom
Now, Nasser aims to pass that same support to as many people as he can reach. "I just wish people knew you have lot more power than you think; you don't have to be the toughest or be able to lift the most or even know the most…" he just urges people to show up and speak to others. "Have faith in yourself and your attitude, you can't let what's going on in your personal life affect your attitude. How many other guys in the world, in other countries or other situations just don't have the opportunity to do what I have now?" Sometimes there are going to be jobs that pay less, that are less desirable, or just plain hard, but Nasser says that consistency, patience, and organization are key in continuing on a positive path. Instead of looking at a work opportunity as "oh, it's just a regular, boring job", think "it's a huge opportunity to completely make a difference and accelerate."
One thing many successful people attribute to their achievement is a commitment to play. Doing things they enjoy outside of work. Valuing a work-life balance. Nasser does this by taking the time to do things with his family, like walking the dog and going to the park. He also finds joy in his music. Nasser performs hip-hop, but says "you'll find that it's quite different than what you hear on the radio, mainly because of my content", noting "there are no curses in my music, I've got a lot to say about the thinking in that industry right now and I express it more so in a positive way." He appreciates anyone who listens, even if they're not paying, "I don't have to be the million-dollar guy with all the fancy cars and all that other stuff…I just want to be able to give my family some experiences."
Nasser establishes his goals and does the work it takes to keep moving forward. He's serious about learning. He knows sometimes things aren't the most fun or easiest, but sometimes necessary in the journey. He's also a strong believer in positive self-talk. Through some of the toughest days, Nasser would remind himself "You're an able-bodied guy, you're not the strongest guy…but you're always willing to show up on time, dress good, be polite, have whatever equipment you need." These reminders were enough to trump the negative thoughts, choices made in the past, and daily struggles. Nodding to his past and looking to his future, Nasser says, "I'm part of that 12 percent success rate; I'm proud of that."