Imagine traveling the country: seeing wondrous landmarks, meeting interesting new people, finding a new adventure at the start of every week. You'd explore all of the different foods and accents and attractions; it's what calls people to travel every day. While some only dream of this nomadic lifestyle, some actually get to live it—and Gidget Kisner is one of them.
Wherever she goes, Gidget shares the experiences she's had and the wonders she's seen all across the nation, from the awe-inspiring Redwood Forests to the sun-kissed beaches of Santa Monica. What's also interesting about Gidget's travels is how she gets to all of these places. She says she's seen 45 of the 50 states "all because of PeopleReady."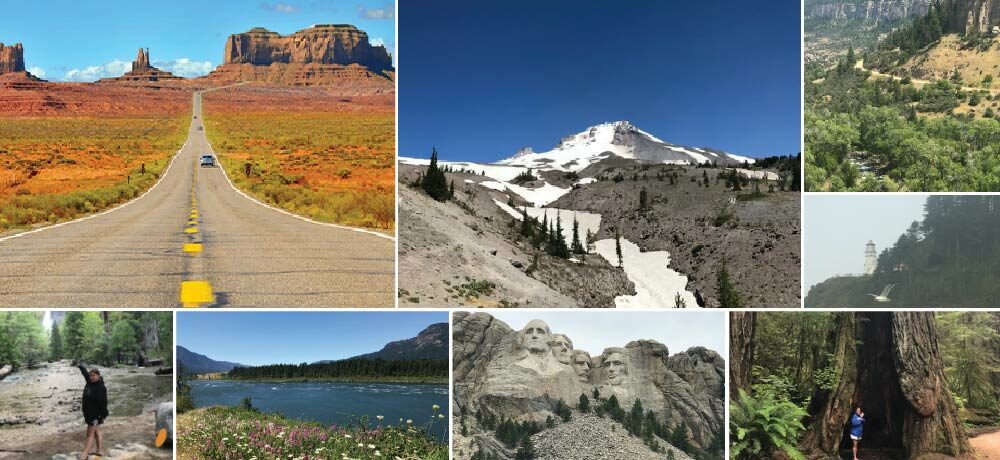 You may wonder how working with a staffing company, particularly one that offers short-term placement, might help someone to travel so freely. Gidget explains that only a short two years ago, she had been working as a server and bartender in Ocean Springs, MI. It's when she decided to follow her dreams of getting out on the road and "just go". Gidget says, "I'd always wanted to know where Highway 90 went" and to visit the Santa Monica Pier. So she enlisted Oz, her then-boyfriend, gave away all her belongings, and hit the road in her Volvo SUV.
They began driving West for what she says felt like years, tent camping along the way, before finally arriving in Van Horn, Texas. The first leg of the trip and exploring the country around her had Gidget hooked.
After Texas, they ventured forth to the Land of Enchantment: New Mexico. While the excitement was high, they also realized funds were running low. With $12 left, it was time to find work to support their explorations. Gidget searched for the nearest PeopleReady office and went in to meet the recruiters. When they first set out on their trip, she didn't have access to the JobStack app, which alerts workers to jobs available in their area at all times on their mobile phones. Luckily, there are over 600 PeopleReady branches across the United States, so Gidget had no trouble finding an office nearly everywhere she went.
"From that point on, she became familiar with PeopleReady gigs across America. Nearly everywhere they've gone, the two have found work, either together or individually."
After her meeting with the recruiters in Las Cruces, New Mexico, she immediately went to the library to finish her application before heading back to the PeopleReady office. Being proactive helped Gidget immediately: She was sent out to work right away to a concert in the area. After this first gig, PeopleReady saw how fortunate they were to have Gidget on their team. The Van Horn recruiters added gas money to her pay card and got her off to the next location, Elephant Butte State Park.
From that point on, she became familiar with PeopleReady gigs across America. According to Gidget and Oz's Excellent Adventure, "Nearly everywhere they've gone, the two have found work, either together or individually." From working car shows in California to remodeling high-end cosmetics boutiques in the Midwest to digging ditches in Arizona, Gidget used her skills in all sorts of jobs and learned new ones in jobs she'd never tackled before. She says that she learned to understand how different branches operate in different areas. Although PeopleReady is one company, there are differences from office to office. Over time, she found the places she knew she enjoyed working the most and the types of shifts that were ideal for her. As Gidget learned these things, she shares of the places she was able to see: Mountains Rainier and St. Helens, Mount Rushmore, and Yosemite…even getting to throw fish at the famous Pike Place Market in Seattle!
Now that she's taking a break from cross-country traveling, she calls Gulfport her local office. From here, she gets to use her bartending expertise at a variety of VIP events and concerts, from Cher to Thomas Rhett to The 1975. She's constantly getting to enjoy her favorite tunes while finding new music, saying "PeopleReady supplements me the ability to have fun!" On top of the concerts, Gidget has gotten to bartend at every single Saints Game of the past three seasons, which is no small perk when the Saints are your favorite team. She's excited that not only can she make money while in the thick of the "crazy electricity" of a game, but she also enjoys getting "to be there front and center" amid the game-day action.
So what's next for Gidget? Will she spend some downtime and enjoy being in one place for some time? Will wanderlust strike again? Who knows what's next for this rolling stone – but in the meantime, she's confident she'll be working the jobs she wants. And eventually, Gidget will cross off the last five states from her list and says she knows how she can make that happen. "Any time I want work," she says, "all I have to do is touch the J on my phone." That's J for JobStack, and a portal to opportunities for amazing people like Gidget, ready to take on the world and work towards her dreams.