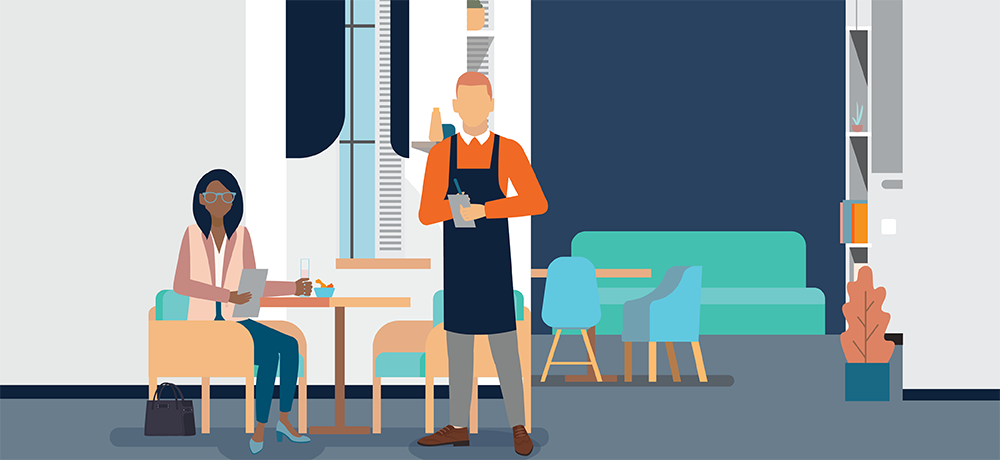 See which food service jobs are available in your area
If you're a hardworking, personable worker who enjoys interacting with other people, server jobs might be the right for your career. With many restaurants to choose from in your community, you have your pick of where to gain experience as a server. Below, we share what you need to know about restaurant server jobs, including wages, general duties and career outlook.
How much does a restaurant server make?
The median hourly wage for restaurant servers was $11.42 in May 2020, according to the Bureau of Labor Statistics. Restaurant servers' incomes are largely dependent upon tips so compensation may vary depending on the restaurant and its location. Also, there is a bigger opportunity for higher wages with server jobs at high-end restaurants, since customers generally tip more.
What does this role do?
The duties of a restaurant server will depend on their work environment. For example, typical duties might include:
Learn menu items and be able to describe them appropriately to guests.
Take beverage and food orders and serve them.
Remove dishes and glasses from tables or counters.
Serve food and/or beverages to guests.
Stock service areas with supplies such as coffee, food, tableware and linens.
What qualities does this role require?
Above all, restaurant servers need to be team players and work well with their staff members, including hosts and hostesses, prep cooks and bartenders. Even in difficult situations, they need to be professional and friendly. Similarly, effective communication skills are key in food service jobs. Having great attention to detail and the ability to think on your feet is also important.
What skills and qualifications do you need to be a restaurant server?
Restaurant servers are typically not required to have formal training or education. However, every restaurant provides some form of on-the-job training. Meanwhile, some restaurants may require you to have previous serving experience. High-end restaurants may require more education, skills and experience for their waitress and waiter jobs and may require candidates to undergo background checks.
What's the job outlook for this role?
Employment of waiters and waitresses is projected to grow 20% from 2020 to 2030, much faster than the average for all occupations, according to the BLS. Almost 500,000 openings for waiter and waitress jobs are projected each year, on average, over the decade. Server jobs are available in all major cities and many rural areas.
Find restaurant server jobs and other food service jobs with PeopleReady
Hospitality companies like hotels, restaurants and venues all need restaurant servers to ensure a great customer experience. In addition to our restaurant server and food service jobs, some other in-demand temp jobs in hospitality available with PeopleReady right now include:
Hosts and hostesses
And more!
In short, if you're interested in becoming a restaurant server, download our app, JobStack, where you can browse and apply for jobs with restaurants hiring.