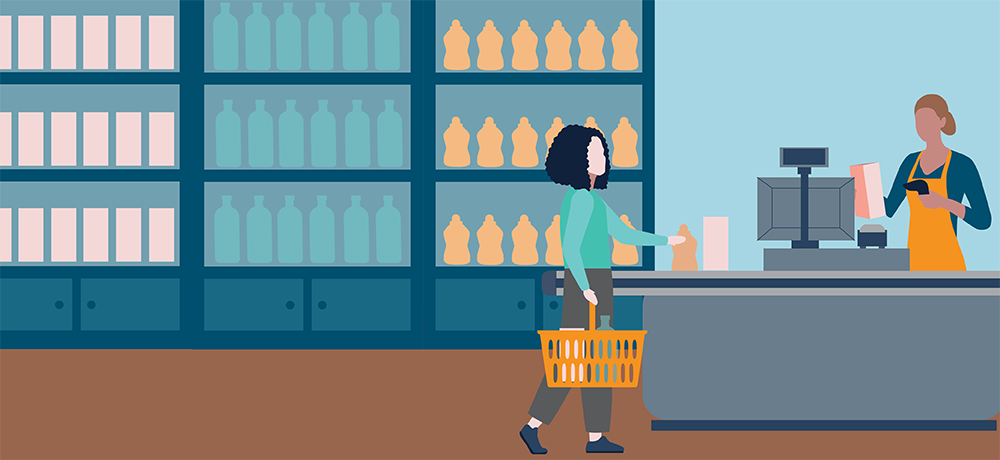 With eMarketer predicting a 4.5% growth in spending this holiday season, retailers can expect their stores and warehouses to be busier than usual. Being flexible becomes crucial to your retail staffing plans this time of year. PeopleReady is here to help support your holiday staffing efforts with our holiday retail staffing guide. This includes:
Holiday shopping trends to know about in 2023
Tips to enhance your holiday retail staffing plan
The benefits of partnering with a staffing agency for hiring seasonal workers
Holiday shopping trends to know about in 2023
Increased consumer spending
Last year, inflation posed a significant concern for consumers, prompting numerous retailers to roll out deals and discounts in an effort to attract buyers. Luckily, as we approach the 2023 holiday season, inflation is no longer a major concern. According to Forbes, inflation has dropped to a two-year low as of June 2023, increasing in consumer confidence.
As such, retailers may need to adjust their staffing plan to meet shifting consumer demands. That may include adding seasonal retail workers to their regular staff to maintain smooth operations. These retail workers can also step in to address any unexpected staff departures or absences that occur during the holiday season.
Extended holiday shopping season
According to many media reports, consumers have begun their holiday shopping earlier in recent years, allowing them to stagger their purchases. Although inflation concerns have eased, an eMarketer survey found that half of consumers are still planning to start holiday shopping before November.
As shopping patterns shift, having a flexible and scalable workforce is essential to keep up with consumer demand. This way retailers have the ability to adjust the size of their workforce as needed, accommodating consumer needs and staying on deadline.
Continued e-commerce growth
E-commerce is a major factor in the extended shopping period. A rising number of online retailers now offer "Buy now, pay later" options, resulting in increased sales. Altogether, e-commerce sales are expected to grow by 11.9% during the 2023 holidays, according to eMarketer.
An active holiday shopping period may also increase production activity at manufacturing facilities and warehouses to meet the heightened consumer demand. Hiring seasonal workers can help retailers take advantage of the holiday rush while avoiding potential losses. This strategy guarantees that holiday performance remains on target from the beginning of the busy season to the end.
Tips on how to succeed in seasonal job hiring
According to the U.S. Chamber of Commerce, the retail industry's quit rate is 3.3%, much higher than the national average of 2.6%. This highlights the importance of employee retention, especially during the busiest time of the year. As your company navigates the challenges of the holiday season, effective recruitment and employee satisfaction are crucial.
So, how do you create a successful holiday retail staffing plan? Whether you're staffing for your retail store or your manufacturing facility and warehouse, consider these strategies:
Plan and forecast: Review last year's holiday season to determine your busiest times. This can give you a clear idea of when you might need additional holiday workers.
Offer flexible scheduling: Implement a flexible scheduling plan that accommodates workers with personal commitments. This provides adequate coverage during your busy period and prevents burnout in your workforce.
Cross-train your workers: Ensure that your current team can handle tasks outside of their usual job description. Employees with cross-training are better equipped to handle a variety of responsibilities, which means they can step in and fill gaps during emergencies or staffing shortages.
Provide support and guidance: Be sure to offer guidance on customer service techniques, product information and other details so your team will be well-prepared for increased holiday demands. A Gartner study notes that 63% of service companies are actively working to improve their customer support methods.
Prioritize employee morale: During the holiday season, it's important to prioritize employee morale. Recognizing and rewarding hard work can create a positive work environment and decrease turnover. Meanwhile, offering special incentives can entice available workers to stay on through the whole season.
Monitor and adjust: Unexpected changes are inevitable during any holiday season. That's why it's important to monitor and adjust your staffing plan so you can create flexibility when it's needed most. Now you can maintain service quality and handle challenges as they come up.
The benefits of using a staffing agency for holiday retail staffing
Hiring seasonal employees during the holidays can be best managed through a staffing agency. Here's a brief overview of how they can help:
Additional holiday workers as needed
A retail staffing agency offers temporary workers, allowing you to address unexpected spikes in business or cover the entire holiday season.
Fast retail staffing solutions
They can also respond quickly to fill job vacancies, preventing any negative impact on your service quality due to staffing shortages.
More peace of mind
With a staffing agency handling the hiring process, you can focus on other important tasks and remain confident that you will have the holiday workers you need at any time.
Simplified workforce management
Going this route also frees up time that would normally be spent on administrative tasks like onboarding, background checks, payroll and tax-related matters.
Compliance with labor laws
Staffing agencies ensure that all workers are properly classified according to federal and local labor guidelines, helping you avoid legal issues.
How PeopleReady supports your holiday staffing efforts
PeopleReady is your staffing partner for the holiday season. Thanks to our local presence in 600-plus markets throughout North America, we can provide easy access to retail, warehouse and manufacturing workers who are ready to get started now.
We understand the importance of flexible staffing for your seasonal hiring needs. With the ability to quickly scale your workforce up or down depending on your workload, you will be prepared for anything the holiday season brings your way. We can also simplify your seasonal hiring with our app, JobStack, which lets you manage your workforce 24/7. Holiday jobs we fill include:
Merchandisers
Store update assistants
Cashiers and clerks
Product assemblers
Pickers and packers
Sorters
Inventory assistants
And more!