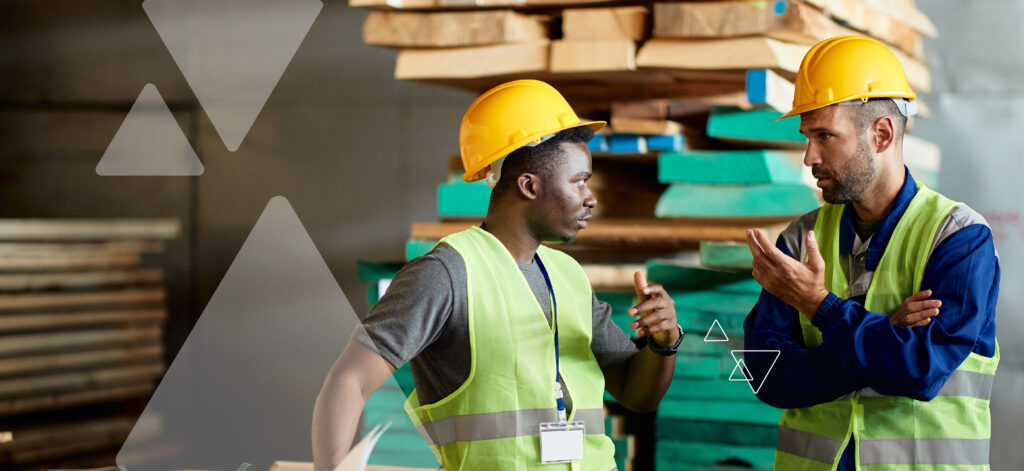 Disaster relief staffing during natural disasters and emergencies
When a natural disaster strikes, it has a profound impact on our communities. PeopleReady specializes in organizing and dispatching dedicated workers who are passionate about helping their neighbors during uncertain times. We are committed to helping restore what has been damaged and rebuilding local communities to be stronger than ever before. Here are just a few examples of how our disaster relief staffing has made a difference in recovery efforts over the years.
How PeopleReady helps communities recover and rebuild with disaster response staffing
Hurricane Florence (2018)
During Hurricane Florence, which wreaked havoc on the Carolinas, over 890,000 people lost power, and that number continued to rise as the storm progressed. It was important for our teams to act quickly and collaborate with fellow hurricane recovery staffing specialists, associates and customers working in the field.
We swiftly mobilized our teams nationwide to get as many workers on the ground as possible. Additionally, we provided our customers with our staffing app, JobStack, to bring in more damage restoration workers in the weeks after the hurricane hit.
Hurricane Irma (2017)
Following the destruction caused by Hurricane Irma in Puerto Rico and Florida, our local disaster restoration staffing team, along with teams in the New South and Mid-South regions, acted swiftly to reopen our branches. We connected nearby emergency restoration services with the additional workers they needed to make a difference in the disaster response staffing efforts.
Ensuring the health and safety of our associates was paramount, as was directing them to the areas where their help was most needed. Our app, JobStack, proved crucial in managing staffing needs as associates dedicated themselves to assisting in any way possible.
In the aftermath of Hurricane Irma, we relied on the expertise of some of our most passionate associates. Through PeopleReady Skilled Trades, Respect the Craft winner Ken Cooney collaborated with Hal Jones Contractor to repair and rebuild the Jacksonville Beach Pier, which had been mostly closed since sustaining damage during Hurricane Matthew in 2016 and Irma in 2017. As of 2023, the Jacksonville Beach Pier has been reopened.
Hurricane Ian (2022)
Hurricane Ian, one of the most powerful Atlantic hurricanes on record, became the third costliest natural disaster to date. It inflicted significant damage on Southwest Florida, leaving many businesses and homes in ruins. Consequently, the demand for replacement windows for these businesses and homes skyrocketed.
Our emergency restoration associates rose to the occasion, manufacturing and supplying glass-related products to help restore homes and businesses in the affected region.
Hurricane Michael (2018)
Hurricane Michael, a devastating Category 5 hurricane, struck the Florida panhandle with such force that buildings were flattened, rendering 22,000 residents homeless, according to AP News.
Our disaster response staffing specialists from surrounding branch offices, including Fort Walton, Tallahassee; Dothan, Alabama; and Pensacola, Florida, came together to provide extensive support. PeopleReady associates supported the hurricane recovery and worked tirelessly to rebuild local communities.
Hurricane Nicole (2022)
On November 10, 2022, Hurricane Nicole made landfall near Vero Beach, Florida, on Hutchinson Island. This island holds historical significance and is a popular attraction for residents and tourists. Tragically, the storm struck the same region that had been devastated six weeks earlier by Hurricane Ian. It was also the first hurricane to make landfall on Florida's east coast since Katrina in 2005.
Our hurricane recovery staffing teams undertook various projects in the area to aid in the restoration of Hutchinson Island. Efforts are still ongoing, and our disaster restoration staffing teams, customers and associates continue to provide assistance as needed.
Hurricane Zeta (2020)
Hurricane Zeta, a major hurricane in 2020, made landfall on the Yucatán Peninsula before reaching southeastern Louisiana. Its late-season arrival left little time for evacuation, including for local university students. Fortunately, our associates were ready to step up and meet disaster response staffing needs. They provided over 4,500 meals to these students before the hurricane hit.
This effort mirrored the work we did to supply last-minute and emergency staffing during the COVID-19 pandemic. When additional staffing was required to meet the demand for COVID-19 test kits, PeopleReady helped fulfill the workforce needs of Spectrum Solutions. In response, our associates assisted others in staying safe and healthy.
Oregon Wildfires (2021)
September 2021 witnessed devastating wildfires in Oregon, with thousands of people forced to evacuate or losing their homes. Recruiting for rural positions has always posed challenges, but our Oregon disaster relief staffing teams rose to the occasion. Many of our associates participated in a long-term cleanup project, aiding residents in their journey to rebuild and recover.
The wildfires caused immense damage in the surrounding area. PeopleReady — from our disaster restoration staffing recruiters to our associates to our leadership team — stood up to the challenge and provided unwavering support to one another and the people in these communities.
PeopleReady provides disaster relief staffing services for recovery and restoration efforts
When an emergency occurs, disaster restoration staffing and hurricane recovery staffing can be difficult. It involves identifying the necessary personnel, skills and resources required to support these projects, as well as ensuring that all workers are fully trained and prepared to get the job done.
With a local presence in 600-plus markets throughout North America, PeopleReady can support your disaster recovery and restoration staffing needs. Whether your community has experienced fire, flooding or storm damage, we provide associates that can help you repair and rebuild your local communities. For example:
Cleanup crew members
Debris removal workers
Equipment setup assistants
Labor supervisors
Project managers
And more
Looking for emergency staff?