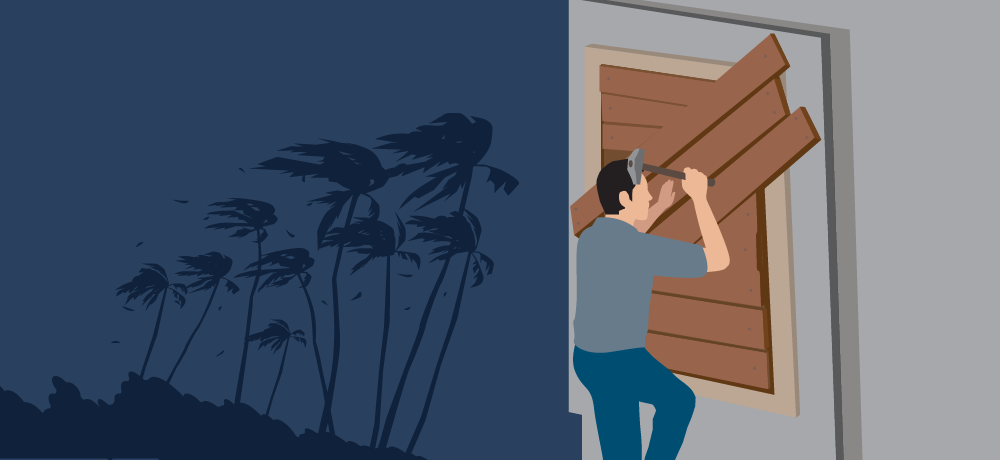 Staffing support for your hurricane recovery and rebuilding projects
Every year, communities in the East and South make the necessary preparations for the season, but Mother Nature is an unpredictable force. PeopleReady is proud to play a key role in these efforts by connecting area job seekers with businesses that desperately need support. Historically, PeopleReady has sent over 100 associates a day to support cleanup and restoration efforts in the aftermath of Hurricanes Matthew, Harvey, Irma, Michael and Laura, among others.
How PeopleReady helps communities recover and rebuild
When Panama City felt devastation from Hurricane Michael, we saw buildings leveled and thousands of people losing their homes. Groups from surrounding branches—Fort Walton; Tallahassee; Dothan, Alabama; and Pensacola, Florida—gathered to make the trip to lend helping hands. The immediate and ongoing relief came quickly after the rush of a storm and workers showed up in waves, ready to work together to rebuild.
During Hurricane Florence, it was crucial for our branch staff to stay connected with their fellow PeopleReady employees, associates, and customers in the potential impact zone and tracked their safety throughout the storm. Communication and rates were coordinated with our customers preparing for the hurricane and we quickly moved to activate our teams across the country to help get people to work as quickly as possible. We quickly set up customers with our mobile app, JobStack, to share work opportunities and approve associate pay on the go while getting workers paid as quickly as possible with pay cards, rush shipped to the affected areas.
After Puerto Rico and Florida experienced the devastation following Hurricane Irma, our local team along with those in the New South and Mid-South regions moved quickly to reopen our branches and connect people with jobs to begin cleanup and recovery. Ensuring our associates safety was key, as was making sure they had access to work.
During Hurricane Laura, we provided associates to United Site Services, a company that supplies trailers equipped with showers to first responders who are assisting with restoration efforts.
With our staffing solutionS, we help make communities better than ever
During these times, our resilience was tested—but PeopleReady, from our recruiters to associates to leadership team unified to rise to the challenge and supported one another.
"Seeing the hope in the faces of community members as caravans of first responders arrive, and knowing that we play a small part in rebuilding businesses and homes, is the reason we do what we do."
Our associates and tradespeople are second responders. While their role in disaster restoration initiatives may be lesser known than that of firefighters and paramedics, their impact is undeniable and their work is critical. They help utility companies restore power and help key businesses—like big-box retail stores, grocery stores, hotels and churches—reopen their doors. Along with supporting the commercial businesses communities rely on, our people repair homes that have experienced damage.
Our business is built on having the right people who are ready to get to work at every stage of the response and restoration process. Whether the job is boarding up windows; cleaning up from devastation; or rebuilding homes, businesses, and communities, we collaborate with businesses to provide the right mix of workers at every step along the way.
Do you need staff after a natural disaster?