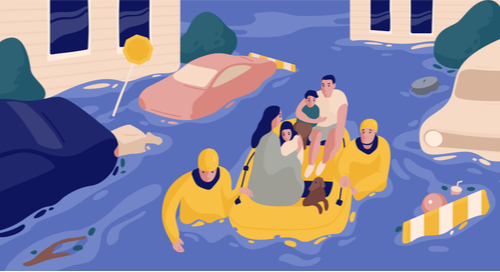 When a natural disaster hits our communities, we all feel it. Whether near the impact or across the country, you're bound to see the harm that a natural disaster leaves in its path. From hurricanes to wildfires, you might feel helpless, wondering how you can aid and assist. You're not alone, but a silver lining is that during each of these times, we're reminded of the amazing people we work with and how great it is when a company can come together for the greater good.
What are some of the times that PeopleReady and our incredible associates have jumped at the opportunity to help?
When Panama City felt devastation from Hurricane Michael, we saw buildings leveled and thousands of people losing their homes. Groups from surrounding branches—Fort Walton; Tallahassee; Dothan, Alabama; and Pensacola—gathered to make the trip to lend helping hands. The immediate and on-going relief came quickly after the rush of a storm and workers showed up in waves, ready to work together to rebuild.
Upon Hurricane Florence, it was crucial for our branch staff to stay connected with their fellow PeopleReady employees, associates, and customers in the potential impact zone and tracked their safety throughout the storm. Communication and rates were coordinated with our Disaster & Recovery customers preparing for the hurricane and we quickly moved to activate our teams across the country to help get people to work as quickly as possible. We quickly set up customers with our mobile app, JobStack, to share work opportunities and approve associate pay on the go while getting workers paid as quickly as possible with pay cards, rush shipped to the affected areas.
After Puerto Rico and Florida experienced the devastation following Hurricane Irma, our local team along with those in the New South and Mid-South regions moved quickly to reopen our branches and connect people with jobs to begin cleanup and recovery. Ensuring our associates safety was key – as was making sure they had access to work, even during these uncertain times.
During these times, our resilience was tested—but PeopleReady, from our recruiters to associates to leadership team unified to rise to the challenge and supported one another.
You might be thinking ahead of how you can help your neighbors around the country during these times. You could be planning for what you might do as a resident in one of these areas and what you can plan for. Whichever you relate to, PeopleReady is here to connect great associates with the work they want, the areas that need them, and with companies who will utilize their skills.