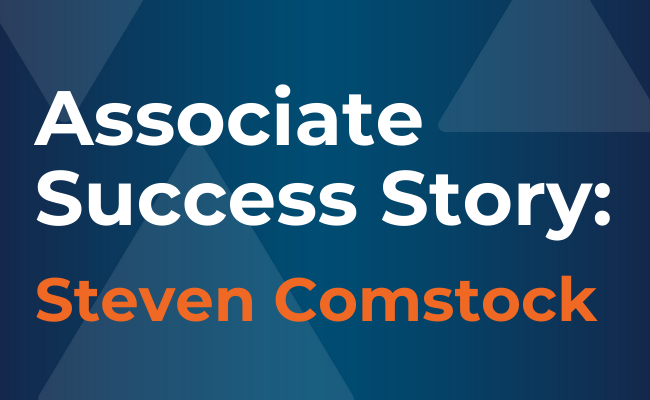 Steven Comstock has been a PeopleReady associate since December 2012, working mostly in the construction and manufacturing industries. He appreciates the diversity of opportunities that PeopleReady has provided him in his decade-long experience working with us.
"I enjoy working for PeopleReady because they are an equal opportunity employer and I get to learn different skills from working a variety of jobs," Steven says.
Steven's most recent assignment has been working with Warren Transport in Hesston, Kansas, for the past year. Recently, Adrian Law, branch manager for PeopleReady in Wichita, Kansas, made an in-person visit to the company. She stopped by to onboard their hiring manager, Al Kuntz, to PeopleReady's app, JobStack, which connects employers with local workers 24/7.
Law learned that Al and Steven often share their lunches with each other and have developed a strong friendship.
"Although one is a manager and another is an associate, they are on a level and fair playing field," Law says.
Steven also wanted to download JobStack so he could accept the company's work assignments more easily. However, his cell phone was an older model that wouldn't support an app download. So to help Steven out, Al traded in his phone for a new one and gave Steven his refurbished old phone.
"Seeing Steven and Al work together was uplifting and positive. There is a level of mutual respect between them that should be found on every job site," Law says. "I found it to be a genuine relationship that makes what we do at PeopleReady gratifying."
PeopleReady puts work within reach for today's job seekers
At PeopleReady, our mission is to connect people in our local communities with meaningful job opportunities. Whether you're looking for additional income or simply interested in gaining experience and building new skills, PeopleReady has temporary jobs available for you right now. Plus, with our app, JobStack, you get convenient access to temporary jobs in a variety of industries. For example:
Retail
Manufacturing and logistics
Hospitality
Events and venues
Construction